BongaCams in Review: A Tranny Fuck Cams Exposé
Published: January 08, 2021
Are you looking for your next big fix of hot erotic tgirl action?
Join me as I take to a quirky named website, who's no stranger in the arena of online porn.
Say hello to BongaCams.com, and get ready for a wild ride!
In this BongaCams tgirl review, I explore the site in detail and give balanced and informative feedback. I investigate the model talent and check out the private tranny fuck cams.
To find out why BongaCams.com might be worth both your time and money, follow on.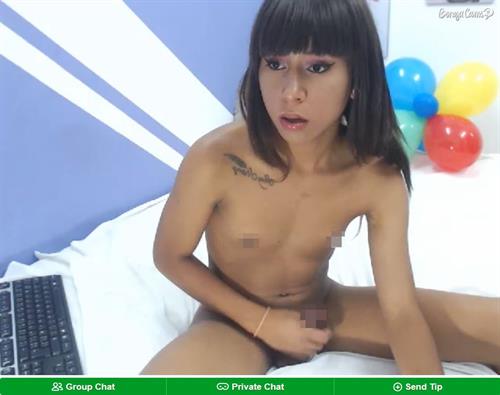 Intro
BongaCams.com is a sex chat site with a variety of live cams and little bit more, on closer inspection.
This mid-sized adult content website caters to all walks of sexuality, featuring a section dedicated to sexy shemale porn chat.
With the site's freemium platform, models are at liberty to perform as they see fit in the open chat rooms.
Nudity and erotic performances will most likely be on the menu, the models on this sexy chat site compete for your consideration and cash.
Here's the thing,
Any site that displays thumbnails of tranny cam stars jacking off or toying their buttholes, is worth at least a second glance or at best, a long hard look.
As I mentioned earlier, this site isn't strictly transsexual. Finding the performing shemales is straightforward and simple.
Conveniently located on the homepage is a tab labelled Transsexuals. Click, and immediately you are redirected to the BongaCams collection of performing shemales.

First Impressions
I like how the site is presented, and how the models are represented by pretty large profile pics (by default).
While larger profile pics are preferred and more appealing, fewer can actually be displayed.
This can easily be fixed, click on the Settings icon and select from the Display Type:
Small, means that more profile pics can be displayed on the main gallery. The settings icon is located on the top right of the homepage.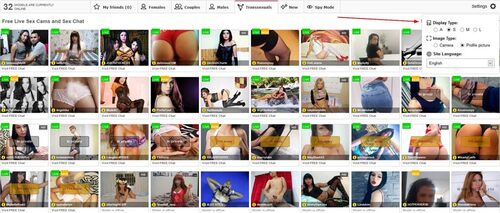 What else can you find in settings?
In Settings, you can also select to have the thumbnails as either Camera or Profile Picture. The default is set to camera, which means that the image is a still, of the live feed from her chat room.
Select to have the shemale profile picture displayed, for a more classic browsing experience.
Also choose the language that you prefer using, as BongaCams.com includes no fewer than 34 different choices!
Check this out,
The site navigation is pretty intuitive, with the categories listed on the left hand side and a set of handy user tools located on the top.
Aside from the conventional method of scrolling through the pages, there are a number of convenient model groupings. This makes finding special or unique co-stars for your fantasized shemale porn chat a little easier.
A handy quick reference feature is knowing exactly how many models are currently online. BongaCams.com thought so too including a nifty Model Count box, which can be found on the left side of the the white navigation bar.

It's also handy knowing how many models are actually online live in the respective categories.
Once again the makers of this adult sex cam site seem to agree as the categories also have a corresponding number of current online live models.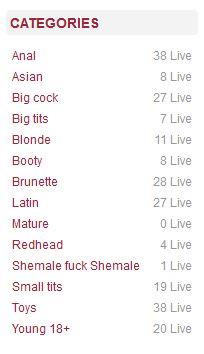 The available transgender categories on Bonga Cams are:
Anal
Asian
Big Cock
Big Tits
Blonde
Booty
Brunette
Latin
Mature
Redhead
Shemale Fuck Shemale
Small Tits
Toys
Young 18+
The main maroon navigation bar, at the top of the page houses a number of useful tags, among them are the very important advanced search tools, found under the Search tag.
Users and members have the choice of looking for a specific tranny by manually typing the model's name into the search bar or using the provided filters, to narrow down the field. I like how I can also canvass for babes according to a set of model attributes:
Height
Breast Size
Hair & Eye Color
Butt Size
Body Type
Age
Ethnicity
I especially like how I can filter for specific chat rooms, focusing only on those models who feature HD Quality video streams. I can even include those chat rooms With Audio specifically.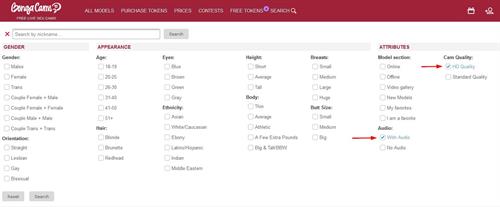 Something else which I enjoyed is controlling how I browse babes on cam. Thanks to a handy toggle tool, I can change the main display.
Most sex cam sites offer such a feature and BongaCams.com is no exception.
Choose the way you want to view the main gallery of shemales by selecting from the available options.
Simply click the drop down menu located on the top right side of the main page and make your selection.
These preferences include:
Camscore
Most Popular Rooms
Just Logged On
New Models
Lovers
By choosing a different display option, you can help keep your browsing experience fresh and exciting!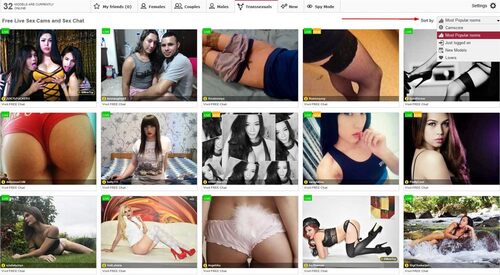 Mousing over any model profile pic will return a small video snippet of what the performing tranny is currently getting up to in her chat room. This is a nifty feature providing the users with a glimpse of how she looks, and whether she's worth a visit.
I do like how how the model thumbnails includes the model's name and whether she's new. I also like how the high definition chat rooms are clearly labelled.
When given the choice, I'm all about the finer things in life and much prefer spanking to HD tranny fuck cams over everyday has-been cams!
However,
There seems to be more SD cams on offer, with only select models offering HD quality chat rooms.
The little yellow i icon is how you access the shemale's profile. Click and a new profile window opens, detailing all sorts of interesting information.
Here's a downside:
As the models can choose their own backgrounds for their profile walls, sometimes their design choices are awkward and just wrong. Reading their bios is frustrating and at times, down right impossible.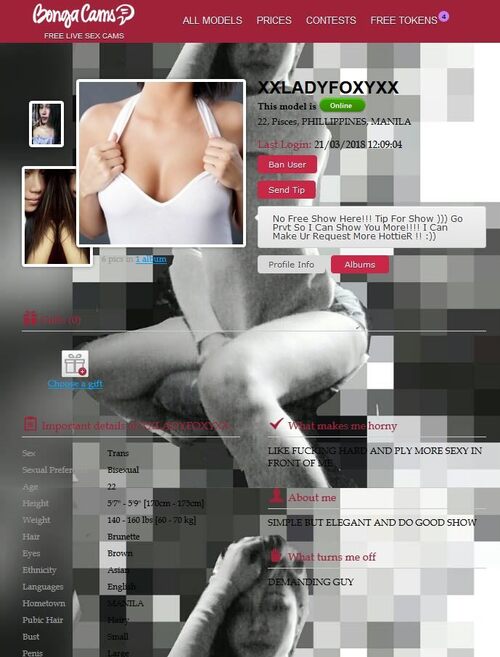 Look,
Not all of the model profiles are poor in design and many shemale cam stars have opted for a more classic, clean background.
These are the bios, which are the most attractive and legible.
I'll be drilling down deeper and giving more detailed information about model bios, later during this BongaCams tgirl review.
Another cool and interesting feature is found in the model's chat room.
I'm talking about how the video chat window resizes and tracks with you, as you scroll through the models room.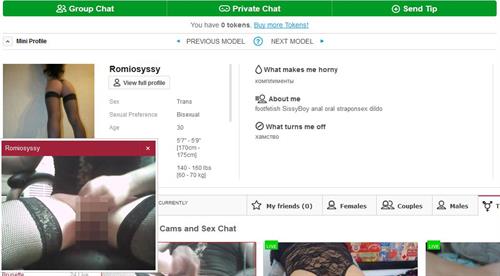 Never miss out on the cam action!
You now have the freedom to scroll down browsing the other models on offer, or taking the time to preview the mini portfolio.
Getting Set Up
BongaCams is 100% free to join. There are no joining fees, monthly subscriptions nor is your credit card required to sign up.
Click the JOIN NOW FOR FREE button, and complete the super short registration form: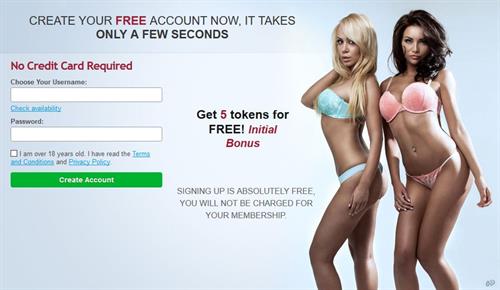 Not even an Email is required at the sign up stage, but don't forget to check the box confirming that you're 18+.
Click the Create Account button, and you're done!
Time to start exploring this website, and enjoying the sexy shemale porn chat on offer.
All new BongaCams members are gifted 5 complimentary videos!
A great way to be welcomed to a new site, I only wished that I got to choose 5 for myself.
FYI, at some point you will be asked for an Email, for account and password recovery purposes.
Site Experience
As a Free User
A free user is a guest user, someone who is visiting the site, but has not yet registered with a Username or Password. A free user is also someone who has signed up, but has not yet made a Token bundle purchase (Basic Member).
With spending $0.00, there are still a number of options available to enhance your experience.
The most obvious and eye catching option, is to view the totally free tranny fuck cams on offer!
After all, this is what freemium sex chat sites are all about. Watching sexy babes strip and perform, or in this case, watching jaw-dropping sexy tranny fuck cams!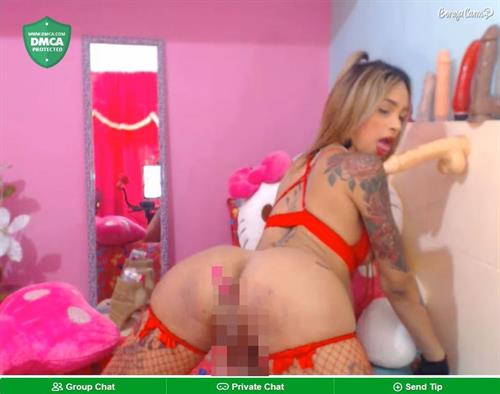 As a guest user in the open chat rooms, you are restricted to 45 min per 24 hour cycle. Basic Members are only permitted 90 min per 24 hour cycle. In general members with a zero account balance aren't able to exchange messages with the models, as their chat is silenced.
However,
Some of the models do permit Basic member chat in their cam rooms.
I like how the model chat rooms open up on your monitor, with fairly large, and sometimes wide video chat windows.
Here's the thing:
There doesn't seem to be a set screen size, as different model rooms will feature different size video chat screens. It seems as if the screen size auto adjusts according to the quality of the model's video camera.
This means that you're getting the best screen size fit possible, enhancing your tranny porn experience.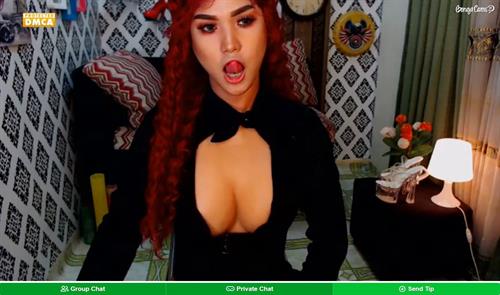 As a free user, you're not able to adjust the screen size, a privilege reserved for paying members only.
Despite there being sound in most of the chat rooms, I like that I can control the volume.
In such, it's really only those members with Tokens, who have a chance at attracting and commanding the model's attention!
As a free user, you can still create and manage your very own user profile.
Your profile on this website will be visible to every cam model as well as to the other users.
Complete your own personal bio as you see fit!
Although there is the option to change ones profile picture and upload photo albums, these added benefits are restricted to Gold Members only.
Basic members are gifted 5 free videos, as already outlined, in this BongaCams tgirl review.
These awesome mini movies can either be in the form of hot private amateur acts or recordings of home porn.
The free video clips range in degree of raunchiness and length of time. They all include audio and can also all be viewed in Full Screen Mode.
Better yet,
They never expire and make up the beginnings of your very own video collection. Usually videos cost Tokens and models determine pricing themselves.
To check out your video freebies, hover your mouse over your own profile and select My Clips.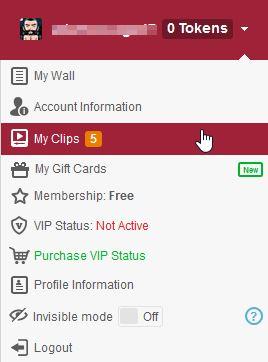 Guest users & Basic Members can also access the Advanced Search Tools.
These are a set of unique filters designed to help narrow down your search for a specific model. The benefits of theses handy tools have already been covered, earlier on in this BongaCams tgirl review.
As a Paying User
A paying user or Premium Membership is anyone who has purchased a Tokens package, at least once. As far as premium membership is concerned, there are 3 levels.
Gold - purchase any amount of Tokens and become a Gold member for life.
Platinum - to become a life-time Platinum member, you must accumulate 500.00 € worth of Token purchases, as a Gold member.
Unlimited - this form of membership requires that you total 1,500.00 € worth of Token purchases, as a Platinum member.
Look,
These different membership levels all have unique benefits and added advantages.
For the complete details, I suggest checking out the My Membership section found in the drop down menu, listed under the user profile tab.
Clear and obvious advantages of being a paying member on BongaCams.com is being able to actively participate in the sex shows using your bought Tokens, and compete for the models attention like a boss!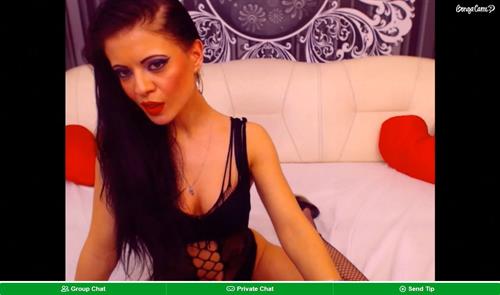 I'm talking about the power to give generous tips in the open chat rooms, or the added benefits of a more exclusive sex show, in the form of:
Group Chat
Private Chat
Full Private Chat
All of the paid for sex shows include cam2cam, an enhancing feature which takes your tranny fuck cams experience to the next level!
Feel the true power of a virtual sex show as you engage your webcam and co-star with the performing model. You see the model as the model sees you. While this option is always available, not every model is obliging and wants to see who they are performing for.
Sometimes the models themselves are curious, and will ask you personally if you mind switching your camera on.
Group chat is a type of sex show where 2 or more members are in a private room simultaneously with a model. As the name suggests, this kind of show can have multiple members, as it's up to the model to decide just how many participants she's happy to allow.
Always check and be sure of the acts or performances that the model is prepared to do in private, to avoid disappointment.
This hot tip also extends to the sex shows in private chat and full private chat.
Private chat is a way for you to be more or less alone with your favorite performing tranny.
What do I mean by this?
I mean, whilst you have exclusive chat rights with the model, other members can still spy on your show. That said, you are most definitely commanding the model's complete attention as only the 2 of you are exchanging messages.
Full private chat is the same as private chat however, voyeurs are not permitted, making this the ultimate 1-on-1 tranny fuck cams experience!
Total privacy is the perfect setting to make the sexy tranny feel at ease and comfortable, as she begins to perform intimately, fulfilling your sexual desires.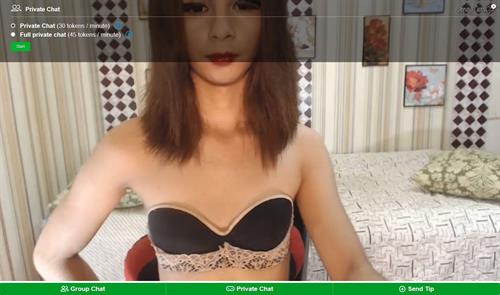 Premium members also have that added advantage of spying on ongoing shows!
Paying members get to buy deserving models virtual gifts, rewarding them for their outstanding performances, either in the public or private sex shows.
Premium members have unlimited time in the open chat rooms, and are free to exchange messages. The models are pretty engaging and responsive themselves, dishing out friendly flirtatious banter.
There's also a Facebook messenger type app available to all Premium members
There's also a number of chat room features which become unlocked, the moment you add Tokens to your account.
Resizing the video chat window, changing the font style, size and color & using emojicons are all possible as a Premium member.
Sex Show Costs
As already discussed in this BongaCams tgirl review, this sexy website runs a freemium business model. This means that while you will see nudity in the open chat rooms - the private or more exclusive sex shows will cost money, or in the case of BongaCams - Tokens.
Members have the option to custom tip. Tipping can also be given in increments of 20/50/100/200 Tokens. .
Group Chat works out to 15 Tokens per minute, with the number of participants determined by the model.
Private chat costs 30 Tokens for 1 minute, whereas full private chat is priced at 45 Tokens per minute. It will cost you 7 Tokens / minute to spy on an ongoing private sex show.
The following Token bundles are available for purchase, using a Credit Card:
16 Tokens for $2.99
50 Tokens for $7.99
129 Tokens for $19.99
229 Tokens for $29.99
406 Tokens for$49.99
610 Tokens for $74.99
The most cost effective Token bundles are the ones selling for $49.99 and $74.99, where the Token cost works out to a low $0.123 per Token. These 2 packages give you the best value for your dollar investment.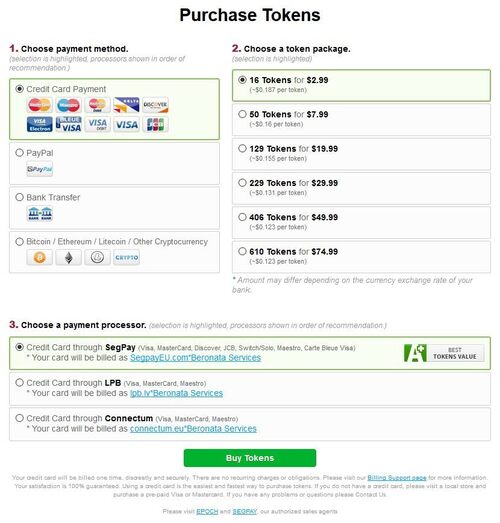 BongaCams.com accepts a number of globally recognized Credit Cards:
MasterCard
Maestro
MasterCard - Debit
Delta
Discover
Visa
Visa - Electron
Visa - Bleue
Visa - Debit
JCB
For those members who prefer not using their credit cards on adult content websites, there are alternate methods of payment. These include using your PayPal account, completing a Bank Transfer or spending your hard mined crypto-cash such as Bitcoin or Ethereum. It should be noted that there are a number of alternate cryptocurrencies accepted.
Model Selection
As with any live chat site, it always difficult to get exact numbers. According to various sources, there could be between 1500 to 2500 performing shemales registered on BongaCams.com
In reviewing this site, I found on average around 50 performing gender benders, at any given time. This number more or less doubled, during peak times.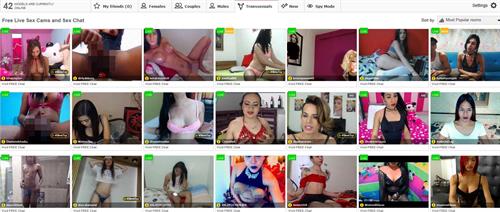 Customer Support
We all have those 'duh' moments, where things don't make sense or you're just not getting it. For moments exactly like these or similar there is a comprehensive FAQ page, covering a range of topics:
BongaCams Site & Rules
Information on prices and Token purchases
Member Account
BongaCams Models
Technical Help
Billing Help
If you don't have the patience or time to read through the provided information, this adult content website also offers Online Live Chat Support.
This service, available to both paying and non-paying members alike, is available 24/7.
The attending agents are courteous and efficient, offering both general and technical assistance.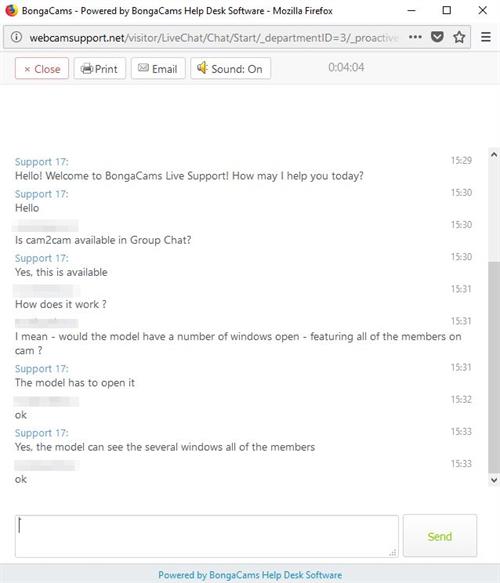 BongaCams.com also list separate links for Segpay & Epoch Billing Support.
Pros & Cons
Positives
✔ - A fair and fine selection of tranny fuck cams, where the models seem ready to go all the way, even in free chat.
✔ - There is a session timer / Token countdown during paid for private shows.
✔ - Generally speaking, a good selection of online performers.
✔ - Strong community features.
✔ - No hidden fees or extra costs.
Negatives
✖ - Too many pop-up ads! Seriously, as a guest user you are continuously being bombarded with pop-up ads for you to join. Even when you have signed up, the ad assault continues, this time prompting you to buy Tokens.
✖ - Overall, the cam quality is uninspiring. The SD streams are average and the HD feeds are lacking when compared to a site like MyTrannyCams.com
✖ - Private shemale porn chat is on the expensive side with the costs for a private show running at just under $3.70 per minute. A full private show calculates at over $5.50 per minute!
Finishing Thoughts
If you're into watching free cams and also into tipping then BongaCams.com is worth a visit and a try. So long as you don't mind the constant flow of pop-up ads, there is a vibrant and active transgender community to be discovered.
To be balanced and fair, the moment you've signed up and loaded Tokens into your account, the barrage of popping adverts calms down.
This is a 'what you see, is what you get' site. There are no hidden fees, monthly subscriptions or extra VIP memberships.
While this site gets points for following the freemium way, it falls exceptionally short on consistent cam quality. The SD feeds seem to be the majority, and I felt that the HD streams were low quality.
This is not one of my favorites, but all in all BongaCams.com is a presentable site. Improving the grade of its cameras and feeds, should be among its top priorities.