CamSoda Review - Free Tranny Webcam Sex
Published: January 02, 2021
You better be ready for a full on bombardment of tits and dicks.
CamSoda opens with a gallery spread that delivers a live video peek into all online webcam rooms, at once.
Here, the performers are permitted to get totally nude and explicit in their open chats. And it's free to watch them for as long as you want, without conditions, in a passive manner. If you want to participate by sending tips or requesting private time, then you'll need to get yourself some website currency.
In this review, I'll take you through the advantages of membership, all costs involved, and explain how best to employ the site's primary functions and chat room features, whether you access the site on desktop or mobile.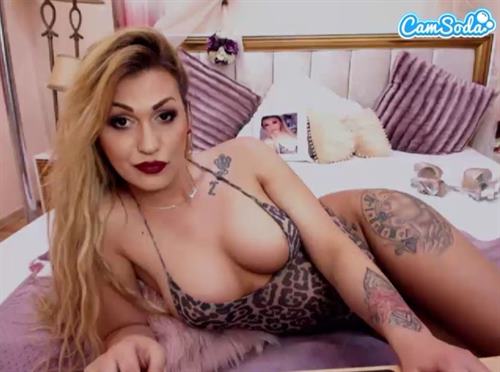 CamSoda is a mega-site that hosts all genders. To go directly to the transgender models, find the Shemale tag that is prominently displayed at the top of the main gallery page.
Exclusive to desktop access, there is a function to make the site only show you its trannies. Above the main gallery there is a settings icon. Opening this will enable you to choose to only show you the Transsexual models actively online.
First Impressions
So, right away you'll notice how CamSoda differs from any other sex cam site.
To compete in a market dominated by sites that have been around since the early 2000's, CamSoda had to deliver something new and unique.
This is a site that has only been around since 2014. To make a splash, it went where no other site has gone before.
It gives site visitors real-time peeks into all online webcams, all at once. All previews will start playing the moment you land on the site. If you stay fixed on the page, the action may go static. In this case, just move around the page and any rooms will come back to life and start to play again.
You better have a decent internet connection, because CamSoda is going to test your bandwidth with this feature.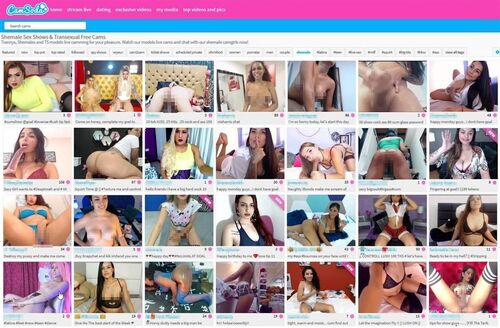 The performers on CamSoda are empowered to use their cam rooms how they see fit. If they want to sit idly by and wait for an admirer to take them into a private show, they may.
Or, they can use their time to get as many viewers as possibly into their room, and then work that crowd for tips.
The tips can be doled out with various objectives, like:
Meeting a tip goal she sets for her room
Activating a chat room game
Or, to simply get her attention directed at you
Under this structure of opening up all cam rooms for all possibilities, it makes for a competitive arena, where the models are going to have to be entertaining if they want anyone to pay them attention.
For passive viewers, this is a blessing. If you want to take the inactive approach, then by all means, go for it.
As long as you're signed in, you can lay back and watch as much free live porn as you can consume, unimpeded and without limit. You won't be kicked out of room, and you won't have to suffer any annoying pop-up ads, or reminders to create your free account.
When you're ready to participate, by means of sending a tip, or by wanting to initiate a private one-on-one show, then you'll need to secure for yourself some Camsoda tokens.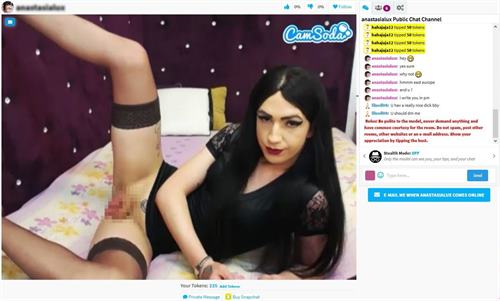 While in a paid for private chat, a recording of the show can be made. Not all performers allow this option, but most do. And when they do, it comes at no extra cost to you.
Activating your own webcam, for her to see you, is also including in the rate you'd pay for the private session. Again, while not all models offer this feature, most do. Whether or not they include the cam2cam feature or allow you to save a recording of the show will be clearly stated before you start a show.
Getting Set Up
Truth is, you don't even have to create an email and username membership account to begin enjoying most all of what CamSoda has to offer.
As a guest user, all open shows are free to watch. Take a look around. Browse through all the models' profiles. Get to know the site and begin to examine all its live chat room features and offerings.
You'll get exactly 2 minutes to watch any show you pop into before a message appears, stopping the show, and telling you to create your free account. This 2 minutes resets for every new room entered into.
When you want create your free member account, you'll only need to do the following:
Choose your Username
Give your E-mail Address
Create a Password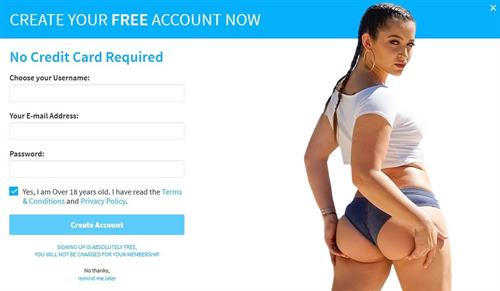 Now, you're truly set up to enjoy as much free xxx chat room action as you desire. You won't get any pop-ups or warnings that will block you from passively watching a webcam room. Though, you'll see, periodically, a reminder to purchase some CamSoda tokens. If you're not yet ready to make that commitment, then just move past the reminder and continue on.
Site Experience
As a Basic Member
You'll stay in this status until you make your first purchase of any of the tokens packages for sale. As a Basic member, you can enter into any open chat room. There's also an area on the site to find exclusive Camsoda porno productions, shot with some of the site's popular webcam models, as well as some of the porn industry's top celebrity pornstars.
Sending chat messages to the girls may or may not be available to a Basic member. It depends on the individual girls, and how they've set up their chat room preferences. Some of the rooms require that members at least hold tokens in their account before being able to chat.
But, without holding tokens, you will be able to create a favorites list of the tgirls you don't want to lose track of. And, you can select to be notified by email when any particular one comes online.
As a Basic Member with Tokens
For the price of an cup of artisanal coffee, you can get yourself started with enough tokens to have fun sending incremental tips, play the chat room games, or have your own private 1on1 show, for at least a few minutes.
The most affordable CamSoda tokens package goes for $5.99 for 50 tokens. A full list of all available tokens packages is presented further down in this review.
As a Premium Member
As an added option for super fans, there is a the Premium Membership. This status is not required to enjoy the full experience of having a private sex show with any model. But, it does come with certain tweeks to how the girls see you as a member, as well as grant you some added access to them.
For $19.95/mo, Premium members get an ad-free interface, the ability to change the tipping volume, the option to enter into anonymous tipping and chat mode, the access to send private messages to the models, and a one-time gift of 200 tokens.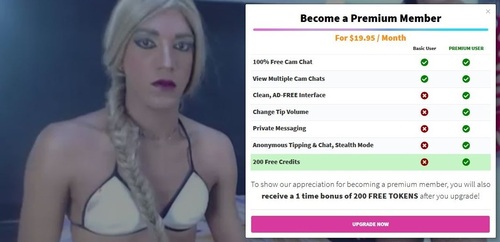 Sex Show Costs
The average rate for a private show is about $3.60/min.
The cheapest rooms go for $0.60/min.
When you select to start a private show, the per minute rate the model is asking for will show, before you confirm to complete your request.
Whether or not she allows private show recordings, or cam2cam during the private time, will also be posted.
You'll see a full range of prices, with some tgirls asking for as much as $12.00/min to go one on one. This is rare. But, there are a few super popular girls with celeb-status that can demand that high of a rate, and get it.
Unfortunately, there is no price search to sort out the cheaper rooms from the pricier ones. The only way to see a room's rate is to enter into it, and select the 'Go Private' button to see how much she's asking for.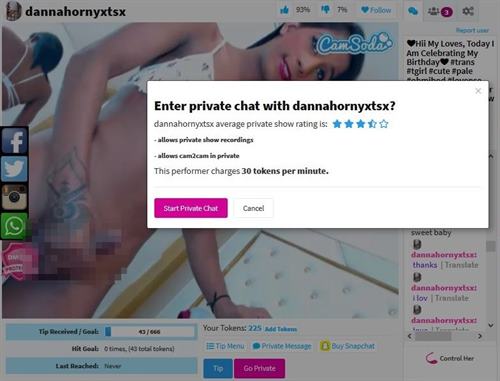 Payment Methods
There are three means available for purchasing CamSoda tokens:
Credit Card
PayPal
Wire Transfer / Check
A first time buyer of tokens via a card card will see the following packages:
50 tokens for $5.99
100 tokens for $10.99
200 tokens for $20.99
400 tokens for $39.99
550 tokens for $49.99
800 tokens for $69.99
1205 tokens for $99.99
On the second purchase, and more, a larger package of tokens will present itself. All purchases are one-time token buys. There is no recurring charge. You use the tokens as you please, spending them whenever you want.
If you're looking for more security and anonymity with your payments, CamSoda is conveniently one of the webcam sites that accepts PayPal.
Though, if you do use PayPal, expect to pay a few more dollars per package, than you would using a credit card.
Bank wires are also an option, and require a minimum purchase of $400, for 5000 tokens. If you need to mail in a check or money order, the minimum is $20.00, for 200 tokens.
Model Selection
Finding and keeping track of the transgender babes you like, is a cinch.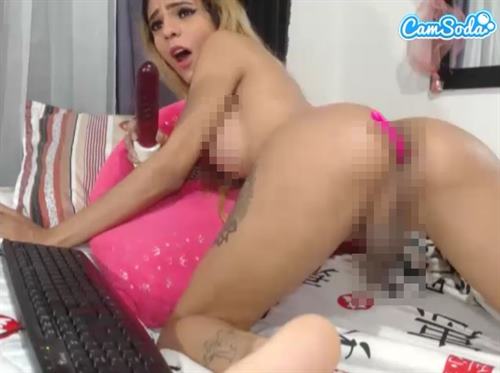 CamSoda is a mega site with all genders present. A typical visit to the site will reveal somewhere between 400-500 female, male and trans models actively online. If you land on the site and see 20 trans models online, then that's a good time for you to visit the site.
It's a good idea to keep track of when you see the most models online, as there are times throughout the day when you may just catch a few active models.
While some trans girls are camming all day, most will come online during their own evening to late-night hours. And given that a plurality of the performers are from across South America, you can figure for yourself when the best times to visit is, according to where you yourself are located.
As mentioned earlier, there are two ways to show all online trannies.
The quickest way is to find the 'Shemale' tag for a quick look at who's online. Or, you can set the site to always only display the 'Transsexuals'. Essentially, this is accomplished by telling the site not to show you any of the other genders.
Customer Support
There's a decent FAQ section to help tackle the most common questions members may have.
For technical support, email is your only option to reach a CamSoda representative.
If there's a billing issue, then CamSoda directs to the payments processor you used to make a purchase. Whether it was by credit card or PayPal, both have live chat, email, and phone assistance.
Pros & Cons
Positives
✔ - Option to toggle between HD and SD webcam streaming rates
✔ - Whole page preview system. Thumbnail video peeks into each room
✔ - Free access to hardcore performers doing extreme sex shows
✔ - Private chat includes in the price the option to go cam2cam
✔ - Cam2cam and show recordings are usually included in price paid for private
✔ - Cam2cam available over mobile and tablet. Doesn't cost extra to activate
✔ - On 1st purchase of site tokens, be gifted up to 100 free tokens
✔ - Exclusive videos, big-budget porn productions free to site visitors
✔ - Schedule a private - select a day, time, and duration to meet
✔ - Change your font type and size in the text chat window
✔ - Adjust the video player to the exact size desired
✔ - Models vote for 'nicest' users. Each week, 1000 tokens is awarded to the winner
✔ - Sort through recorded content by popularity, date added, and categories
✔ - New performers are clearly labeled
✔ - Discreet and secure billing
Negatives
✖ - For the cost, the Premium VIP membership could have more advantages
✖ - At certain times, the number of online trannies is lacking
✖ - No consistent live chat support for general inquiries
✖ - Models don't tag themselves as accurately as they should
✖ - No choice to select a new model from a chat room. Must return to home page
Finishing Thoughts
Every cam site we review has things it does better than any other site, as well as that stuff that it just doesn't do so a great as another site may do.
While most of the other top tranny sites I've looked at have set themselves in the premium mold, CamSoda is built around giving its visitors a good time, without having to pay a dime. That, and the fact that you can cam2cam with the models while on a mobile device, are its greatest assets.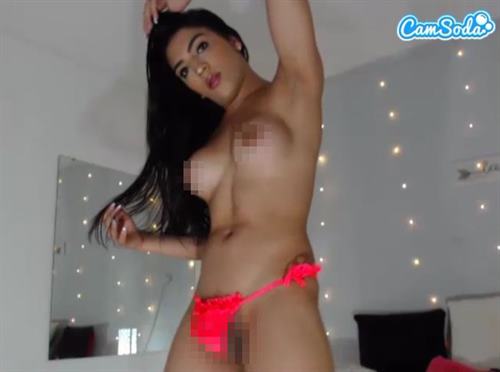 You may be the kind of user that is satisfied with just sitting back and watching the girls perform for the masses. And that's fine. This is the place for that.
And only when you're ready to show your appreciation for these beautiful creatures, can you then get yourself some CamSoda tokens and start to spread the love.
Remember, that the cheapest tokens package only costs $5.99. With it, you'll have enough to make up to 50, 1-token tips. Even these little tips are great at getting the girls excited about keeping the action going.
When, and if, you want to make a larger purchase, you'll then be empowered to get yourself into a true sex cam encounter where the performer is all yours.