Flirt4Free Shemales Reviewed - Tgirls on Cam Exhibit in HD
Published: January 18, 2021
There are many live cam sites where users can banter with sexy transsexual models, and then there's Flirt4Free.
Here's a site with over 20 years of camming experience, making it an obvious pick when searching for kinky live transgender porn.
Read on if you want to find out more about Flirt4Free transgender hosts reviewed. I reveal more in-depth details about model selection and accessibility. I also check out their video chat rooms, and rate the camera quality.
Costs for private sex chat are also weighed up and considered, and I return fair feedback.
To head straight for performing shemale babes on cam, click below.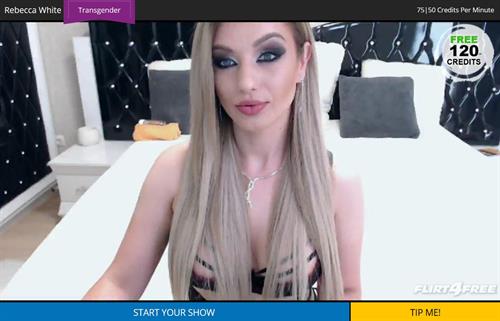 First Impressions
A quick glance lets you know that you haven't arrived at any ordinary site, and the stylish black background lends to the overall executive look and feel.
The main navigation bar located on the top, is where you'll find all the important buttons and menus.
Flirt4Free is another sex chat site offering more than just free cams, with Dating and Store, as user options.
Despite Flirt4Free being an all inclusive sex chat site, there is a dedicated section, where open-minded users get top performing feminine shemales live!
The easiest way to access these models, is by clicking the Transgender tab, top right of the homepage.
I like how the trans-specific front page loads, with a large model preview window displayed left, and smaller shemale thumbnails to the right.
This is certainly a unique gallery view, one that I fell in love with instantly, and had even more fun as I begun to scroll.

Even within the Transgender main page, there are an additional 6 transgender sub-sections that users can visit and explore:
Cross Dressing
HD Webcams
Multi-User
Transgender
Transgender - Guy
Transgender - Duo
Each of these categories will either indicate the number of live performing she-babes, or the number of offline models.
This makes it easy for users to focus only on the happening action, as they know exactly which rooms to focus on and visit first, for live tranny porn.

Back on the homepage, there are a few useful filters for us to model search with and they're easily found, top right on the Live Trans homepage. Change the main display as you select from the View By drop down menu:
Party Chat
Group Chat
New Models
Interactive
Prices
Relevance
A-Z
By Pages
View All
I like having control on how I browse for live tranny porn, and choosing New Models, kept my viewing experience fresh and exciting.
Users have the choice to experience this site in their mother tongue as Flirt4Free is available in 10 languages:
English
German
French
Italian
Norwegian
Russian
Dutch
Portuguese
Spanish
As for the models, there's no telling exactly how many different languages they speak, at the time of writing this report there were predominately Spanish speaking women.
Live Transgender Porn Video Chat
So mousing over a model's thumbnail gives the users a little viewing magic.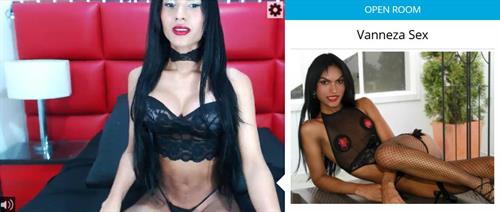 I like how the room begins to play,
There's nothing wrong with looking at a beautiful trannie profile pic, but it's way more exciting watching them come to life!
Users get a little preview, more often than not with sound, and get a sense of who the model is, and what's happening in her private chambers.
So long as you don't mouse over another model, the room will continue to play for a total of 20 seconds.
I also like how the model's room menu slides out to the side, giving users quick access to critical info:
Credit rate per minute
Customer star rating
Camera quality
I found this Flirt4Free feature to be very useful, as some competitive sites actually require users to enter the model's room to find this information out.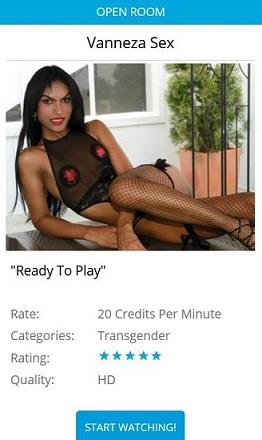 Enter the model's room, and her chat interface window opens up large and wide.
It's a more than a comfortable size, and it sets the tone for an exciting and enticing encounter.
This is how it works,
Flirt4Free is a premium run sex cam site, which means that the open rooms are free to all, but you won't see much nudity.
To see totally naked feminine shemales LIVE and the heat they pack between their legs, you'll need to go private.
I like how I can adjust the image size, making it either smaller or going full screen, with intuitive controls found, in the chat window, bottom left. By the way, you adjust the sound from here too.
Flirt4Free also includes the option to switch to Flash video player, should your internet browser not support the video chat stream.
The texting window itself is elegantly laid out, complete with its own keyboard settings and unique messaging features, which only really come into play once you've signed up.
There are also a series of user icons found on the right, in the menu bar. Each is designed to enhance the overall user experience and the 2 which I always look out for and which are worth mentioning, are the Profile and Add to Favorites buttons.
Once you've had your fill, and ready to move on to the next model, simply click the large forward arrow key, as indicated below.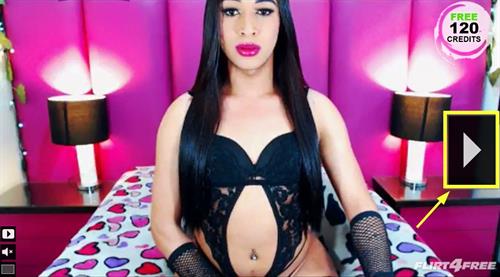 The HD camera feeds are a super sweet feature, with simply amazing picture quality.
Though not every model broadcasts in high def, the ones that do, have amazing and fluid chat rooms.
The shemale babes with SD feeds, still deliver and I found their cam quality to be, above average.
Most tranny models even have 2-way sound, an extra to be expected in this day and age.
2-way sound only comes into play during private sex shows, and this added element has been know to spice up many an explicit performance!
Sometimes, watching in HD full screen mode, can be the most rewarding.
With full HD every detail becomes crystal and clear, almost making you feel as if you're part of the live tranny porn action!
The only thing that could feel more real, is your stroking hand on your throbbing cock.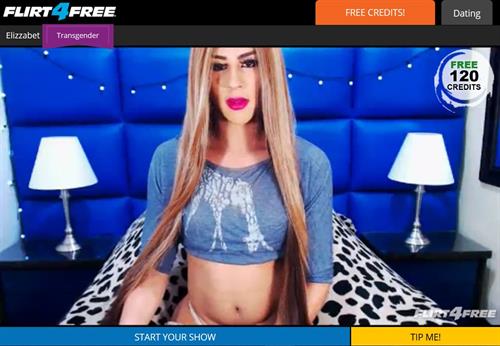 Site Experience
Guest User
Flirt4Free welcomes all site visitors, and guests have access to all open chat rooms.
However, visitors to Flirt4Free are only granted 1 hour of chat time per day.
Guest users can browse full profiles of shemale models, learning more about their favorite performing trannies on cam. Site visitors can also check out amazing photo libraries.
Most amateur cam stars go to great lengths in compiling their albums, as their photos all look glossy and polished.
Seriously, you'd expect to find some of these pictures displayed in high fashion or modelling magazines!
Visitors are also gifted 3 Free Pass, which can be redeemed on any uploaded tranny video.
Guest users have a number of site restrictions, the most obvious being not being able to enjoy the real magic of this site.
Visitors don't get to experience watching explicit transgender porn live on cam. This privilege is reserved for the Flirt4Free members, who have Credits in their accounts.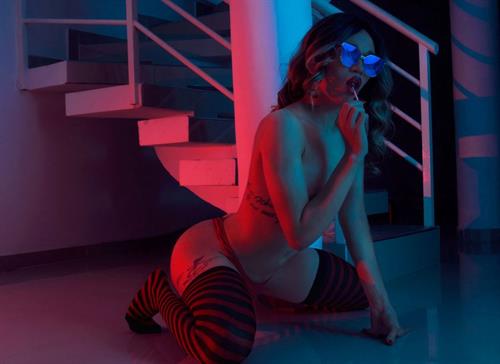 Becoming a Flirt4Free Member
Joining this live cam site is simple and quick, and your membership is valid for life.
Members have the obvious added advantage of buying Credits. This means giving deserving performers tips and taking sexy transgender models into private paid for sex shows.
Essentially, Flirt4Free.com offers 3 types of membership:
These membership options will be further explained, where I will detail the advantages and added benefits.
To become a member, users need basic sign up information:
Chat Nickname
Password
Email Address
Once the sign up information has been completed, the Ts & Cs box needs to be checked.
Click the Create FREE Account button, to complete the process.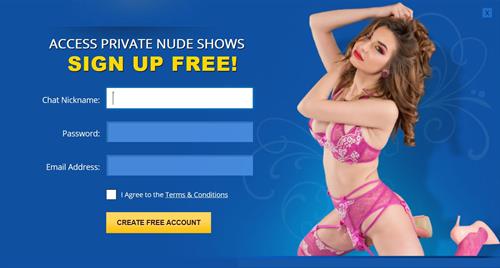 Membership Levels
Basic Membership
These are the users who have signed up, but have not yet purchased Credits.
Basic membership includes a number of additional benefits:
Spend as much time flirting in the open chat rooms
Have your own unique chat nickname, show up in white font
Spice up your text messages with emoticons
Watch tranny performances in full screen mode
Premium Membership
Purchase a Credit bundle, and become a Flirt4Free Premium member with playing power.
Premium members have it good:
Same as Basic members with even more
Receive 120 Credits for free when you authenticate your credit card
Free entrance to all Party Chat Shows
Watch previews of all Flirt 4 Free videos, without paying a dime
Receive email alerts, and watch your favorite feminine shemales live in action
Get notified when your favorite tgirl has posted a new recorded video
Cam2Cam with kinky models during exclusive 1-on-1 tranny sex shows
You are automatically registered for the Flirt Rewards Program, where earning points unlocks extra bonuses and discounts.
VIP Membership
This membership costs a monthly fee, but is loaded with extras:
$39.95 per 30 days, which includes a recurring bonus of 150 Credits
Be treated like a boss! VIP treatment from all the shemales, no matter the chat room
VIPs chat nicknames show up in gold, though you can choose white if you want
Have unlimited access to your recorded shows
Receive 150 free videos each day
Turn off annoying chat from grey (non-registered) users
Watch free hour long feature shows
Browse 1000's of glossy pictures of chicks with dicks
VIPs get to send email with attachments, to their favorite performing tranny
Sex Show Prices
Though slightly higher priced than the competition, Flirt4Free remains a premium site for watching live transgender porn.
Look,
You get what you pay for on this live sex cam site, and this means amazing performances with sexy feminine shemales live, especially the models who stream in HD.
Average Chat Costs
Open Chat Rooms: Free
Voyeur Mode: Between 10-40 Credits per minute
Group Chat: The model sets the Credit target, and members pledge Credits towards hitting the target
Multi-User: From 10-120 Credits per minute
Combo: Ranges from 60-120 Credits per minute
Feature Shows: Members pay 30 Credits, VIP access is FREE
Offered Shows: Price is negotiated between the member and model
Party Chat: Essentially free performances, tipping is encouraged and keeps the show going
Buying Credit Bundles
First Time Buyers
Authenticate your Credit Card - 120 FREE Credits (one time offer)*
240 Credits for $10.00 (includes 150 Credit bonus)
415 Credits for $25.00 (includes 190 Credit bonus)
*Credit Card Authentication does not incur a charge to your card.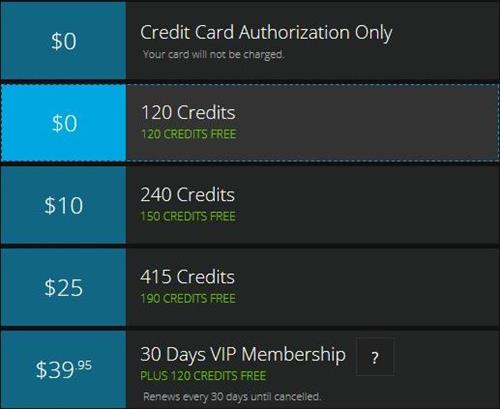 Registered Users
50 Credits for $5.00
100 Credits for $10.00
200 Credits for $20.00
300 Credits for $30.00
Selecting a different payment option such as Epoch, allows members to purchase larger Credit packages.
Payment Options
Universal Credit / Debit Cards accepted on this site:
Visa
MasterCard
JCB
Diners Club
Discover
Flirt 4 Free also offers its members the Epoch global payment portal, which includes the option to pay using your PayPal account.
You can even select to make payment using a Wire Transfer. It's usually the big spenders, who choose this option and those who do, are rewarded 10% bonus Credits automatically to their accounts.
Pay Garden, exchange your unused gift cards for Flirt4Free Credits:
Bass Pro Shop
Bed, Bath & Beyond
Dell
Dick's Sporting Goods
Guess
Old Navy
Target
There are over 70 different gift cards accepted through Pay Garden! After reading my Flirt4Free transgender hosts review, I suggest you check out the site and see for yourselves.
In keeping current, Flirt4Free also accept Bitcoin (virtual currency) as payment.
To change the payment method, simply click the indicated link below, found on the purchase Credits page.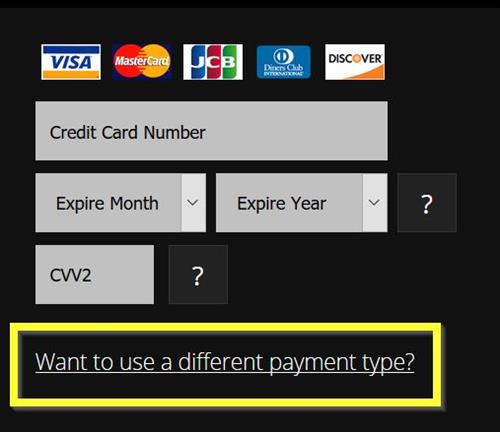 Model Selection
While quality of performing sissy shemales live isn't in dispute, their exact numbers on Flirt4Free.com might be.
As this live chat site houses cam models of all sexual orientation, it's never going to compete in numbers with dedicated live transgender porn sites such as MyTrannyCams.com.
During the quieter times, the numbers seem to be very low with as few as 3-10 models online.
Over the busy hours, these numbers certainly spiked reaching well into the 40's.
While you might not find the crowds like you would on LiveJasmin, the amateur transgender models who you'll find here, are among the finest quality and are all cam stars in the making.
Customer Support
Flirt4Free.com offers users and its members a number of different support options, for the times when there are questions and queries.
For starters, under the tag Support located homepage bottom, is the FAQ section.
There are a number of topics covered, which include but are not limited to:
Billing Issues
Cam2Cam
Chat
Flirt Rewards
General
This easily accessible information is comprehensive and informative.
Users and members can also choose the Contact Us tag, also found under the header Support, for more conventional means of communication:
Email
Phone
Int'l Phone
Mailing Address
There is also Live Chat Support offered, however this premium service is reserved for members with Credit in their accounts only.
Pros & Cons
Positives
✔ - Award winning adult site offering more than just live cams
✔ - A welcome gift of 120 Free Credits for card authentication
✔ - Shemales are approachable, friendly and engaging
✔ - Many models run high quality HD feeds
✔ - Group Chat is a dirt cheap way to watch live transgender porn
✔ - Offered Shows, where shemales and members negotiate the price and show length
✔ - An active Flirt Rewards Program, where earned points unlocks discounts and extra bonuses
✔ - Join model Fan Clubs for exclusive offers and discounts
✔ - Easy site navigation with a user friendly interface
✔ - VIP Membership includes amazing benefits, access 150 free videos daily
✔ - Accepts Bitcoin and use your PayPal account to purchase Credits
Negatives
✖ - There aren't as many feminine shemales live as I was hoping for
✖ - Open Rooms don't feature a whole lot of nudity
✖ - A few Private Sex Shows worked out a tad expensive at $7.50 per minute
✖ - VIP membership doesn't include discounts for private shemale sex shows
Finishing Thoughts
If you're in the mood for a live transgender porn session, you may just want to consider Flirt4Free.com and its collection of performing shemales.
Most Flirt 4Free shemale babes cam in HD, and even the ones that don't still have solid SD feeds.
For watching porn on the go, this is another sex cam site which runs across all devices making it mobile-friendly. I can confirm in this Flirt4Free transgender hosts review, as I had this site running on an Android phone and it worked just fine.
As far as customer loyalty incentives are concerned, the Flirt Rewards Program gives members points for Credit bundles bought as well as many other things. You can get points for chatting, tipping, and even just logging on daily earns you 10 points.
One thing about this site that's very appealing, is the occasional promotions that they run. These promos are targeted at new and existing members alike, and offer the chance at bonus Credits.
Look,
This is an adult site which offers a variety of live video chat options suitable for every pocket. Though In Private 1-on-1 sex shows are an option, I found myself drawn more towards the Group Chat shows.
Even though Group Chat is not 100% exclusive, I found that it worked out slightly cheaper and was as stimulating and rewarding as the In Private performances.
Voyeur mode is another way to experience sissy shemales live, on a shoestring budget. Spying on ongoing sex shows can be intriguing and fun, as this shows begin from as low as 5 Credits per minute!
Neither Group Chat nor Voyeur mode are chats geared for cam2cam, so if you're looking for to enhance your video chat experience, you'll need to opt for the In Private sex shows.
With more than just live sex cams, Flirt4Free is also home to an extensive video collection of amateur tranny porn. Whilst it's really only the paying members who benefit, even site visitors are given 3 free videos to watch.
VIPs get 1st prize as they get 150 free videos daily! Watch them when you want to.
As attractive and enticing as Flirt4Free is, I was a little disappointed with the selection of shemale models on offer.
There's no arguing with the fact that quality trumps quantity when it comes down to the proverbial argument.
That said, despite the quality of the Flirt4Free shemale cam stars, I personally would have liked more online models to choose from.