MyTrannyCams Review: A Shemale Sex Cams Gold Mine
Published: January 17, 2021
If chicks with dicks get you hard, don't touch that mouse.
MyTrannyCams is an absolute must!
This is my pick for the best site to watch sexy shemales perform live in HD.
Every-time is fun time on this bodacious live chat site, and with high caliber models, you're seldom wanting for choice.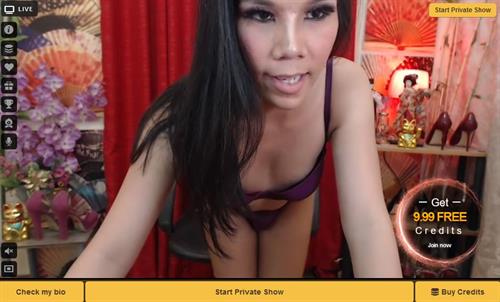 First Impressions
Are you ready to have your minds blown?
MyTrannyCams.com is an elegant shemale live chat site that's got it all going on. Browsing through the homepage makes you feel like you're in a 5 star pleasure palace of shemale cam models.
If you've never experienced the decadence of tranny sex chat, here's a little preview.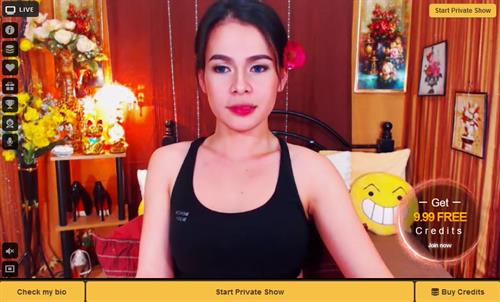 The moment you enter MyTrannyCams, your eyes can't help but gaze in awe and admiration at the countless tranny babes on display.
This is a world of past proclivities and present pleasures. These transgenders, once a taboo, are now commanding the spotlights and shining bright.
The homepage is where it all begins and with an easy layout, it won't take you too long to understand how it works.
The top tool bar houses some important tools which allow you to personalize your own browsing experience.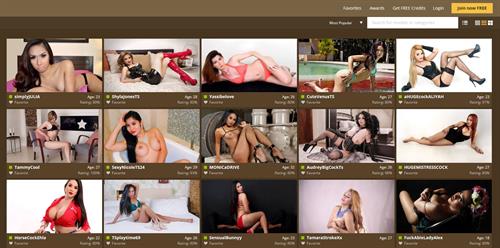 Start by changing the main display view and set up the gallery the way you want to view the gorgeous shemales.
The default is set to medium size thumbnails, but this can be easily changed by using the toggle buttons (top right).
Choose from:
There's even a way to have the girls shown according to rank.
Click on the drop-down menu and select from the following:
Most Popular (default)
Newbies
Classic
Alphabetical
Take it slow,
Sit back and relax, let your mouse idle while you contemplate your next move and pretty soon, the MyTrannyCams magic kicks in.
Randomly chat rooms will begin to play, revealing the performing model live.
"Live tranny sex chat?"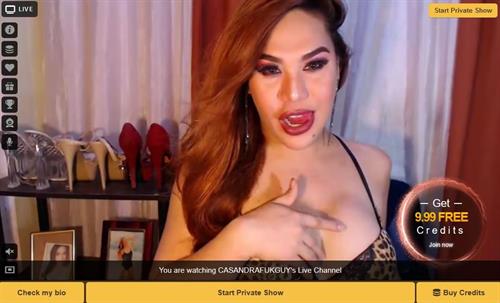 ... that's right!
Small live video snippets showing what the performing tranny looks like, and an idea as to the ambience of her cam room.
You can make your own magic.
Take control and hover your mouse over any available model (green), and treat yourself.
Get a load of what your chosen babe is getting up to as you are given a mini-preview, sometimes even with sound.
This only works on the the babes who are in public chat; not for the babes in private (yellow) or offline girls (grey).
Once you've chosen an available babe, click.
Already the excitement begins to mount, as the video chat screen opens pretty large and wide, front and centered on your screen.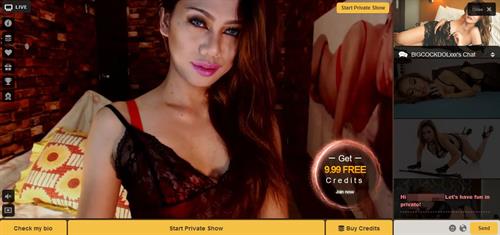 I like how this feels. I can increase the screen-size as I see fit, by using the adjustment button at bottom left of the screen.
Though the default size is nice, there's a feature you're going to want to try, enlarging that image!
As far as I can tell - watching shemales perform on larger screens is great. Watching them perform in Full Screen Mode is even better.
Seriously, the details are amazing, there is virtually no picture distortion.
Clean, detailed rich images only.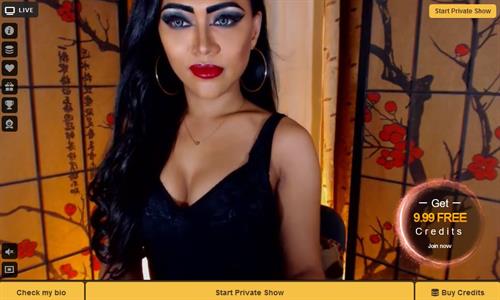 Striking up a conversation is always a good way to break the ice, and you'll find that transgender models (majority) are engaging and responsive.
Look,
Guests and members are welcome to flirt in the open rooms, exchanging messages with the models (however guests are time restricted).
Besides, it's ultimately the members who seem to attract the shemales attention the most.
Premium members have the added bonus of experiencing tranny sex chat in private sessions.
My advice is simple, straight and to the point, sign-up when you're feeling comfortable. It's an easy process, which doesn't cost a cent and includes added benefits.
This way, you're free to roam the site, and visit as many open rooms without being under pressur for time. No need to upgrade to Premium immediately, as I'll be detailing this membership further down, in this MyTrannyCams review.
For those who who live their lives on the go, MyTrannyCams.com is also available on all leading mobile devices, including ios and android.
Getting Set Up
New Members, below is a simple mini guide for registration:
Click the Join now FREE button (top right of homepage) which redirects to sign-up page
Choose a unique Username & Password (6-16 characters)
Supply a Valid Email
Finally click - JOIN NOW FREE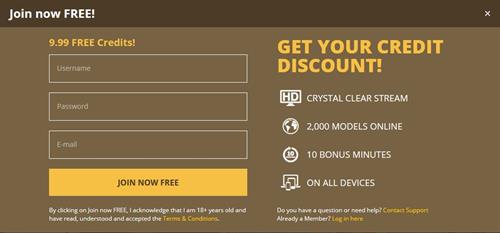 A sweetener for every deal,
New Members are welcomed with 10 free Sneak-Peeks. These are 20 second mini-previews, which can be used on any in-session private sex show. These freebies never expire, and are tailor-made for the voyeurs, who love nothing more than watching.
It gets even better:
New Members are also gifted 9.99 credits! All you need do is validate your credit card, no credit purchase required.
Credit Card validation is one way in which the website can confirm your age. After all, you need to be 18+ years, in order to access private and provocative shemale sex cam shows.
Your complimentary 9.99 credits can be used wherever and whenever. They never expire. Members use credits to tip the models, get exciting extras and pay for private sex shows.
In some instances (depending on the region) Sneak-Peeks are not automatically awarded. Avoid disappointment and authenticate your credit card. Card verification will guarantee you scoring 10 free mini-previews and 9.99 bonus credits.
This live cam site has a number of credit bundles on offer, most with bonus credits included. I'll get a little more technical, later on in this MyTrannyCams review.
Site Experience
As a Free User
As I have previously mentioned, the open rooms are free to members and guests.
These rooms provide the chance for us to examine the models, top to bottom. Public chat is tame by nature as nudity is not permitted.
Without spending a dime, there are still things you can and should do, to maximize your visit and enhance your experience.
Start by checking out the profile of the performing gender bender. Most of these models have interesting bios detailing themselves. Learn more about those important bits that you won't see in the open chat rooms, for example, the size of the tranny's cock.
"Performing shemales do everything in private, don't they?"
Well, yes & no.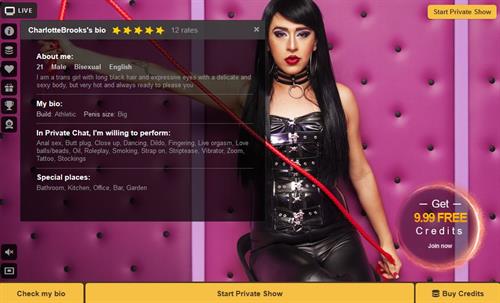 Find out just how varied and adventurous the kinky shemale sex show might be, as the models also include an In Private Chat, I'm willing to perform section.
There are a number of acts (from which the models choose), that they are prepared to do during a private sex show.
Below are but a few examples acts of willingness:
Anal Sex
Striptease
Smoking
Close Up
Masturbation
Live Orgasm
For the complete listing, be sure to check out the site.
You may have a particular desire, fetish or want, which isn't listed. Something specific that you want to see during your private sex show, simply ask the model before committing.
Most of these performers are down with doing anything, and will most likely oblige. Be reasonable and polite as rudeness is seldom rewarded.
Something else which can be done and should be done is establishing your very own favorites list. This is a feature that is offered by most popular live chat sites, with MyTrannyCams being no exception.
Favorites lists are easy to create and offer quick and easy access to those models who've piqued your interests or delivered stellar performances during their private sex shows.
FYI -
To favorite a model, whilst in her chat room, click the heart icon (top left).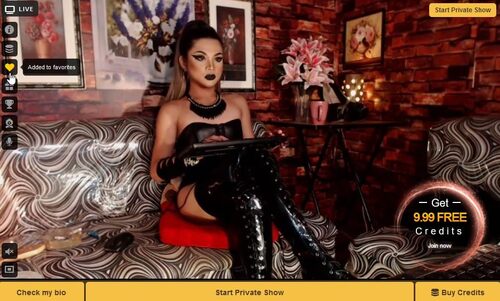 Add to your overall experience, and take the time to check out the models walls. Most of these babes have active pages and are continuously updating, adding pics to their photo libraries.
Personally, I love photos and can spend hours browsing them. I like when a cam model includes extras, it shows that she cares about her loyal fans and is serious about her passion.
As a Paying User
As I've already mentioned above, public chat rooms are free whereas the private sex shows cost credits. Paid performances are only open to Premium Members.
Private tranny sex chat is where the performing models get down and dirty delivering exclusive sensual or kinky live sex shows.
There is only 1 type of paid for tranny sex chat offered:
Private Sex Shows (100% exclusive)
All private sex shows include cam2cam.
Cam2cam is a hi-tech feature which allows your webcam to interact with the model's webcam.
Switch your camera on, share the experience. The performing model sees you, as you see her.
While this feature isn't for everyone, I do like the feeling of being watched as I look on. Cam2cam is the most exciting way to experience shemale sex cams, and (in my opinion), everyone should try it.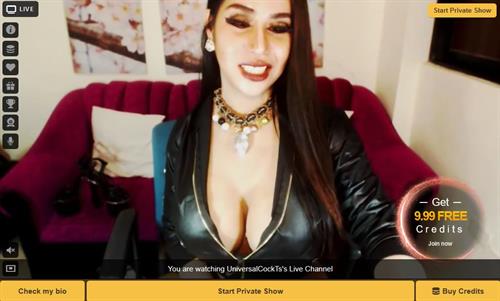 Most of the models are also set up for 2-way audio.
This feature allows you to hear and speak with the performing shemale, using your mic & speaker. 2-way audio is the perfect way to complete any sexy show experience, and costs a nominal per minute extra.
Although cam2cam is included in the shows, you don't have to use it. You can leave your video camera off.
Also, as not all models offer 2-way audio, be sure to look out for this option (when choosing to take a model private). If the service is offered by the model, there will be an audio box which can be checked. This sound option costs extra.
MyTrannyCams is all about the user-experience and customer satisfaction!
This is what I mean:
Even though costs are displayed per minute, clients are only charged per-second-viewing.
This means, you only end up paying for the exact time, that you have spent watching private shemale sex cams.
Sex Show Costs
As already underlined in this MyTrannyCams review, it's the Premium Members ONLY, who get to experience the true xxx-rated pleasures served up on this site.
An average private tranny sex chat starts around 2.49 credits per minute, while newer transgender models can be found performing for approximately 1.98 credits per minute.
There are also gender bender babes who charge northwards of 4.99 credits per minute, and believe me when I tell you, that these working dolls are worth every dime.
Look,
You'll even find Sale chat rooms which go for a staggering low 0.98 credits per minute.
That's explicit shemale sex cams for under a dollar!
Site credits are sold in packages, which are charged for in US dollars:
Available Credit Bundles - (Pay Per View Members)
| | |
| --- | --- |
| Credits | US Dollars |
| 17.99 | $31.99 |
| 27.99 + 1.99 Bonus | $47.99 |
| 67.99 + 5.99 Bonus | $106.99 |
| 97.99 + 7.99 Bonus | $155.99 |
| 157.99 + 9.99 Bonus | $249.99 |
The above list illustrates available credit bundles for purchase, using either your Credit or Debit card. Although the entry level package is a little over $30.00, it doesn't include complimentary credits.
All of the other credit packages include added bonus credits.
Check this out,
The top package, which sells for $249.99 dollars, translates to just over 60 minutes of private time with an average shemale model (2.49/minute).
Members of MyTrannyCams.com are rewarded up to 9.99 bonus credits on their initial purchase, and then (up to 9.99 credits) after every 5th credit bundle purchase.
This simple loyalty program helps entice new members and continuously rewards existing clients.
MyTrannyCams.com accepts the following major cards as forms of payment:
Visa
MasterCard
Maestro
Electron
Bleue
Switch
Solo
Diners Club
Discover
JCB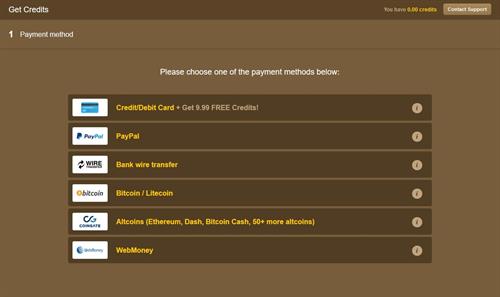 Aside from Credit / Debit cards, there are a number of alternate methods of payment:
PayPal
Bank Wire Transfer
Bitcoin/Litecoin
Altcoins (Ethereum, Dash, Bitcoin Cash, 50+ more altcoins)
WebMoney
When buying credits, the purchase page defaults to Credit/Debit card, which can be easily changed by clicking Payment Method. Illustrated below is the PayPal purchase page: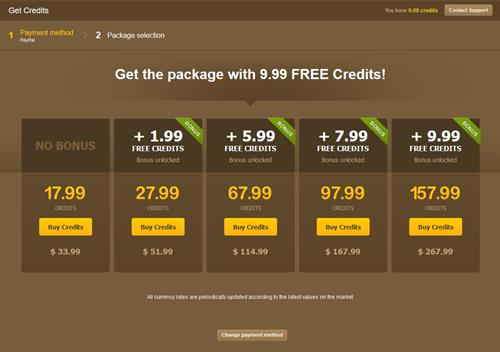 Choosing a different payment method may result in a slightly higher pricing structure.
For example buying 27.99 credits with a Credit card costs $47.99, but the same package using your PayPal account will cost $51.99. That's a whole $3.00 more expensive.
The charges will appear on your credit statement under "DDitservices.com", which helps maintain a certain element of discretion, especially if you need to conceal your spending habits from prying eyes.
Model Selection
There are roughly 6,000 shemales registered on this live chat site.
During the period of time, in which this website was under review, I noted on average 200 online models, with roughly half continuously preoccupied in private chat.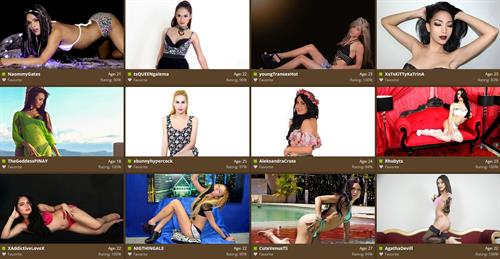 These numbers did fluctuate and at peak times, more than doubled.
This means that My TrannyCams, not only has a fine selection of chicks with dicks, but that these transgender cam stars are hard at work.
MyTrannyCams.com houses a collection of shemale babes to suite every taste and occasion, 24/7. All you need to know is how to find them.
There are a number of cam room categories found on the left side bar that are worth exploring.
These include, but are not limited to:
Big Penis
Cumshot
Double Penetration
Smoking
VibraToy
To make your user experience inviting and friendly, models are housed according to certain categories.
This way you have quick and easy access to the performers that you want to spend time with.
Also included, is a conventional search bar for you to manually type your queries.
A feature, which is among my favorites, is the Advanced Search Tool. With it's many specific and unique filters, finding that unique or specific tranny, is never a problem.
You might just have a sexual fantasy which involves a big-dick, 20 something+ tranny with tattoos, who has a butt-plug and more than happy to show it off.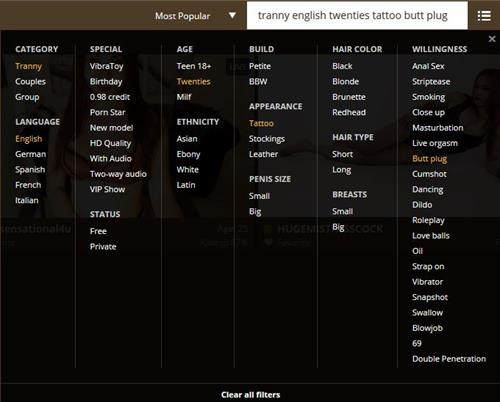 With MyTrannyCamse Advanced Search Tools, finding such a performing shemale is not only possible, it's easy.
Simply clicking on the menu icon (right of the search bar) reveals a set of useful filters, which can be used when looking for specific models.
Customer Support
Anytime that you are involved in some sort of live online experience, it's always advantageous that you also have peace of mind, and real-time assistance. The two go hand in hand, and should be synonymous.
Such is the case with MyTrannyCams.com and the customer support that is on offer. Users and members alike have access to Online Live Chat Support. This innovative feature is available 24/7 and agents are able to address basic general and technical queries and questions.
Whilst compiling this MyTrannyCams review, I felt compelled to test this service and report back.
I mean, we all know that in this day and age, e-mail is a powerful tool, where most mails sent are answered within 24-48 hour cycle. But real-time instant feedback is quicker and more effetive.
During my research, there was a little confusion concerning cam2cam and in-private sex shows, and I turned to the Online Live Chat Support for help.
The agent was friendly and patient, and also gave me clear and accurate information, answering my questions within minutes.
Not every sex cam site offers this level of customer service, and the fact that MyTrannyCams.com features this added benefit, is a testament to the high level of customer service which it strives for.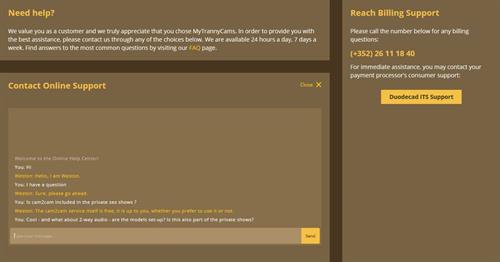 Rest assured, there is also a comprehensive FAQ section, which covers pretty much everything about the site. As money is potentially involved, I definitely recommend checking it out, and taking the time to read through it.
Pros & Cons
Positives
✔ - Unrivaled collection of stunning shemale models.
✔ - Advanced video chat portal with exceptional HD feeds.
✔ - Simple navigation means using this website is easy.
✔ - Advanced Search Tools, for tailoring your tranny searchs.
✔ - Sign up is free and includes bonus credits.
Negatives
✖ - This website is lacking in unique features.
✖ - Aside from the exquisite live chat, there is no additional video content.
✖ - There are a number of incomplete model bios.
Finishing Thoughts
If you're looking for a user-friendly, trannies only live chat site, with phenomenal HD shemale sex cams, then MyTrannyCams.com is exactly the site for you!
As far as downsides to MyTrannyCams.com are concerned, well to be honest there aren't too many.
One small negative that I would like to high-light, is the high frequency of blank model profiles.
Sadly, I came across a number of models (too many) who have incomplete bios. Personally, I like to learn about my potential cam stars before committing to a paid-for tranny sex show. I found myself glancing over those models who had not taken the time to fill out their profiles.
This is something that isn't necessarily unique or specific to MyTrannyCams, nonetheless, it does exist.
Another con that could be argued, is that there is no additional video content, aside from the live cams.
You won't find recorded shows of past performances or prerecorded videos of live sex shows, as neither are offered on this live chat site. With porn rampant online, it isn't too difficult to find such content elsewhere, on the world wide web.
MyTrannyCams.com is a high quality sex cam site, featuring the very best in high def shemale sex cams!
Its mission is to deliver top quality tranny sex chat with exceptional video quality, and MyTrannyCams has nailed it!!
In concluding this MyTrannyCams review, I'll leave you all with 1 parting line:
If chicks with dicks, or dolls with balls are your fetish, fascination or downright curiosity, then MyTrannyCams.com is exactly the right site for you. With a variety of top performing tranny cam stars and super HD video streams, the only unanswered question remains:
Are you ready for live tranny action?