LiveJasmin's Transgirls Reviewed - A Sexy Shemales Fanfare!
Published: January 14, 2021
LiveJasmin.com as a whole is the best mainstream live porn paradise. It also houses a huge collection of hot shemale amateurs.
Today I fix my focus on this site and reveal the vibrant world of tgirl webcam chat that it offers.
In this LiveJasmin transgender review, I asses the models and their chat rooms. I then inspect the camera quality, paying extra careful attention during the private sex performances.
For an express pass to the live shemale chat rooms, click the link below.
LiveJasmin.com should need little introduction as it's an industry leader in the game of online porn.
This fairly large adult website, has one of the best assemblages of performing trannies. This is great for people who love variety and are always looking for their next favorite cam star.
As LiveJasmin is a premium site, nudity is strictly forbidden in public, and reserved for the private tgirl webcam chat ONLY!
Check this out,
The public chat rooms are free to use.
These rooms serve as a meeting point for the shemales and members to gather & flirt.
Messages are exchanged and for the lucky ones, a private tranny sex chat is the coveted 1st prize!
As LiveJasmin caters to all walks of sexuality, finding the shemales in action is simple. It requires 1 click.
To access these gender benders, simply select Transgirl from the main navigation bar, found on the homepage left hand side.

First Impressions
Step into LiveJasmin and immediately you're made to feel like a VIP, walking the red-carpet event!
The homepage is attractive, with mid-sized thumbnails neatly laid out. An ordered front page lends to a site feeling more intuitive, which LiveJasmin is, and users feel very comfortable moving about the site.
The top navigation bar is where you can find all the user tools, and the model and rooms categories are conveniently placed on the navigation side bar, left side, on the start page.
These hot shemale amateurs all look amazing. Seriously, cast your eyes across their pics and decide for yourselves.
While the default pic size suits me fine, I do like how I can change the view and browse the babes how I want to.
Top right in the tool bar, is a series of 3 blocked icons. Toggle the main gallery view, selecting from:
Small
Medium (default)
Large
The smaller the profile pics are, the more that can be displayed onboard the gallery. Personally, I prefer smaller sized pics, which means more shemales to view, without scrolling.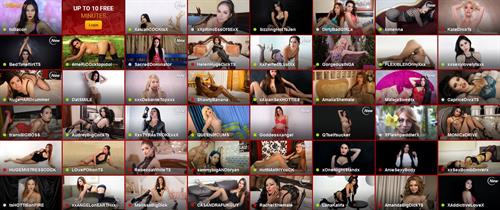 You can even change the pecking order in which these gorgeous babes are paraded. One thing I worked out, is that the Newbies menu often features models, who are less expensive for private chat.
Using the handy drop-down menu, choose from the following:
Recommended (default)
Classic
Most Popular
Newbies
Alphabetical
LiveJasmin's Best
Looking through the collection of hot shemale amateurs, I am amazed at just how many online shemales are available. Having reviewed a number of shemale sex sites, I am truly impressed with LiveJasmin's strong model selection and availability.
In browsing the main gallery, I absolutely love how my mouse becomes a wand, magically opening the room as I hover over a model picture!
This slick feature, brings an added element of excitement, to an already polished sex cam site.
Find out what the sexy shemale is up to, as the video begins to play revealing how the model looks, and giving you a sense of her cam room. Knowing how a model looks, or behaves on cam will often entice us in for more.
This LiveJasmin magic only works on shemales who are available (green), not on those gender benders who are involved in private (red), or simply offline (grey).
One of the very first things that I didn't notice, entering the shemale's room, was a pricing menu.
As is this site's policy, pricing menus remain hidden until such time as Credits have been purchased. I am not a fan of these kinds of tactics, and would have to add this flaw to my small list of negatives.
Moving on,
The video chat window opens large and wide, centered on your screen. I like how this feels and looks, with a well proportioned video screen to chat window size.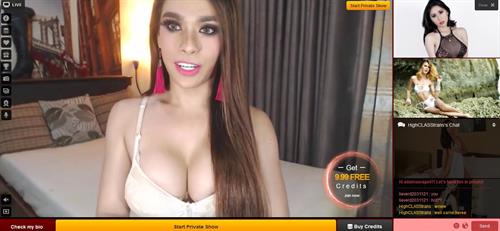 With an impressive default screen size, the image is clear and the cam quality, superb.
Take control and modify the picture to the size that fits your needs. There is a useful screen adjustment button, bottom left of the video chat window.
You can also change the sound by toggling the volume button.
Try out Full Screen Mode. With LiveJasmin's superior HD video cam quality, at times it actually feels as if you're right there with the model, in her very own cam room!
I'll be straight up with you.
Very few sites can lay claim to such high video excellence, as LiveJasmin enforces strict rules governing video cam quality.
The minimum camera permitted is HD 720, though the majority of shemales seem to be streaming at HD 1080.
The result?
Every room is a winning room on this sexy cam site! High picture quality, a resounding mark of LiveJasmin's superiority.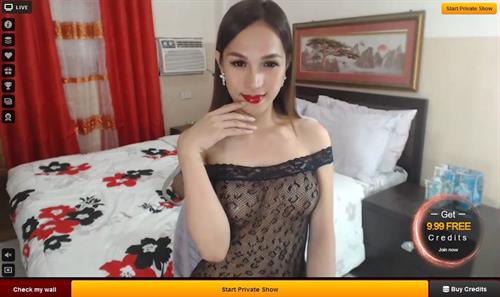 Begin by starting up a conversation with the smoking hot shemale.
I find that it's always the best way to kick things off. For the most part, the trannies here are friendly, engaging and responsive.
Check this out,
Guests and members are free to flirt and parlay in public, though guests are time restricted. Messages are exchanged, as users compete for the chat host's attention.
The models themselves, usually respond with flirtatious banter, waiting to be taken into private.
The fact of the matter is,
It's usually the paying members, who seem to garnish all the glory. They seem to attract, the playful shemales the most.
Paying members get to live out the finer aspects of this live chat site. They get to experience seductive & private, tgirl webcam chat.
Enjoy watching porn when you want to and where you want? So do I.
LiveJasmin.com understands the fast-paced world we live in and in such, offer their mobile services through a web app suitable for the iPhone, Android or Windows phone.
Here's my sound advice,
Become the boss you deserve to be! Get recognized by shemales with a unique username, and sign up for free!
Getting Set Up
This simple process doesn't cost a dime, and membership is valid for life.
To join this prestigious adult website, follow the mini guide below:
Click the Join now FREE button, start page top right.
Select a personalized Username & Password.
Enter a valid Email.
Final step, click Join NOW FREE.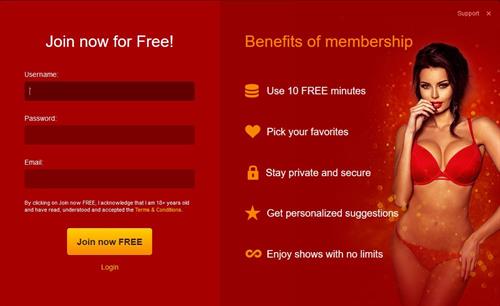 Here's a little bonus to sweeten the deal!
New Members score, as they are gifted 10 free Sneak Peeks.
Check out the action in any ongoing private tgirl webcam chat, with these 20 second mini-previews.
Unleash your inner voyeur as you get a taste of hot shemale amateurs performing in private.
There's even a way to score 9.99 bonus Credits. All you need do, is authenticate your credit card.
Validating your card is one way, in which LiveJasmin can verify your age. Members of this sex cam site, must be 18+ years, to access the private shemale sex cam shows.
Credits are used to tip (or virtual gift) deserving models, pay for added benefits and for taking sexy trannies into paid-for private performances.
LiveJasmin offers a variety of Credit packages, the bulk inclusive of bonus Credits. I'll explain more about these, further on in this LiveJasmin transgender review.
Site Experience
As a Free User
Visit and spend unlimited time in open chat rooms! These rooms are free to use for both guests and members, however guests are restricted in time.
The public rooms act as meeting places for shemales and users, to gather and flirt. Public chat is all above board, as nudity in these open forums, is not permitted.
2 important icons, found on the model's video chat window, are the profile icon and the add to favorites icon.
These are possibly the 2 most well used icons that you will find, as both add to your overall site experience, as I'll explain the why & how.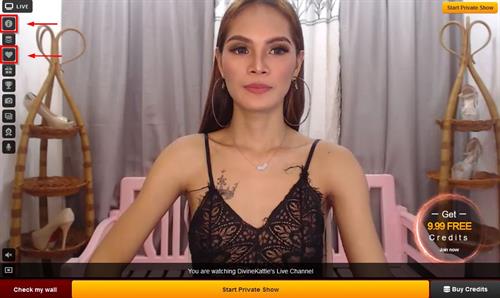 The 1st is the model profile icon (i) button.
Learning all about the performing tranny can be fun, as most trans babes have detailed bios posted. Find out more about your chosen cam star.
Read all about her, discovering things that make all the difference, such as the model's penis size.
Discover, just how kinky the private tgirl webcam chat can get!
The shemale's profile includes, an In Private Chat, I'm willing to perform section.
This is where the shemale babe breaks it down, listing what she's prepared to do, during a private paid-for performance.
The most popular tranny sex acts, as listed by LiveJasmin.com:
Anal Sex
Close-Up
Dominant
Fingering
Live Orgasm
Sex Toys
Smoking
Striptease
Submissive
Here's the thing,
Not every model is prepared to do everything in private, so they mention the more popular acts that they're willing to do in private. However, there are more adventurous shemales who are exploratory by nature, and down for doing anything.
If you have in mind a particular act, pose or position and it's not listed, simply ask the model. The worst case scenario, is that she will decline. Be polite and you might just get rewarded.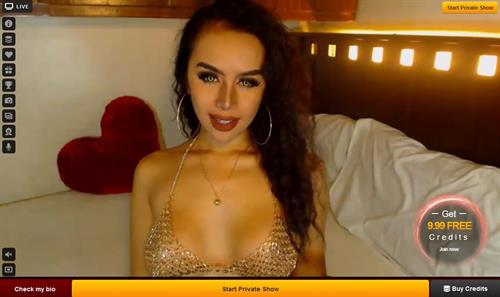 The 2nd icon (heart), is the Add to favorites button.
Using this handy feature, gather and store those hot shemale amateurs, who've outdone themselves in private or whom you've simply taken a shining to.
Favorites lists offer quick and easy access, to your personal collection of best performing shemales.
Connect, login and head straight for your very own preferred tranny action!
Free users are at liberty to check out the trannies message walls. Many of these shemale babes keep attractive and enticing profile walls, where they upload a variety of tasty pics for us to view.
Some chicks with dicks, even have bonus recorded videos posted, for users to savor.
Feel part of LiveJasmin's community as free users are given a vote to cast. Votes help elevate the shemale's status as they feature first with higher rankings. Free users are given 1 complimentary vote per model.
As a Paying User
As already mentioned, earlier on in this LiveJasmin transgender review, the open chat rooms are free, and the private tgirl webcam chat costs Credits.
These amateur, exclusive shows are where the seductive shemales reveal all, and are ONLY open for paying members. Any Basic member, who buys a Credit package automatically becomes a Premium Member.

Premium members have the choice from the following live sex shows:
Private Sex Chat
VIP Shows
Scheduled Shows
Spy Mode
Private tranny sex chat is a 1-to-1 experience between you, and the model. All private paid for shows include cam2cam.
Switch your camera on and co-star with the performing shemale! She sees you ,as you see her. Some shemales are even set up for 2-way audio, for those times when you absolutely must be, hands free.
Cam2cam is a must Live Chat feature! Kudos to LiveJasmin, as this premium service is 100% complimentary.
2-way Audio (those models who have), rounds off any sensual performance, upping private tgirl webcam chat, straight to the next level.
A new addition, to the string of LiveJasmin hot features, are Scheduled Shows. Never miss out on the action as you can now book your seat to watch kinky hot shemale amateurs perform, on the days and times which suit you the most.
These shows are usually pretty well priced, and don't be surprised to find more than a bargain or two, as the chat can work out to as little as 0.33 Credits per minute!
VIP Shows are tip orientated or goal driven shows. Members contribute and once the target is reached, the show commences.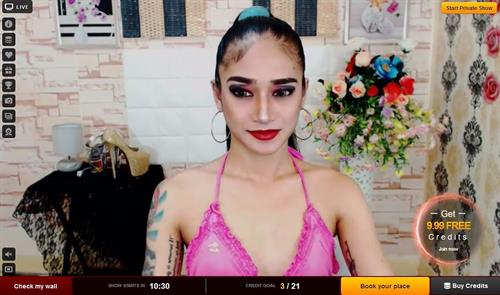 Explore your inner voyeur and spy on trannies in private. Members in Spy Mode can watch, messaging is not permitted.
Sex Show Costs
High quality gender benders performing intimate and explicit sex shows, from exquisite HD chat rooms!
As I've just explained, this xxx privilege is STRICTLY reserved for LiveJasmin's Premium members.
Average hot shemale amateurs can be found camming for around 2.49 Credits per minute, whereas the newer tranny babes seem to hover around the 1.98 Credit per minute mark.
I even cam across transgender super stars, who charge upwards of 4.99 Credits per minute. That's a staggering amount of cash for sexy tgirl webcam chat, but some of these babes are worth every single cent.
It gets even better,
As Sale Rooms can also be found, where the models charge a modest 0.98 Credits per minute.
Credits are sold in bundles, and are charged for in US dollars:
Available Credit Bundles - (Pay Per View Members)
| | |
| --- | --- |
| Credits | US Dollars |
| 17.99 | $31.99 |
| 27.99 + 1.99 Bonus | $47.99 |
| 67.99 + 5.99 Bonus | $106.99 |
| 97.99 + 7.99 Bonus | $155.99 |
| 157.99 + 9.99 Bonus | $249.99 |
The above indicates available Credit bundles for purchase, using either your Credit or Debit card. Despite the entry level package costing a little over $30.00, it is void of bonus Credits.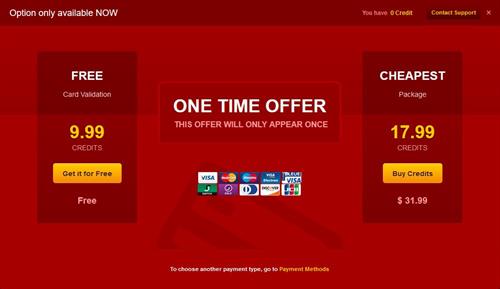 All other Credit packages include additional bonus Credits!
Consider this,
The largest Credit bundle selling for $249.99 dollars, works out to a little over 60 minutes of private pleasure time, with an average performing trans babe. When comparing and doing the numbers, these rates are fair and competitive.
As far as Customer Loyalty is concerned, LiveJasmin keeps it simple, continuously looking after their own.
Members are rewarded up to 9.99 bonus Credits on their first purchase. Then again (up to 9.99) bonus Credits after every 5th purchase.
This elementary rewards program maintains a customer loyalty continuum and also plays its part in attracting New members.
LiveJasmin.com accepts the following major cards as forms of payment: Visa, MasterCard, Maestro, Electron, Bleue, Switch, Solo, Diners Club, Discover and JCB.
Aside from Credit / Debit cards, there are alternate methods of payment:
PayPal
Bank Wire Transfer
Bitcoin/Litecoin
Altcoins (Ethereum, Dash, Bitcoin Cash, 50+ more altcoins)
WebMoney
Buying Credits is simple, the default purchase page is Credit/Debit card. This can be easily changed by clicking Payment Method, as illustrated below: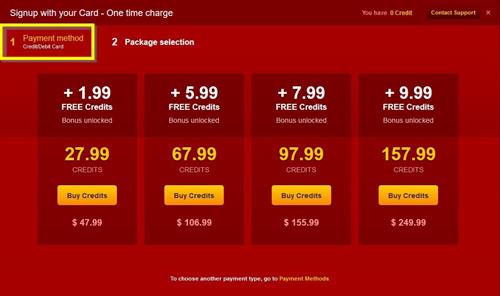 Be aware that different payment methods have varying pricing.
Buying a 27.99 Credit bundle using your Credit Card, works out to $47.99, whereas the same Credit package will cost $51.99, when paying using PayPal. This makes it slightly more expensive, by $3.00.
Model Selection
This is always a contentious issue, especially when numbers are concerned. I can tell you that LiveJasmin has an amazing model selection, from the hot shemale amateurs with small penises to tranny super stars with big personality and large cocks.
During the week compiling this LiveJasmin transgender review, I noted on average about 60 online shemales. Roughly half seemed to be continuously involved in private sex shows, at any given time.
The numbers significantly increased during peak hours, on some days more than doubling.
Here's the thing,
The transgender babes found on this sexy live chat site are available 24/7.
The deal is, that these gorgeous cam stars are more than happy to perform, day or night.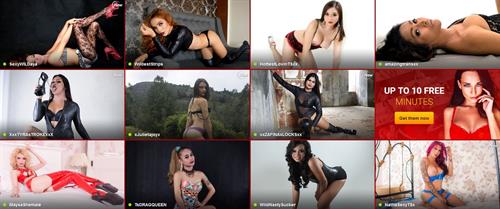 Finding Specific Transgender Babes
As I have already pointed out in this review, accessing the models is easy, with a handy Transgirl tab on the left hand navigation bar.
There's even a way to fine tune your search, helping you find the shemale of your dreams or sexual fantasies!
You may very well have in mind a sexy latina 20+ year old shemale lover, with flowing black hair, tattoos, and is prepared to get down with sex toys during her paid for private performances.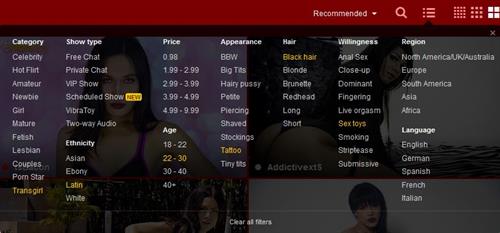 With LiveJasmin's Advanced Search Tools, finding such a performer is made easy, as there are a number of intuitive and useful search filters.
These include:
Show Type
Ethnicity
Price
Age
Appearance
Hair
Willingness
Region
Language
Customer Support
There are times when things don't work like they are supposed to. Or you have questions:
For such times, LiveJasmin offers its users, both members and guests Online Live Chat Support.
This high value feature provides real-time help, as agents field and answer general & technical questions or queries.
To access this service, click the Contact Us tab at the bottom of the homepage. Select Contact Online Support and Enter Support Chat. Alternatively, click the Messages tab (envelope), then select the Support Messages and then Start a Support Chat.
In reviewing this cam site, I decided to find out just how effective LJ's online support service is.
The support agent was friendly and informative, and in no time, my query was resolved.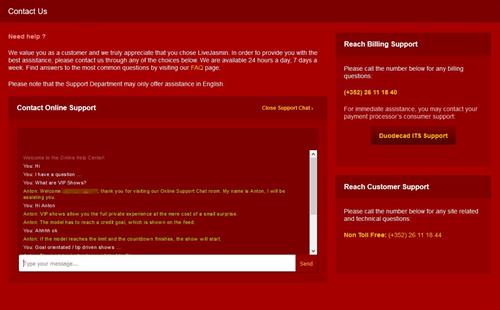 LiveJasmin.com also feature a relatively comprehensive FAQ section, covering general, technical and billing information. For those who prefer more conventional lines of communication, there is a non toll free contact phone number as well as email assistance.
Pros & Cons
Positives
✔ - High quality video & sound. HD in every chat room.
✔ - A fine and varied selection of transgender models across age, ethnicity and speciality.
✔ - Cam2cam included in the private tgirl webcam chat.
✔ - New members are welcomed with 10 free sneak-peeks.
✔ - Simple site navigation, leaving you more time watching hot shemale amateurs perform.
✔ - Filter down for specific shemales using Advances Search Tools.
✔ - Registration is free and valid for life.
Negatives
✖ - Nudity is prohibited in public, for the sexy hanging bits, you'll need to go private.
✖ - Pricing menus remain hidden until such time as Credits have been bought.
✖ - Private sex chat excludes 2-way audio, which is an optional extra.
✖ - The costs for private chat can be a little pricey, when compared with competitive sites.
Finishing Thoughts
If you've braved this LiveJasmin transgender review to the end, bravo!
You've probably already worked out that, not only am I a fan of this illustrious cam site, I'm also in love with it's hot shemale amateurs and the sex shows that they deliver.
There's one minor site negative I could expand on, is the amount of incomplete model profiles.
Now,
Although this problem isn't strictly unique to LiveJasmin, one would imagine that a site of such high pedigree, every model's bio would be complete.
Inevitably, it's the shemales who decide what to post. A made-up profile in the model's own mother tongue is better than seeing dead empty profile space.
LiveJasmin.com is an upmarket adult website delivering the very best in live sex chat.
With superior HD chat rooms and a selection of sexy shemales, this site is and continues to be an appealing destination for exciting tgirl web chat.