MyDirtyHobby Review - A Dirty Tranny Porn Haven
Published: January 13, 2021
When you're bored of vanilla sex chat and ready to take the plunge, check out MyDirtyHobby.
From soft home-made fetish films, to hard-hitting kinked out web chat, here's a site offering more that just live sex on cam, as at MDH you can get the whole package.
But Is this site strong on shemale sex chat?
Let's find out.
Included in this MyDirtyHobby review, I scope out the site at large and focus on model selection, camera quality and costs for private tranny sex chat. There's a whole lot more to be discovered, just read on.
To head straight for the cam action, click the link below.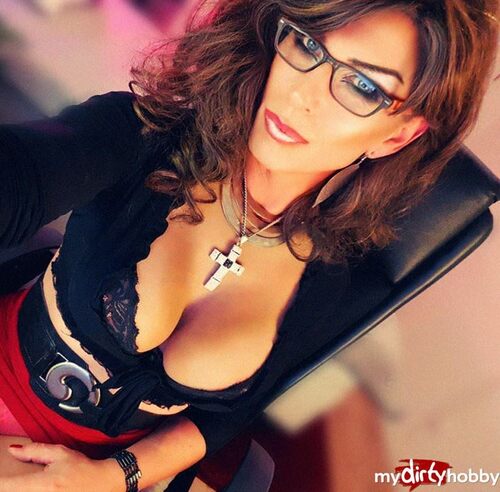 First Impressions
After a quick glance at the homepage, it was quickly apparent that MDH is really an impressive collection of like minded people and their obsession with all things sex.
These amateur fetish fiends and kink crusaders have banded together, sharing their every photo, movie, comment, story and those who are set up, of course offer live sex chat.
Navigation is made simple and conveniently housed in the main dashboard, left of homepage.
Here, besides the live webcams, members and users can also easily access:
Latest Videos
Latest Photos
Top Videos (Week & Month)
Top Amateurs
Top New Comers
Categories
Community
Ok, so before going further with this MyDirtyHobby shemale review, I want to highlight an import point from the start.
MyDirtyHobby is a community driven adult sex site, which means you need to become a member in order to participate and have the real dirty fun.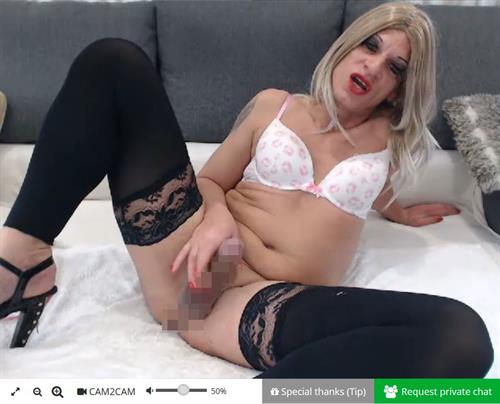 Once subscribed, members are then at liberty to upload their pics or videos, sharing them with other keen members within the MDH community for a nominal price.
On closer inspection, it also became apparent that while MDH, may not necessarily house the most shemale live sex cams, it does offer an extensive collection of home-made tranny porn, and libraries of sexy shemale pics for members to browse.
There is also no free sex chat to speak of, all transsexual video chat on MDH is charged for, so best be sure you're accounts are loaded before even trying.
With so much happening, the site Notifications are an excellent source for info and the best way to keep a breast of what's going on. What's even better, is having the option to customize the settings the way you want.
Get important alerts (more on offer) from your best performing members such as:
Favorite posted a new blog entry
Favorite is giving a discount on all content
Favorite published a new video
And then personalize your general alerts to include (not limited to):
Someone added you to favorites
Amateur answered your video comment
Someone visited your profile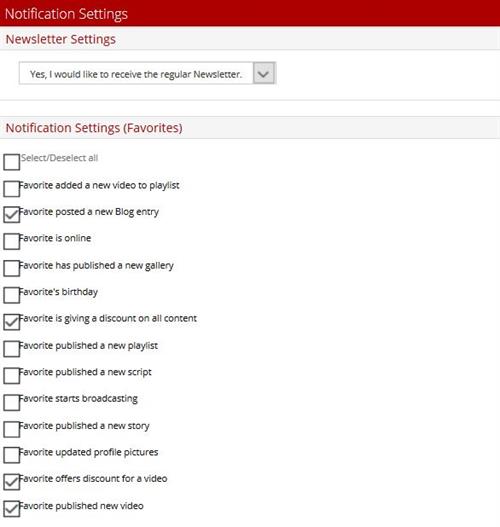 Getting Set Up
As already underlined in this MyDirtHobby shemale review, this is a an online x-rated community for members and by members. If you want to join in this x-rated fun, you need to sign up and become a member, then get yourselves some Dirty Cents.
Registration is free, straightforward and valid for life.
You'll need the basics:
Username
Password
Email
Select Gender
Once the required missing data fields have been completed, press the large green Register button.
Here's a little doozy which is a spanner in the cog,
Upon registration, a confirmation email is sent including an activation link embedded.
By clicking the embedded link, you are redirected to the DirtyCents purchase page on MDH.
Until such time that you actually load up your account, you're not able to continue further, and therefore restricted to using this shemale webcam site, as a visitor only.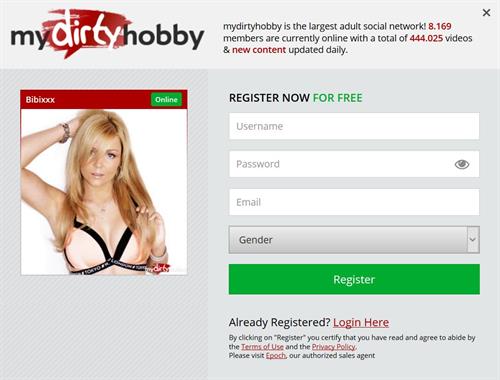 Site Experience
As a Free User
As I'm sure that you've most probably already worked out, kinky transsexual video chat is not possible, and reserved for paying members only.
However, guest users are welcome to check out model profiles, and learn more about these performing artists.
MDH members often have detailed and colorful profiles.
Seriously, these bios are more like Facebook, and message walls than just your regular basic model stats!
Free users are welcome to read the About Me section in any members profile, though brush up on your German, as these kinky shemale models only seem to post in their Germanic mother tongue.
Reading the model blogs proved to be more rewarding as they were mostly composed in English.
Checking out the model's Timeline, seemed to be the only other beneficial option available to guests, and browsing the model posts gives users a more than fair indication on just how active a particular member is.
Knowing just how frequently that certain someone blogs, posts new vids or naughty pics, might just tip the scales in favor of you signing up.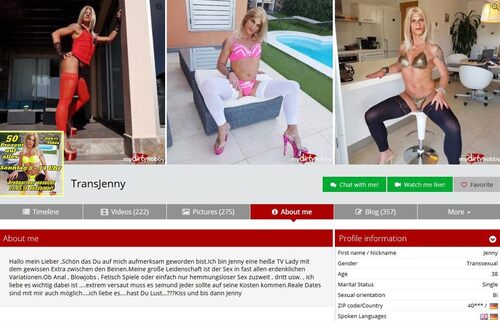 As both the Top Videos and Top Amateurs sections are open for guests to browse, checking out the top vids, users get a feel for the level of kink being dished up in these uploaded amateur tranny porn video clips.
Just as visiting the top amateurs gives a little insight as to the quality of members which are active, within this unique sexual MDH community.
The Categories tag is free to use, and shows users just how slick the My Dirt Hobby indexing system works.
There is an A-Z of unique categories, fetishes or kinks and each section also indicate the number of uploaded video as well as pics.
Below, a small sample of offered categories:
Big Dick
Bondage
Fisting
Shemale/TV/TS
Submissive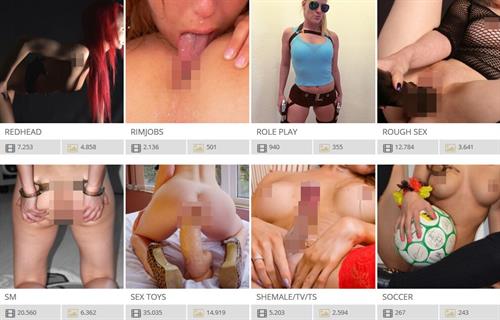 The Communities page is really the site's main message board, and contains member postings which could be anything form blogs or articles, to new kinky pics or home-made movies.
As specified search within the communities section not available, the only way to catch up on transsexual postings is by scrolling through the pages, and keeping your eyes peeled.
As a Paying User
Ok, so you opted in, signed up and got yourselves some DirtyCents.
Your MyDirtHobby adventure is about to get a whole lot more explicit, as I'm about to explain.
To sum it up, paying members gain complete site access including these sizzling hot benefits:
Live Video Chat, spending exclusive intimate 1-on-1 time with transsexual video chat hosts
Online Text Chat, finding members with similar tastes texting each other erotic dreams
Watching home-made fuck vids, selecting from the latest amateur tranny porn on offer
Expanding your own personal photo album, choosing from an extensive picture selection
As far as memberships are concerned either you've chosen to pay-per-view, or are a high roller and signed up as a VIP.
The pay as you go members, don't have fixed contracts nor do they subscription fees.
These registered members, simply reload their DirtyCent accounts whenever they see fit. Email verification on your 1st purchase scores you an extra 30% bonus.
An enticing little deal sweetener, and one that continues to draw new members.
It's important to note that unless cancelled, all VIP subscriptions will renew automatically.
Ok, so as I've already alluded to, in this MyDirtyHobby shemale review live tranny webcams is not exactly this site's forte.
Despite only a handful of members who offer their services live on webcams, this is what I have to report back.
Finding the performing shemales is made easy, with an intuitive drop down menu and additional search filters are located in the Webcams page main menu.
You'll notice under the Gender menu both Shemales and Transsexuals listed. Some transgenders identify differently to others, so you're obviously going to want to try both.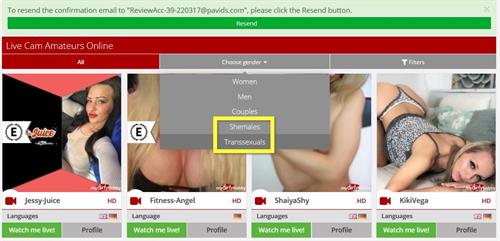 Shemale or transsexual profile pics all include the model's name, as well as the language that she speaks. There's also a link to her profile, and most importantly, the cam quality of her video chat room.
If like me, you too like the finer things in life, then watching shemales perform in HD, is always going to be your first choice!
Spend some time reviewing the model's bio and try get a sense of who she is, see what she's posted and when, and find out what others are saying about her, or if they've commented on her latest amateur tranny porn uploads.
Most importantly, and this really applies specifically to live webcam chat, find out about the shemales sexual preferences. Discover what it is that that performing transsexual chat host is versed in, and the kinds of kinky performances you could request during your private show.
Know and understand your limitations when calling the shots, though between us the members on MyDirtyHobby are pretty hard-core and out there, and with just the right amount of sweet talk, they'd be pretty much down for just about anything!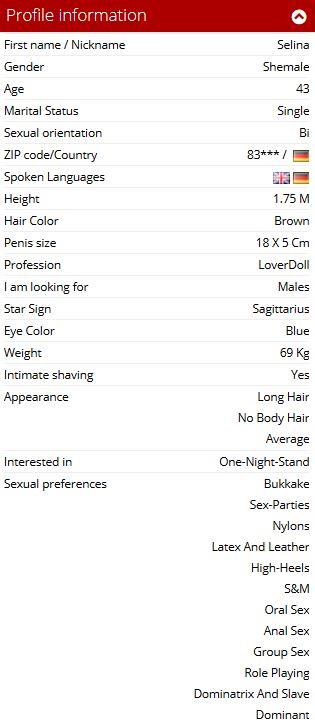 There are no preview chat windows, so entering a live transsexual video chat session can sometimes feel like going on a blind date. A fair amount of nerves and excitement.
All live shemale webcam shows are offered Group Shows, with the option to request an exclusive 1-on-1 performance at any time.
Be sure your accounts are well topped up, as the moment you enter the members room, your DirtyCents begins to drain.
The video chat window opens at a fair size centered on your computer monitor, with a neat clean message interface screen, to the right. Underneath the chat window are a set of useful tools, to personalize your private sex chat experience.
Increase or decrease the picture size, change the sound volume in the members chat room and then the icon we've grown to love so much, Cam2Cam.
For the times when being watched is as critical as watching, switch on your own webcam and have the performing model fixated on you and your spanked hard monkey, while you admire her sordid dirty performances and kinky acts of sex and pleasure.
Some members even have 2-way audio set up, free up your hands, as you interact with direct voice commands!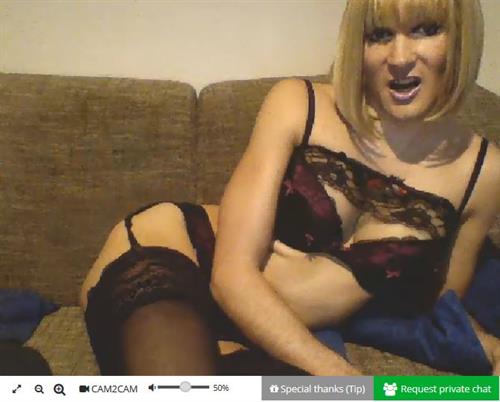 The transsexual video chat rooms which I visited, never particularly excited me as far as camera quality is concerned
On MyDirtyHobby, shemale webcam chat rooms are graded accordingly:
As far as the SD feeds are concerned, I found them above average with good load speeds, and fluid motion.
I came across a shemale member who had HD labelled on her chat room. After spending a few minutes, I concluded that if her room was in fact HD, it would fall on the lower end of the high def spectrum.
I left her show feeling a little disappointed and whole lot unsatisfied.
There are also HQ cams offered, where the images are a little more clearer than SD, but not as detailed as the images experienced in Full HD 1080.
There's no doubt in my mind that if it's live shemale sex chat you want, with the best picture definition possible, head straight over to MyTrannyCams.com.
MyTrannyCams is at present my number one shemale webcam site, with the greatest model selection and the finest HD camera feeds.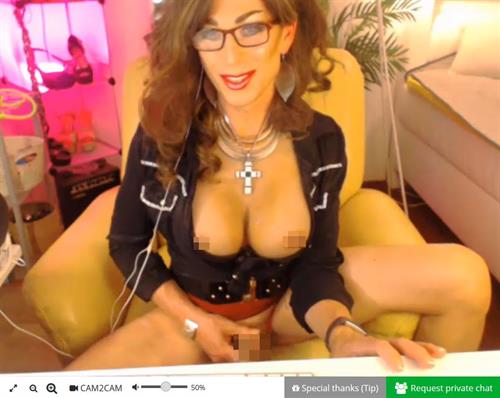 Sex Show Costs
You've most probably already worked out, everything costs, and DirtyCents get you everywhere and anything.
I've also already explained in this MyDirtyHobby shemale review that there are no joining fees, only pay per view members and VIPs.
VIP Membership: Details & Benefits
If you're a committed player and want the package with all the bells and whistles, these are the 3 VIP package options:
1 Month subscription, €19.95 per month gets you 2200 DirtyCents (includes 200 bonus DC)
2 Month subscription, €35.90 bi-monthly gets you 4000 DirtyCents (includes 400 bonus DC)
3 Month subscription, €49.85 quarterly gets you 5600 DirtyCents (includes 600 bonus DC)
VIPs score with VIP Party Invites, exclusive access to the MyDirtyHobby Parties. These iconic evening events are where the lucky few get to meet their favorite performing cam stars in person.
The VIP members celebrate with Bonus Day Extra, scoring an extra 10% more, no matter the offer.
MDH has plans to launch Special Bonus Days, which would be strictly for the VIPs.
Avoid virtual download ques with Pole Position, be first in line to watch newly added amateur tranny porn.
VIPs are given a Medal of Honor, and they stand out from the crowds. VIPs are always shown with a badge of distinction.
When a VIP exchanges messages with sexy shemale amateurs, they get the preferential treatment that they deserve and their messages appear in the member's inbox, at the top, as Very Important Messages (VIMs).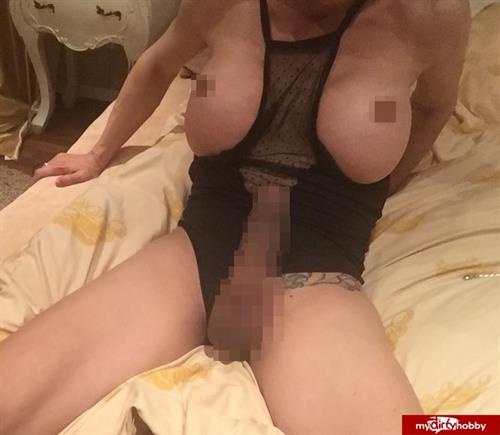 Live Webcam Chat costs will differ depending on the member and her offered acts for private performances. MyDirtyHobby members have the freedom to determine their own per minute pricing for private sex chat.
Newer models can be found going for 99 DCs per minute, whereas members with a little more experience and seniority seem to charge from 159 DCs per minute.
Bare in mind that these are the group chat costs, exclusive private shemale webcam chat also differs, and usually works out to a little more than double than the group show rate.
Exchanging text messages also costs and again, prices vary from model to model. Expect to pay in the range of 35 to 60 DCs per message. Member photos can be found for purchase for between 10 to 55 DCs.
Amateur tranny porn costs are as varied and appealing as the movies themselves. An erotic clip of about a minute could set you back 90 DCs, and a feature film of about 12 minutes can be found for about 1096 DCs, not too bad.
Available DirtyCent Packages - (Pay Per View Members)
| | |
| --- | --- |
| DirtyCents | Euros |
| 800 DCs | €10.00 |
| 1200 DCs | €15.00 |
| 2000 DCs | €25.00 |
| 4000 DCs | €50.00 |
| 6000 DCs | €75.00 |
Using a different payment method will unlock additional DirtyCent packages. Say you preferred making Bank Wire Transfers, you then have larger bundles to choose from such as 16,000 DCs for €180.00.
Making payments with Paysafecard allows members to purchase micro packages of 400 DCs for €5.00.
Accepted Payment Methods
MyDirtyHobby.com offer a number of ways in which to pay for DirtyCent packages:
Credit Card - Visa and MasterCard through a secure SSL-128 bit connection
Sepa - Pay one-off, convenient and secure via direct debit
Paysafecard - No account needed, just pay anonymously, fast and safe via PIN on your Paysafecard
Online Bank Transfer - Quick and safe charge by online transfer. You only need your account #, code & PIN/TAN
Bank Transfer - This payment method is not eligible for bonus DCs, and could take up to 3 business days to process
Model Selection
The fact of the matter, as previously pointed out in this MyDirtyHobby shemale review, there doesn't seem to be too many transsexual members who chat via webcam.
At most times, I only saw a about a handful of models in the live chat rooms. During the really busy times, the numbers slightly increased to as many as 5 models online.
Online shemales who are into sexting, can be found in greater numbers with a dozen or so available for text chat during the regular hours, and this member pool more than doubled over the peak times.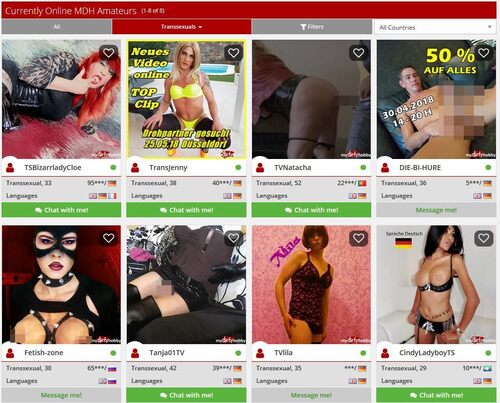 Customer Support
MDH has an included an extensive FAQ page, with 3 sections offering assistance:
General Questions
For Members
For Amateurs
To connect with My Dirty Hobby direct, there's internal messaging as well as a German listed contact phone number. Phone support is available Monday-Sunday between 11:00-24:00 CET.
Pros & Cons
Positives
✔ - Members on MyDirtyHobby are active, this helps keep content dynamic and fresh
✔ - Receive notifications when your saved best performing members get online
✔ - VIPs score with free access to MyDirtyParties, events where amateurs and users mingle in person
✔ - Simple site navigation, no matter if it's live cams, amateur vids or x-rated pics searching is made easy
✔ - Unrivaled home-made movie selection, choose from over 300 000 kinky sex videos of which over 59 pages were tranny vids
✔ - Create your own personal photo album, with over 4 million member pics to pick from
✔ - A genuine sex portal, for the hard-core, obscure, in your face, fetish fiends and amateur tranny porn
Negatives
✖ - Not nearly enough live shemale webcam models, more chance of seeing tranny action in uploaded movies
✖ - No free webchat or open rooms to preview the model before committing
✖ - Predominately European, lacking in the rest of the world's webcam flair
✖ - Need to pay careful attention to your DC's, money can go quickly over here
Finishing Thoughts
While I'd hardly call MyDirtyHobby a shemale webcam site, it certainly does feature limited transsexual video chat. The models whom I visited were friendly and engaging, and despite not having English as a mother tongue, all did their very best to make me feel welcome and comfortable.
As far as watching shemale sex shows are concerned, there's no doubt that the impressive amateur tranny video collection archived on MDH is the site's real true strength and definite advantage.
From 3 way hardcore to the best shemale cumshots to tranny strap on fuck films.
Find your performing shemale movie magic, as you search both the Latest Videos and Top Videos categories.
If an online community of like-minded, sex loving amateurs who live to share appeals to you, forget the rest and make your way down to MyDirtyHobby. Become part of the collective, and share your own erotic content with others.