Top 5 Cheapest Tranny Sex Cam Sites
Published: January 06, 2021
To enjoy the cheapest tranny cams available, your first move should be to purchase the best tokens/credits deal from any of one of the following sites. Typically, that means buying the largest package, as it will offer the cheapest price per token/credit. The prices shown here are calculated based on buying the best deal on each site.
---
MyTrannyCams.com
MyTrannyCams is home to a choice selection of transgender superstars. The girls that want to make this site their stage do so knowing that they have to keep themselves set to a standard. Rooms are kept tidy and clean, wardrobe plays the part, performances are genuine, and the webcam streaming is in nothing less than the very minimum for a high definition broadcast.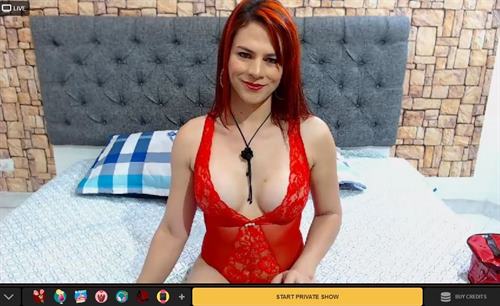 There are more affordable options for tranny sex chat among the other sites I've ranked here, but MyTrannyCams ranks as my best low cost option because I'm measuring not just for penny count, I'm looking at the value of what can be had for money spent. In other words, these models should cost a lot more than they do.
To find the cheapest rooms, go to the Sale category, or use the Price search to sort the models by their per minute rate for a private session. The cheapest 1on1 rooms go for $1.05/min. The models on the lower end of the pricing scale are either new to the site, or they're trying to drum up some action. On average, expect to see most girls asking for close to $2.70/min.
A visit to MyTrannyCams will usually reveal close to 100 models actively online. The site is sleek and simple and doesn't work to distract you with gimmicks and games. It's singularly focused on getting you into a sex show. Models' profiles present with non-explicit free content. If the model has made it available, she may have premium explicit pictures and videos for purchase.
---
Shemale.com
Shemale is dedicated to empowering trannies to embrace their beauty and talents in order to make webcam sex show gold. The site attracts a mix of true amateurs, fetishy freaks, and extraordinary specialists. To get a good sample of what any one model has to offer, be sure to poke around their hardcore photo albums. The photos are free to access and give a great preview of what each trans girl is willing to perform.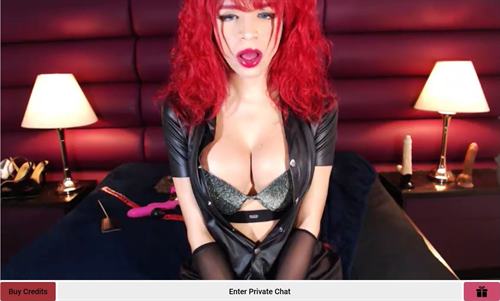 On Shemale, you'll find plenty of models that aren't asking for a lot to perform. The low rates that most of the girls are offering, do good at keeping them occupied. If some hottie catches your fancy, but she's busy entertaining, then you'll need to wait patiently for your chance.
Because prices are so cheap, you've got to be quick to initiate a private.
The lowest priced private sessions go for between $0.98 and $2.00/min. In the Advanced Settings, set the Price slider to show the girls within this range, and you'll get a full gallery of online ladies. Usually, about half of those in this price range are engaged. Opening up the price search to include those wanting up to $4.00/min will display most all online rooms. The average rate among these is $2.50/min.
With hundreds of active performers calling this home, there are always at least 30-40 online at all times of day. The more interaction you have with the girls, the more you can get discounted off of future private shows. Shemale's Rewards Program tracks how much a member has spent and grants 'status' upgrades that award larger Bonus Credits with each new purchase.
---
CamSoda.com
CamSoda provides the cheapest solution of all -- It's Free! Here, it's one big party of free sex cams where anything goes. The site's interface exhibits a live video peek into every webcam room that's presented in the main gallery display. Effectively, in a glance, it's possible to see the activity of the dozen or so tgirls you can expect to find online at any one visit.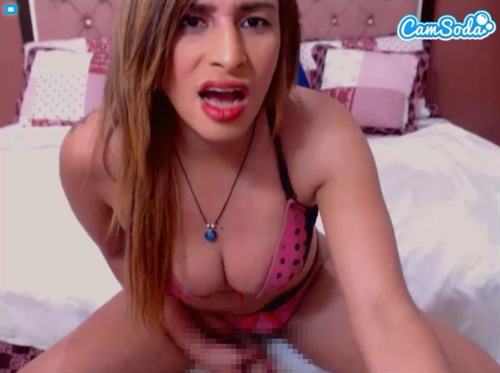 So, if you never want to spend a dime, you can still watch full on hardcore performances, without paying. Though, it will be in a passive roll. The trannies giving sex shows in their open rooms are doing it for tips. Viewers who send tips are the one's getting the attention.
Even the smallest tip amount will influence the action in the free shows.
There is no price search on the site. The only way to see how much any particular transsexual cam girl charges for a private session, is to select her Go Private feature from her free live chat room. After selecting it, her rate will display. The average one-on-one per minute rate is somewhere around $2.50/min. Get lucky with some trannies, who'll be asking for only $0.50/min to show you their cock in private.
On your first purchase of CamSoda tokens, you'll be gifted up to 100 free additional tokens. And, there is a Premium Membership available that benefits with certain upgrades and features. For $19.95/mo, you'll get an ad-free interface, access to send private messages, the ability to change the tipping volume, and to enter into anonymous chat and tipping mode. And, it all comes with a one-time gift of 200 tokens (a $20.00 value).
---
Chaturbate.com
Chaturbate is the world's most trafficked sex cam site. Any why not?... It's always got close to 4,000 performers online, most with HD+ webcams, and it's totally free, for as long as you want. Of course, Chaturbate caters to all genders. And on average, there are some 200 transgender hotties flashing their nuts and berries to their hoards of followers.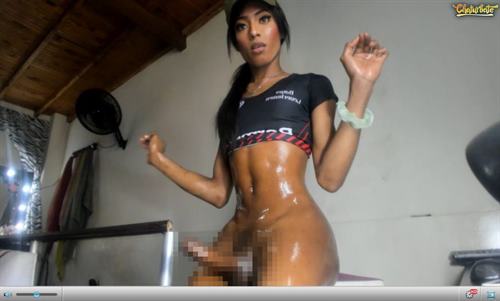 While free is great, to show any appreciation you may have, or to begin to interact, you'll want to be armed with some Chaturbate tokens. Even just throwing in 1 token every once in a while will get her to notice you. That's only $0.08 to get your name to show in her chat box.
Chaturbate is an tip-centric site, with an option to go private. Truth is, if a tranny girl is currently entertaining hundreds of viewers and working that crowd for tips, then she may not accept your request to go private at the moment you want her to. In any case, try again later, or move on to another room. When you do find one ready to go 1on1, she may have a minimum time requirement you'd have to book before starting. When you do start a private, expect the average price to be $2.40/min, with the bargain girls going for $0.50/min.
$10.99 is the cheapest tokens package available. But, when you purchase the largest tokens package at $79.99, you'll see a 37% bonus in tokens. If you want the benefits that come with a Premium Membership, then you'll have to shell out $19.95/mo. It's a fair price to pay if you're into an ad-free interface, custom chat font and color options, free private messaging, and you'll also get a one-time bonus of 200 tokens (a $20.99 value).
---
ImLive.com
ImLive is the only site on here that acts the most like a true portal for sex cams and accompanying entertainment. There are monthly themed contests that get the models competing to create the best videos. Celebrity pornstars are periodically invited on to perform live. A Fulfill Your Fantasy board lets you put your request out there for the models to respond to. And, the site's unique Multi-Viewer opens up a live video look into 6 cam rooms at once.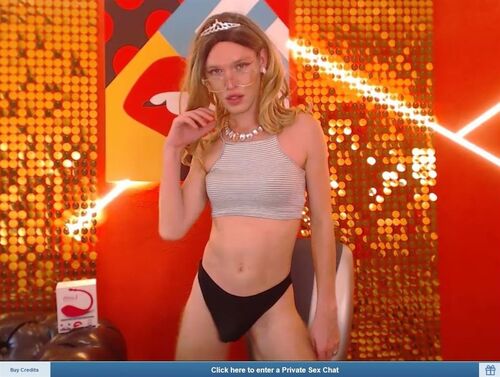 ImLive is pretty strict on its models not showing any nudity during their open chat room time. Of the 50 tgirls that are actively online, on average, you may catch a flash if a bored babe is hungry for attention. But otherwise, don't expect flashes. And, the 'free content' on the site is locked out to visitors, and members that don't hold any ImLive credits. You don't have to spend credits to watch the competition videos, or open a model's photo album, but you do have to at least posses any amount of credits.
The first 20 seconds of any private chat are free.
The average rate that most of the tranny babes are asking for is close to $2.50/min. The cheapest ones you'll come across will meet you in private for $1.00/min. If you're able to commit to a block of time, some girls offer 20% savings if you purchase a 30 minute chat, or 30% for a 60 minute chat.
Join a model's Discount Club and enjoy big discounts on their live and recorded chats. If you ever receive a Treat, it's ImLive's way of saying, thanks! Treats are awarded to members to show appreciation for being an active member. They can be awarded at anytime, and are used to convert to credits to be spent how you wish.
---
Conclusion
It's not that hard to keep yourself within budget on an adult sex cam site. You've just got to keep yourself weary of a few things. The first, is to not buy the lowest priced credit or tokens package any particular site has to offer. Most sites do what anyone selling anything does, they offer more value the more you buy.
Secondly, know how to sort out or query the girls that are operating within your budget. And know when to measure the worth of some performers against others. It's not always the cheapest per minute rooms that will give you the best experience. Maybe the tranny asking for 3.00/min can give you a better 3-minute show than some discount babe who you spend 10 minutes with at $1.00/min.
And lastly, be sure to stay connected to site updates on promotional offerings, discount opportunities, and free happenings.
Now, if you're into only choosing one site to spread your wealth, then it should be MyTrannyCams. This secure and discreet site has the best value for money, when measuring what you're spending against the selection of models you're getting, and the sex show and streaming quality you'll experience.