Transgender Cam Sites Accepting PayPal
Published: January 12, 2021
When it comes to trusted and dependable payment methods, PayPal has become the most glaring archetype. Widely acknowledged as a defender of data, and master in fraud protection, this simple to use service makes paying for sex chat with trannies a discreet and secure affair.
---
Shemale.com
Shemale is home to a varied selection of glammed up tgirls, amateur seductresses, and fetish goddesses. The site has a Shemale Magazine covering a range of topics critical to the transgender community and its fans. And the category breakdown is fun, with choices like: uncut or cut, and medium or huge.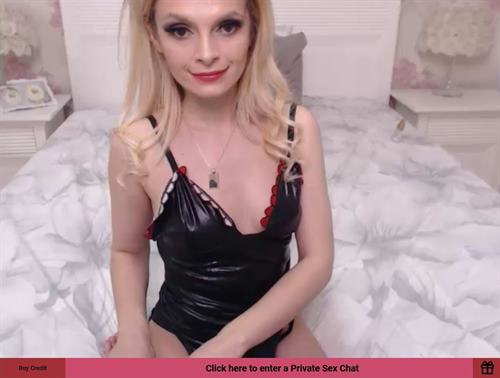 PayPal is not immediately visible when going to purchase site credits. You'll need to select the option to Change Biller to see the PayPal selection. Choose so, then go to Apply to return to the available credits packages page. Whether you use a credit card or PayPal, there's no difference in the price of the packages.
Shemale is a premium site that does not generally allow nudity in the open rooms. If you catch some, consider yourself lucky, as the model is just giving a quick flash to gin up action. The average rate for a private session is $2.50/min. In the Advanced Settings a Price slider enables you to pick your range, with the cheapest going for only $1.00/min.
When you enter into a private show, you can choose to turn on your own webcam and microphone. Activating one, or the either, is inclusive in the per minute rate of the performer.
Depending on the time of day, there are usually between 30-40 live tranny models available. When you interact with the girls 1on1, your activity is tracked in the site's Rewards Program. As you advance through the four levels, the first offers you up to 5 bonus credits, at a near $5.00 value, on every purchase. If you reach the highest level, the VIP status, you'll see up to 30 bonus credits on every purchase, and an enhanced customer support service.
---
CamSoda.com
CamSoda gets straight to business. The tranny models that choose to work this stage are mostly doing so to get big tips from as many admirers as possible. This is a freemium site that empowers its models to put on fully explicit public shows, as well as going private. Because the site is inclusive of all genders, you'll need to isolate the tgirls. To do so, find the settings tab in any main gallery page, and select to show only 'Transexual'.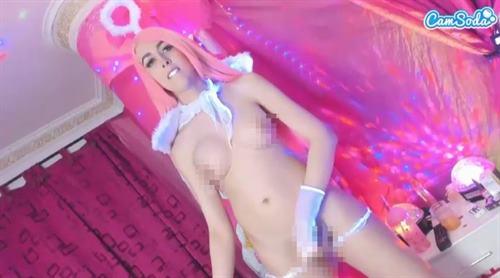 When selecting to purchase CamSoda tokens, PayPal is clearly displayed as the 2nd option under the Credit Card selection. As you select the PayPal method, you'll notice the prices per package change a bit. There is a slight premium of around 15% per package when using PayPal.
Again, this is a freemium site that allows its visitors to passively watch as much free action as they wish. But of course, if you want to make tips or request a private show, then you'll start to pay. Models choose their own rates, but on average, a private show goes for $3.60/min. The cheapest rooms you'll find can be had for $0/60/min.
Cam2cam is available over a mobile device. Doesn't cost extra to activate.
When selecting to start a private session, the per minute rate will be shown along side whether or not she allows her viewers to activate their own webcams for a cam2cam connection, and if she permits a recording of the show she's about to give. When either of these features are available, they're usually included in the price of the show. Though, you will come across a few models asking for an additional fee.
There are usually a good dozen tgirls shaking it for the camera during most times of the day. If you catch an irresistible hottie online, but she's too busy working her room for tips from the crowd, then you can Schedule a Private. When you see this option in the chat room, you get to select a day, time, and duration to meet her for a one-one-one session. Of course, you'll only pay if she shows up.
---
LiveJasmin.com
LiveJasmin is another all-inclusive site I've added to this list. If you choose to explore the other genders, just set the site to Girls, or Boys. Otherwise, keep the site set to the Transgirl category. The site has been running a long time promotion of half off the price of all LiveJasmin credits packages, for new members.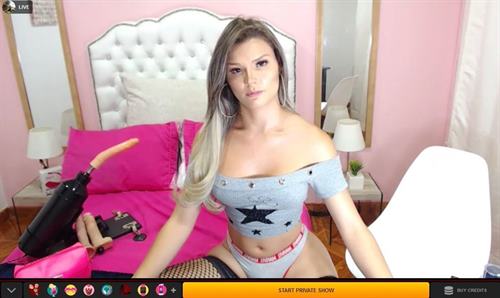 By default, the Payment Methods page opens with the credit card method shown first. Look for the PayPal option toward the bottom of this page. Selecting it will show the credits packages available when using PayPal. Each package costs a few bucks more than if you were to use a credit card.
New members get 50% discounted off of the first purchase of site credits.
LiveJasmin operates as a premium site. There are no free sex shows here. Expect to see room rates that average $3.50/min in private. The search filter lets you sort out all the ladies by their room rates. The cheapest among them are asking for only a one to two credits, or $1.30 to $2.60 a minute.
Turning on your own webcam, for the tgirl you're chatting with to see you, costs an additional credit. Activating your microphone is another added cost of a credit more. Some of the most popular girls may ask for 2 credits more for these features. And, LiveJasmin is the only site on this list that has webcam-to-webcam over mobile access.
Close to 100 trannies can be found hanging out in their chat rooms at most times of the day, and the video streams are guaranteed to be in HD. If you use PayPal, as opposed to a credit card, you'll have the option to customize your purchase amount.
---
ImLive.com
Imlive is a top spot to find sexy amateur transgenders on the cheap. The site is home to all gender makes and models. So, while I link to directly to the Trans category from this page, if you get lost on the site, be sure to direct it back to the Trans Alone category, or even the Trans Couples, where you can catch guys fucking, and getting fucked, by their tranny mate.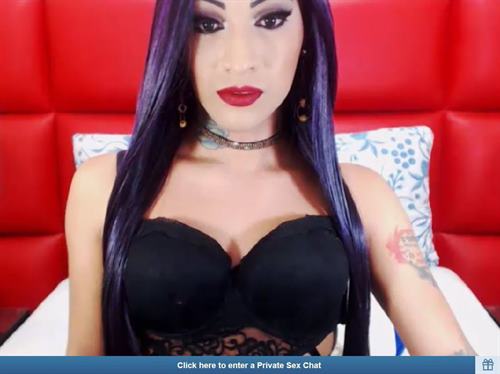 On the purchase page, there is the choice to Change payment option. This opens up a selection of three separate payment processors, with an additional selection to show more options. Select this to reveal PayPal by Epoch. Choose PayPal, along with your desired ImLive credits bundle.
ImLive doesn't let its performers to go nude during their public chat. Taking a tranny into a 1-on-1 encounter will cost, on average, $2.50/min. The lowest-priced rooms go for the bottom rate of only $1.00 a minute. All private sessions start with the first 20 seconds for free.
Inclusive in the per minute rate paid during a show is the option to activating you own webcam and microphone for a cam2cam experience.
A good 50+ tranny cams are operating at most hours. The sites boasts that it has HD webcam broadcasts, but if the model doesn't have the best camera and line set up on her end then the show may stream in standard quality video and not hi-def. Unfortunately, many models are broadcasting at a slower rate. But, they're cheap. So, it's a wash.
---
BongaCams.com
BongaCams is a fun site loaded with all the popular features and attributes that the most popular webcam sites are known for. This is the only freemium site with trannies that accepts PayPal. So here, the girls do get nude and extreme in their open rooms if they want to work their audience for tips. I've linked directly to the Transsexuals category, but if you get off tract, then just find the tab, and settle in.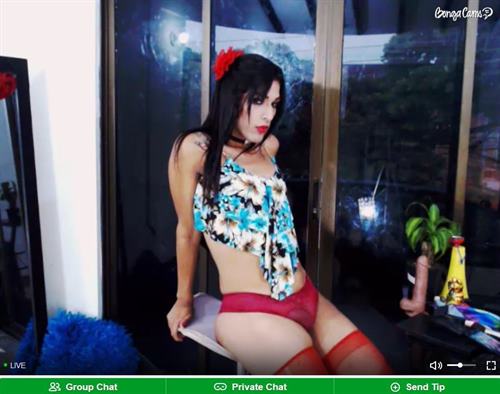 PayPal appears as one of the three payment methods available. By default, the prices for BongaCams tokens packs are shown for a credit card purchase. When switching to PayPal, you'll notice that the prices stay the same, but some of the high-priced packs sell less tokens for that price. In any case, the higher priced packs are still the best value for your money.
BongaCams has among the cheapest initial buy-ins of any site. $2.99 will get you started. But, you'll only gain enough tokens to participate in the free sex shows, with sending tips. When it comes to private shows, there is a flat rate for all models, at $5.00/min. $7.50 for Full private chat if you want no other member to have voyeur rights to the show. If you want a peek into an ongoing shows, Spy mode costs only $1.00/min.
Going webcam2webcam with both video and audio during your own show will cost nothing extra. Additionally, if the performer accepts, she can let you activate your webcam for her to see you when she's in her public room.
There are 40-50 girls actively online during most hours of the day. If you love BongaCams, it'll love you back. Its starts with 5 free tokens with your first purchase. Then, get up to 100 bonus tokens when purchasing on a mobile device. Or, promote the site to friends, and if they sign up and make a purchase, you'll get 50% worth of your friend's buy-in. And everyday, the top 5 users are gifted Cashback, with up to 200 bonus tokens.
---
Conclusion
PayPal is widely acknowledged to be among the most trusted and safe methods for completing payments transactions online. The company is constantly working to create an ever more secure and encrypted process for its users.
PayPal is so passionate about perfecting and protecting its platform's security that it offers financial rewards to technical experts, professional hackers, or just anyone, that discovers any flaws or vulnerabilities in its data defense system. This is next level kind of care. Not even credit card companies do this.
So, whether you're looking for a safer and more secure way to protect your identity and account data, or you're simply seeking more anonymity online, PayPal can be the perfect solution to paying for virtual sex with transgender fantasy makers.
To get you started, I've got to push you toward Shemale. The site has among the most stunning trannies online. The show quality is held to a performance and broadcast standard. And the private show rates are very competitive.