Shemale.com Reviewed - A Sexy Shemale Porn Hub
Published: January 01, 2021
Not all shemale porn sites are made equal, as we're about to find out.
Such is the case with Shemale.com, as this transsexual cam site has more than just live sex chat.
In this in-depth review, I cover the site top to bottom, focusing on the bits we all love learning about. I check out the models, and asses their chat rooms. I inspect the video streams and camera quality.
I also consider the private show costs for exclusive tranny video chat.
There's a whole trans community aspect which I explore and report back on.
For direct access to performing shemales and the colorful world of transsexuals, click below.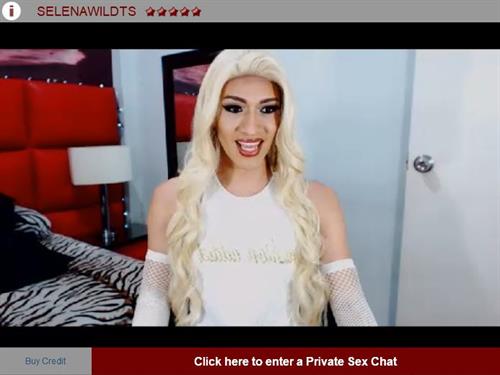 Shemale.com is a world created by t-girls, for us to better understand their lifestyle.
The moment Shemale.com loads up, it's clear that this site is more than just run of the mill cam site.
For starters, the homepage is divided into 6 separate sections:
What's New
Webcam Hosts
Magazine
Exclusive Videos
Local Spots
Blogs
First Impressions
This adult content sex site feels different and unique and for all the right reasons. For starters, you don't arrive at the live chat rooms as on most live sex cam sites, rather your welcome page is neatly laid out, informative and varied.
The What's New section is filled with opportunity, and I found myself scrolling through it a number of times, taking it all in.
The creators of Shemale.com have gone to great lengths in really establishing more than just a transsexual cam site, as is evident with the options users are given from the get go.
From the What's New page, users have quick links to a wide variety of choices.
Whether it's finding out more about the hottest shemale porn stars, or keeping current and connected, with Shemale's host of the week.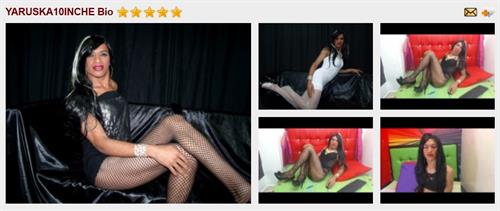 The Webcam Hosts tab is where you will find the live tranny video chat.
The model thumbnails are of a descent size, and the main gallery is a healthy mix of age and ethnicity.
I like how the profile pics all indicate the models availability status, her user star rating and if she's new to the site.
I also love mousing over their pics for the mini-video previews you can get. A small taste of who the performing shemale is, and what's happening in her room.
Users also see the languages the shemale speaks, as a flag or flags appear, and with some models, there are even convenient quick links to her bio, videos and pics.
Enter a model's personal chat room, and the video chat window opens up fairly large and wide.
Despite grabbing my attention, I found myself feeling a little disappointed with the imagery.
I checked out a number of different chat rooms at various times during the day, and found that the video cam quality in general, was average.
Fortunately, mostly the motion was pretty steady despite the so-so video quality.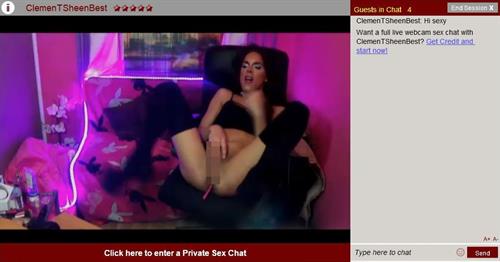 The Advanced Search and quick-search filters are conveniently located on the top navigation bar.
Through the main Filter By, you can specify:
All Hosts
Transsexuals
Shemales Alone
Transsexual Couples
Ladyboys
Latina
Big Penis
More
The drop down Features list includes:
New Hosts
Hot Rooms
Low Price Hosts
Happy Hour & Vibe Shows
Hosts With Videos
Free Hosts
Indoor Mobile Cams
If you've ever wondered what it must feel like to meet up with a gorgeous ladyboy, then check this out.
Shemale.com has interesting and enticing articles on where to go out, featuring trans-friendly hang-outs from across the globe.
While the cover story is about a popular New Orleans bar called The Double Play, a brief look at the Local Spots tab, and it's soon apparent that you can read up on global trending shemale watering holes or dance clubs from Sao Paulo to Sydney, Bangkok to Berlin.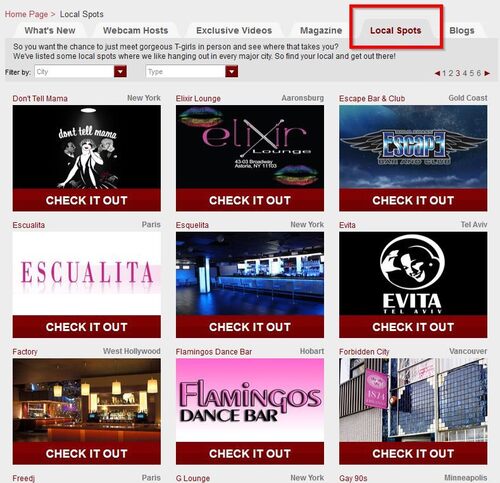 Most of these shemale-friendly venues even have user comments, giving you even more of an idea as to the expected ambience and past-user experience.
So if you're feeling the heat, and want a bona fide chance to meet up with a stunning t-girl in person, Shemale.com has included filters for cities and venue type, under Local Spots.
Cities include, but are not limited to:
Amsterdam
Bangkok
Berlin
Cape Town
Liverpool
Moscow
Tel Aviv
No fewer than 46 cities from around the planet have been featured, and though I can't vouch for every global venue, I can for a few of them.
I was fascinated to discover that Shemale's amateur tranny porn video collection runs almost 6000 deep!
If live cams ain't your thing, I would personally recommend trying the what to watch section, or head over direct to the Exclusive Videos, and select from the many home-made movies on offer.
Shemale.com has an impressive video library but there's no way for users to specifically search for movies, other than to browse.
Sadly, there are no search filters, allowing users to look for videos according to say, date of upload or featured act in movie or couple or threesome.
You get my drift, and I find this very annoying.
I believe that just a few basic filters could make the user browsing experience, a whole lot better and enticing. While I have just as much patience as the next person, I had to wait until page 7 for the real eye-opener!
Guys sucking girls dicks, guys fucking shemales and vanilla shemales loving big black cocks.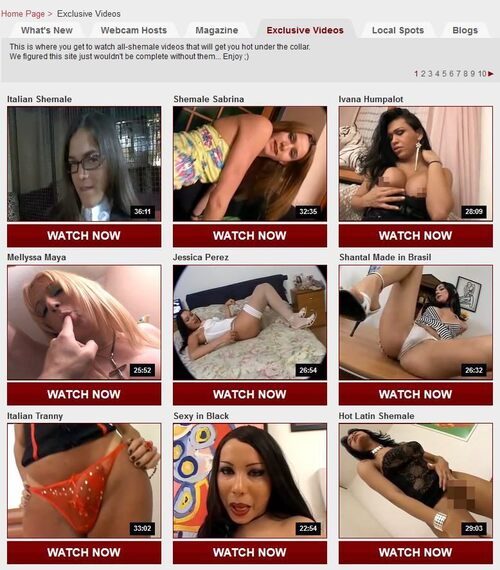 A nice touch to all the different sections, is the inclusive Weekly Pornstar Schedule, page bottom.
Never miss out on your favorite performing shemale or discover new tranny talent.
Getting Set Up
Registration on Shemale.com is only possible by buying Credits, there are no free member accounts offered on this transsexual cam site.
Sign up is a 3-step procedure:
Complete the registration form with your Username, Password and valid Email.
Create your own personal profile though this is optional.
This is the Credit purchase step, and there is no way to continue unless you buy Credits.
This is how the situation unfolds,
Each time you log back into Shemale.com, you are redirected back to the Credits purchase page, in order to complete the registration process.
The only way around this road-block, is to log out and use this site as a visitor.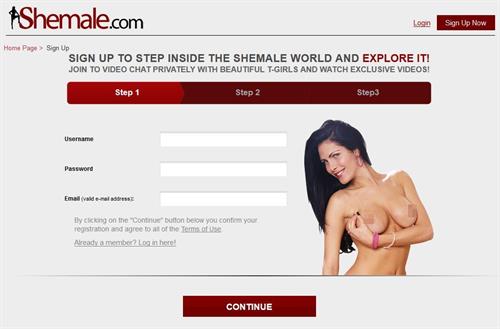 Site Experience
As a Free User
So as a visitor to Shemale.com, your options are somewhat limited, as I'll explain.
As far as sex chat is concerned, while guests are welcome to visit as many tranny video chat rooms as they would want to, the time spent is kind of vanilla. Visitors aren't able to flirt with gorgeous trans-babes as their chat is silenced, no exceptions.
The room opens up, large enough with the video chat window relatively centered on your screen. The chat window is also comfortable and not too obtrusive. There is also a counter at the top of the chat window, indicating the number of guests in the chat.
Guests are given some control as they can choose to supersize the video chat window, and can also adjust the sound volume.
Visitors can access the performing tranny's full profile page, learning more about the wondrous model.
Model bios are significantly detailed, including her turn-ons and most importantly, what the sexy shemale is prepared to do in private.
You can also see what other members are saying about the tranny by reading the user reviews.
Free users can scroll through the model's photo thumbnails, but are not able to open any picture for inspection, a privilege reserved for paying members only.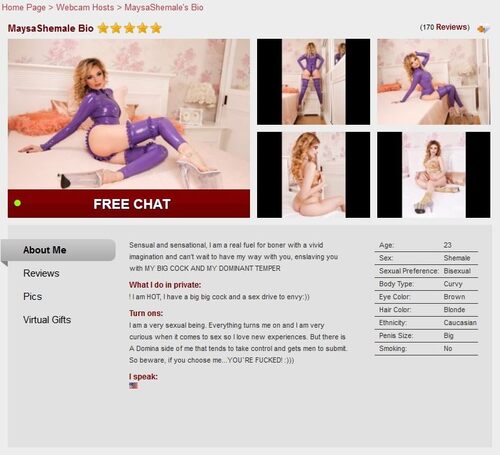 As a Paying User
Right, now that you've taken the leap, and joined this transsexual cam site as a paying member, a variety of added benefits opens up to you:
Uninterrupted live tranny video chat sessions
Full access to every Host's uncensored photos and videos galleries
Total access to the TS Pornstars' explicit pictures and private video chat sessions
Watch Exclusive Videos
Discounts on Happy Hour Shows
Recorded private shows
Exclusive campaigns and other benefits
Option to add Hosts to your favorites list
Registered members with Credit in their account get to experience what we all crave to watch, big busted babes with hard shiny cocks!
Here's something for paying members to get excited about,
Private sex shows all include cam2cam, a sexy feature linking webcams. Activate your own video camera, and now the model sees you as you see her, making your show a shared visual experience.
On Shemales.com this is option is already preselected, members should uncheck this box should they wish to remain anonymous.
2-way audio is also an included option, though not many model chat rooms are set up with sound.
To experience private tranny video chat on Shemale.com, here are 6 easy steps to follow:
Visualize or have in mind a sexual fantasy you'd like to see unfold on cam
Browse the gallery and find the online model that catches your eye
Spend some time checking out her bio,
Pay careful attention to what she's prepared to do in private
Didn't see your act listed? Simply ask the model
Enter a private sex chat and spank that monkey!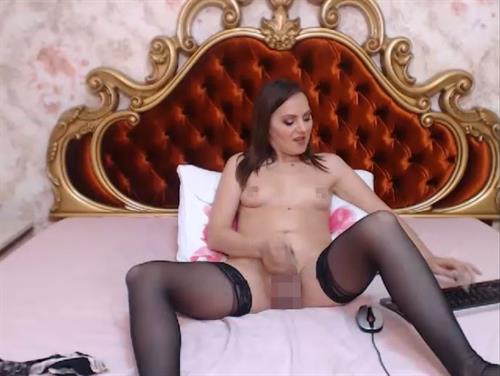 New prospective members are further incentivized to join this transsexual cam site.
As a new member you can cash in on Shemale's join up bonus which includes free credits with any purchase.
Pleasure - $25 package which gets you 25 Credits plus 25 extra bonus
Pure Pleasure - $50 package scores you 50 Credits plus 25 extra bonus
Extreme Pleasure - $100 package rewards you 100 Credits plus 25 extra bonus
One thing that must be included in my Shemale.com review, is the fact that although the models advertise a per minute dollar rate, paying members are charged by the second.
This means that you only ever pay for the exact amount of time spent in private tranny video chat!
Sex Show Costs
On this transsexual cam site models are free to charge as they please, and in such not all private paid for performances cost the same.
New ladyboy models can be found going for 0.98 Credits per minute, whereas the majority seem to charge a modest 1.98 Credits per minute.
Some, more seasoned gender benders could be found performing at 3.8 Credits per minute.
The most expensive rooms I came across came it at just 5.8 Credits a minute, expensive but still cheaper than competing sites.
Look,
When considering what tranny models on competitive sites charge for private explicit video chat, Shemale.com places among the cheapest tranny video chat sites.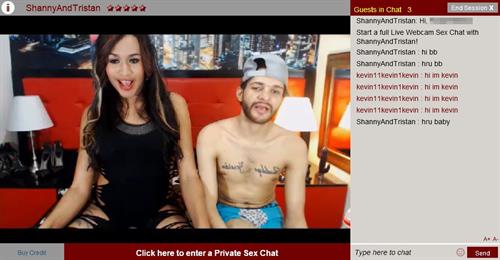 Credits are sold in convenient bundles which are charged for in US dollars.
Available Credit Packages - (Recurring Members)
| | |
| --- | --- |
| Credits | US Dollars |
| 25 | $25.00 |
| 50 | $50.00 |
| 75 | $75.00 |
| 100 | $100.00 |
Payment Methods
Members are limited in the ways which to pay for Credits on Shemale.com.
Payments are ONLY processed through the following trusted global payment portals:
CCBill - Credit Card and Debit Card
Epoch - Credit Card, Debit Card and PayPal
Using your PayPal account to purchase Credits, offers an added layer of protection for those members who are extra security conscious.
Model Selection
For a dedicated transsexual cam site, the availability of online models could do with a boost.
Despite the countless pages of supposed subscribed models, there only ever seemed to be no more than 30 active models during the regular hours.
Over busy hours, as many as 40-55 shemales can be found strutting their stuff.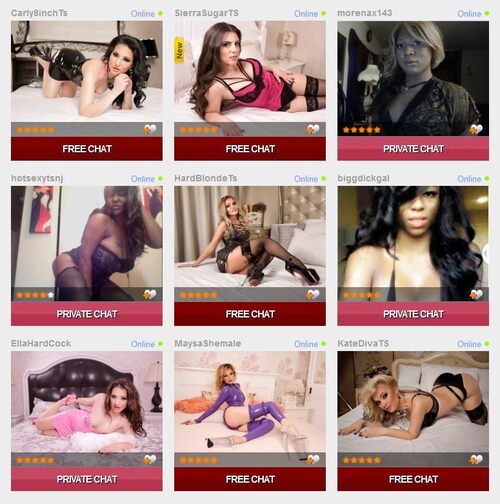 Customer Support
For all site related questions and queries, Shemale.com provides its users with a FAQ section which is extensive and covers the following topics:
General Info
Getting Started
Payment Information
Video Chat Information
Features
There is also an internal messaging system for users to contact client services direct.
For billing related problems, Shemale.com provides fast links to both CCBill and Epoch.
There are no contact phone numbers, nor is Online Live Chat Support offered.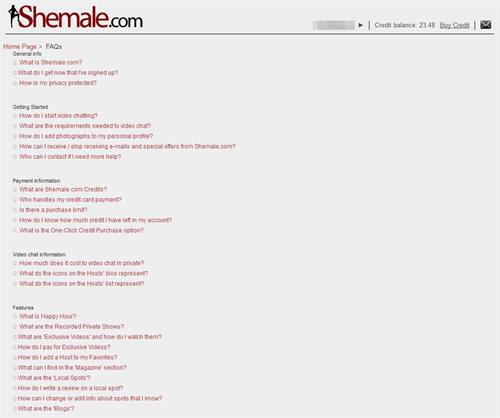 Pros & Cons
Positives
✔ - An adult transgender site offering more than just live sex cams
✔ - Read lifestyle articles and ladyboy blogs
✔ - Watch exclusive videos
✔ - Cam2Cam included in all private sex chat sessions
✔ - A smooth user-friendly interface
✔ - Available on leading mobile devices including iPhone & Android
Negatives
✖ - For an outright transsexual cam site, not enough online babes
✖ - Video quality could be better, it would be nice to see HD feeds
✖ - No session timer during the private sex chats
Finishing Thoughts
Shemale.com is everything it claims to be, which is a site with more than just live sex cams.
This transsexual cam site offers its members and visitors the chance to delve deep into the greater transgender world. With colorful tranny blogs, lifestyle articles, news, stories as well as listings of global local tranny hang outs, there is certainly enough to keep avid users busy.
Here's the thing though,
My focus is on the live sex cams. It's not to say that I have no appreciation for the finer minutia on offer, it's just that I prefer to be in the heat of the action, which is where the cameras are at!
And I'm afraid to say, that in this department Shemale.com fall a little short. There doesn't seem to be any HD feeds on this site. Allow me to elaborate:
Model thumbnails are not cam labelled
There is no way to filter your search for HD chat rooms through main navigation
The Advanced Search Tools don't include an HD filter
In short, no HD.
Look,
The video cam feeds are above average with more than fair images.
Paying members also have the choice of prerecorded amateur tranny movies, and exclusive TS Pornstar videos.
If, like me, watching live tranny porn with the best HD feeds is a must, you're better off cock-strocking to the gorgeous babes housed on MyTrannyCams.com
All private paid for performances include my personal favorite feature, Cam2cam. Some babes on Shemale.com are even set up for 2-way audio.
In factoring the upsides of Shemale.com, private sex show pricing is a strong feature, one which I felt compelled to expand on.
Where an average t-girl model goes for around $3.00 per minute on competitive sites, the same private tranny video chat works out to about $2.00 per minute over here.
That's a full $1.00 saving on sexy minutes spent in private, which should put a smile on any face.
Don't forget, Shemale.com charges private sex chat by the second, members only pay for the exact time spent with the model.
In summing up this Shemale.com review, while the cam quality didn't score as high as I'd have liked, costs for paid for performances undoubtedly take 1st prize.
For an adult tranny site that offers variety, Shemale.com is worth a visit.
Is it worth joining as a member?
I think yes, but at the end of the day, you should really see for yourselves.