Top 7 Sites to Cam2Cam with Trannies
Published: January 09, 2021
While she's showing you her bits and pieces, you can show her yours too. These tranny cam sites all deliver an excellent cam2cam experience. Read to find out which sites include the option with a private show, which ones ask for an added fee, and which offer C2C over mobile.
---
MyTrannyCams.com
MyTrannyCams is my top rated site for sex chat with gorgeous transgender cam girls. The site is bold, flashy, fast, and intuitive. Studio quality photos and video teasers are available in each models' profile. High quality video streams are the hallmark of the site, with most girls showing in at least HD720p. And, there are normally close to 100 models actively online.
This is a premium site, with no sex acts or nudity during the open chat time. Only when starting a paid for private session, will you have the chance to see some tranny cock. The average rate for a private show is $3.33/min. There is a Price search to sort the models by how much they charge, but there is hardly a time when there are any models to be found at either the high end or low end of the site's pricing scale.
MyTrannyCams ensures the model will hear you when 2-way audio is on.
Activating your own webcam during a private show is inclusive in the per minute rate you'd be paying. Though, it will cost an additional fee of $1.30 or $2.60, depending on the model, to include your microphone. If you want to go C2C from your mobile device, this is one of the few sites to offer that access. It will cost $1.30 to $2.60 extra, depending on the model.
There are five credits packages available with each one including a larger bonus of credits. If you go to the purchase page, and then navigate away without purchasing, you'll be offered the sixth, and cheapest package available. It's the site's last ditch maneuver to get you started.
---
CamSoda.com
CamSoda is my favorite freemium site to sex chat with tranny babes. If you're into unlimited free live porn, then you're going to cancel whatever you've got planned in the coming year, and park it in front of CamSoda. The sites plays host to all genders. So, to get to the tranny show, you're going to have to find the setting that will show only the online Transsexuals. It varies, but a good day on CamSoda, is when there are some 30 tgirls actively online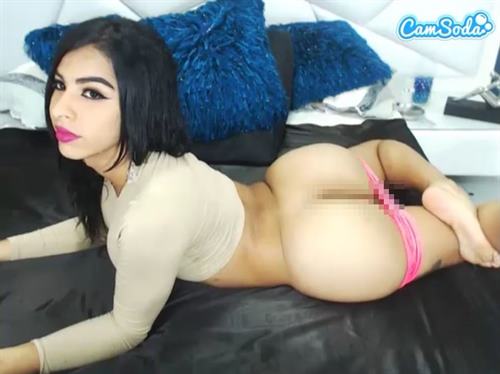 In a passive role, you can watch full on sex shows without limit. And when you're ready to level up, you'll get yourself some CamSoda tokens. Tipping in the open shows gets you noticed and listened to. To lose the crowd that is just there for the free show, you'll take her private. When you do, expect the average rate to be around $3.95/min. The cheapest rooms online are only asking for $0.80/min.
Cam2cam is available on a mobile or tablet device, at no additional cost.
On CamSoda, the option to turn on your own webcam while in a private is either an option or not. It depends on how the performer has decided to operate her room. When selecting to start a one-on-one session, you'll be informed as to whether or not the show allows the webcam-to-webcam feature. When the room does allow for it, it'll be part of the regular per minute rate for that room.
There is a Premium Membership available. For $19.95/mo, you'll get an ad-free interface, the ability to send private messages (depending on the model, may charge per text), change the tipping sound volume, a feature to enter into a chat stealth mode for anonymous tipping, and a on-time gift of 200 tokens (a $20.00 value). If you just want to by tokens to start, you'll be gifted up to 100 free tokens on your first purchase.
---
Shemale.com
Shemale is another site totally dedicated to chicks with dicks. High definition webcams are predominant, but there are many girls camming in the lower rated standard definition. Each model's profile page has an extensive amount of uploaded photos. It's a mix of glamour photos and snapshots from their own webcam. All photos are free to go through and include nudes. Any visit to the site should reveal between 30-40 performers online.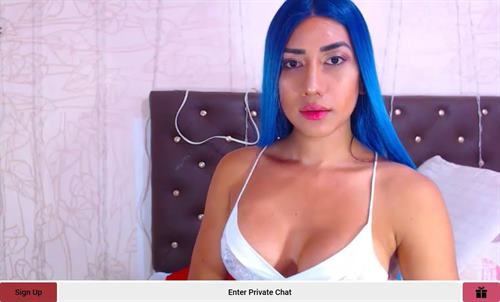 As a premium site, you won't catch any nudity during the public chat time. Though, but not always, there may be some risky flashes when a model is trying to build up an audience before starting a group show. If you don't want to wait around for that and are ready to start a private, expect to see most girls asking for $2.50/min. To find the cheapest rooms, use the Advanced Settings, where a Price selector will show all those ready to go private for only $1.00/min.
Activating your webcam and mic are inclusive in the private show rate paid.
Keeping things simple, Shemale does not ask for an additional fee to activate your webcam and/or mic during a 1on1 session. The price paid to start a show comes with these options, whether or not you choose to emply these features. Also, when starting a private, there will be the option to purchase a block of time. It's 20% off the regular room rate if you buy 30 minutes. And 30% off when buying 60 minutes.
With your first purchase of any of the available credits packages, the site will gift you an additional amount of bonus credits. The bonus is the same no matter the package you choose.
---
LiveJasmin.com
LiveJasmin sets the standard for quality and presentation. The site wows with its brilliant broadcasts, show performances, and polished and silky design. If you go through my link, I'll send you directly to the transgender models on the site. And because this is a platform for all genders, it's easy to click around and find yourself with the female or male models. To return to the transgender performers, simply head back to the Transgirl category, where there are always close to 100 models online.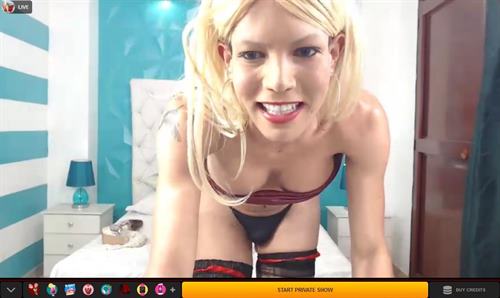 As a premium site, you won't find any free sex cam rooms. During the public chat the models are either chatting away, or working their body in front of them camera. But, they are always dressed. They are waiting to be taken into a private session with a paying member. The average rate is $3.50/min. Using the Price search, you can check if any models are willing to sex chat for just $1.30/min.
The option to go cam2cam on LiveJasmin is inclusive in the rate paid for a private show. Though, if you'd like to use your microphone too, it will likely cost an additional $1.30 or $2.60/min. If you do pay for the audio inclusion, LiveJasmin guarantees that the model will hear you. Accessing on a mobile device carries the same chat rates. But, to turn on your phone or tablet's camera, it will cost up to $2.60/min.
New members get 50% discounted off of the first purchase of site credits.
If you register with only an email and username, you'll be gifted 10 free 20-seond peeks into ongoing shows. These are private shows other members started, that you get a voyeuristic peek into. You will only see and hear her, you won't be able to chat at this time. And, if you complete a credit card verification, you'll be awarded enough free LiveJasmin credits to spend how you want. Go for the cheapest rooms and you could get up to 10 minutes of free sex chat. Or, choose a pricier tranny, and blow it all in a couple of minutes.
---
ImLive.com
ImLive delivers multiple resources, features, and special events to its users. There's a Multi-Viewer that opens up into the live action of six webcam rooms at once. There's an place to post your fantasy where the models reply to you, called Fulfill Your Fantasy. There are weekly themed parties the girls partake in. Once a month, a celebrity pornstar is invited on, to perform. And, the site will gift credits to members for being active participants.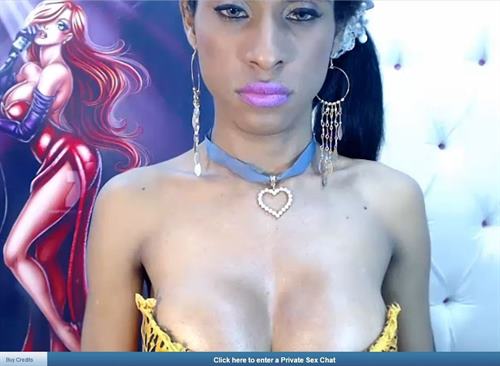 As a premium site, the sex shows are limited to paying members. On average, a show will run $2.50/min. When going through the Advanced Search settings, there is a Price query that can pull up all online models according to what they charge. The most affordable ones are asking for only $1.00/min. While the link above takes you directly to the trannies, if you get distracted by models of another gender, just find the Trans Alone, or Trans Couple categories where, among them, there are usually close to 90 rooms online.
Initiate a cam2cam with one girl, and then add another in Groupcams.
On ImLive, the private show rate paid includes the features of activating your own webcam and microphone for the girl to see and hear you. Before you enter a show, you'll choose whether or not turn your webcam on. And when you enter the room, the first 20 seconds of the show are free. The girls on ImLive have photo albums with explicit shots, but you need to at least be holding site credits to see them.
Some girls have the option available to purchase a block of time at up to a 30% discount on her room rate. And, there is a Rewards Program that gives increasingly large discounts on 1on1 chats to loyal members that rise in rank.
---
Flirt4Free.com
Flirt4Free's transgender girls are a top choice selection of proven performers. There may not be as many models here as you'll find on other top sites, but the ones that do find a home on Flirt4Free have passed a viability test. The girls have to prove they can entertain and receive appreciation for that entertainment, in order to continue webcamming on this stage.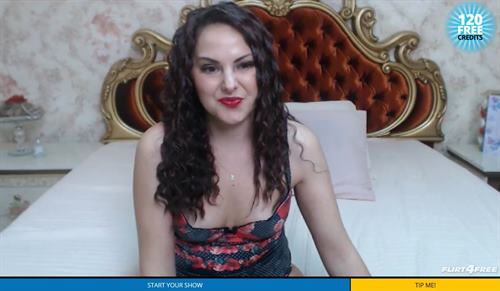 There are more show types on Flirt4Free than on any other site. The site is a mix of free sex shows and paid for private shows. If the girl is in Party Chat mode, she is likely to be performing in the nude working to get tips from all her viewers. If she's in any other show type, like the Premiere Chat, Voyeur Mode, Group Chat, Multi-User, Combo, or Feature, then it'll cost. Private shows will run you $5.00/min, on average. When sorting by Price, you see the full range, as some want up to $12.00/min, while others are only asking for between $1.00 to $3.00/min.
Cam2cam and 2-way are included in the rate paid during a private session. But, only when the model is offering it. Some, may not make available the option to activate your own webcam.
Get 120 free credits with a credit card validation.
Flirt4Free has one of my favorite VIP membership programs. It's a bit pricey, at $39.95/mo, but does come with a credit to your account of 150 credits (a $15.00 value) each month. VIPs get a username that appears in gold/white to distinguish you from other members. Unlimited live cam show recordings. Access to 150 free videos (all gender content) every day. Free access to one hour feature shows with celebrity webcam models. And, VIP's are able to send any model an email with an attachment.
---
BongaCams.com
BongaCams is big on making the whole dynamic with the models, fun, interactive, surprising, and competitive. Everyday, the top five most active members get CashBack. Winners receive back BongaCams tokens to spend as tips or for private time. This is a freemium site where the models can use their rooms how the wish. Many will be in a constant performance mode, playing games and doing tricks, working it for tips.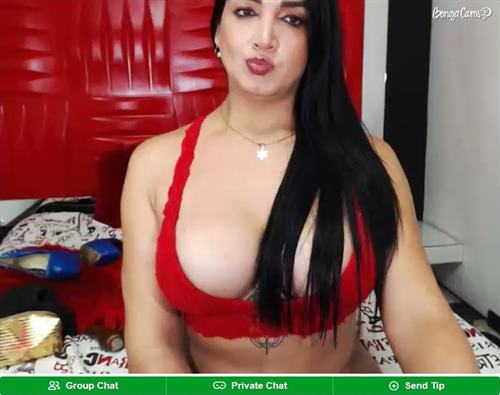 Show rates across the site are the same for all performers. To take a shemale hottie one-on-one, it'll cost $5.00/min. For a Full Private, which eliminates the option for other members to voyeuristically have a peek into the show, it'll cost $7.50/min. To be the voyeur and Spy into a regular private show, only costs $2.50/min.
Free to initialize cam2cam with a model while she's performing in open chat.
Webcam-2-webcam activation is included in the rate paid for a 1on1 show. If you don't want to enter into a private, or maybe the model is too busy in her free and open performance making tips and she is not willing to go private, you can still cam2cam with her. BongaCams lets you turn on your webcam even while she's in her public chat. Though, she'll probably not comply if you are not a known tipper, or don't show potential as a tipper with a designated VIP membership.
The optional VIP status is available for $20.00/mo. With this, comes a special icon and colored messages in the chat room, the option to go into invisible mode, a selection of profile avatars, free access to all recorded videos, and no more irritating pop-up ads. And, every 10 days, you'll get a time-sensitive gift card valued at $6.50, to spend how you wish.
---
Conclusion
You want to reveal yourself to her just as much as you are curious to see what she's got tucked away under her panties.
Of all the webcam sites that have got beautiful transgenders, these here are the best for the webcam-to-webcam experience. While each site as it's own unique offering and advantages over the others, each is a worthy destination for you to find hardcore webcam performers.
When I started webcamming with these delightful creatures, I realized quickly that if I was to enjoy a wide swath of trans girls to choose from, then I would have to manage memberships on multiple sites. The truth is, these fair beauties are far out-numbered by the other sex cam performing genders. So, to broaden the selection, I opened accounts at any site that could show me new and talented trannies.
And then I become a tranny site reviewer and blogger -- don't be jealous. Maybe one day, you're journey will lead you to great fortune, as well!
To get you started, there's one site that excels in so many ways, that it would just be a shame to not make it your foray into tranny sex cams. Or, if messing around with trans girls online is already familiar territory to you, but you haven't yet tried out my favorite site, then now's the time.
As the overall best site for cam2cam chat with trannies, I like MyTrannyCams the most. There are usually at least 100 girls always online at all times of the day. That, coupled with the site's ease of use, respect for the beauty of the performers choosing to webcam on its platform, and the adherence to high definition video streaming, make it a site not to miss out on.