Top 5 HD Tranny Sex Cam Sites
Published: February 07, 2021
The following 5 trans cam sites know that HD broadcasting makes all the difference. Most of them feature HD rooms pretty much as the standard, and if a feed isn't in HD, it'll be in high-quality SD. Other sites not only have HD (720p) shows, but they also up the ante with HD+ (1080p) options. I'll show you how to get directly to the HD streaming rooms at each site, how much a private shemale live video chat show costs, and how to make sure you're getting the best deal available at each platform.
---
MyTrannyCams.com
MyTrannyCams hosts the best shemale superstars in the business. All the models are skilled and experienced performers, many of whom already have a dedicated fan base. HD streaming is commonplace at this site, as are professionally designed and lit studio settings highlighting the t-girls assets from every angle. This platform is focused on providing the best of the best in every aspect (except free nudity and kinks). It's a pure play-for-play platform, so if you're looking for some free fun and games, you're going to be disappointed with MyTrannyCams.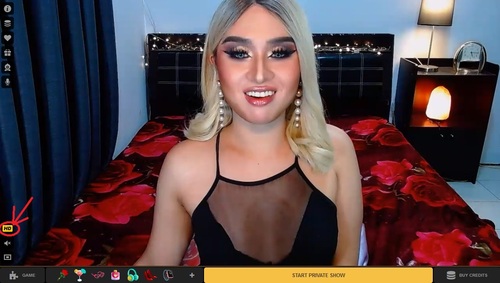 MyTrannyCams has around 100 gorgeous trannies online day and night, many of whom are using HD feeds. However, you may need to manually turn on the HD optimization. To do this simply hover over the live video and on the bottom left of the window, a small HD button appears (shown above). Make sure this is yellow. If it comes in as a grey button you have to click on it in order to turn on the HD stream. If the button doesn't appear it means that the room broadcasts with a high-quality SD feed.
MyTrannyCams is a premium site which means no free nudity of sexual acts taking place in the hosts' open rooms. To see the good stuff you'll have to pay for a private show or buy a ticket to a model's multi-viewer show. If you have a specific type of t-girl or act in mind, you can use the menu bar on the left of the screen. This lets you filter the rooms according to specific parameters such as Big Penis, Big Tits, Latina and Live Orgasm. If a snapshot catches your eye you can hover over it and a live video comes through showing what the performer is up to in real-time.
Prices for a private show are not the cheapest - best in class comes with a premium. The average cost for a private show stands at around $3.00/min. Unfortunately the platform makes you pay extra if you want it to be a 2-way video chat. Both cam2cam and dual-audio usage in a show cost an extra $1-2 per minute more on top of the set rate. However, if it's your first time buying site credits, you can get up to 100% extra credits, which ultimately cuts your costs in half.
---
Shemale.com
Shemale may have a smaller number of t-girls performing compared to other sites, but these girls are pros at their job and almost all of them are into one or several types of kink. You won't find any shy reluctant trannies here. They're on the site for one thing only and that's to get extremely wet and wild in a private show with a new cam pal.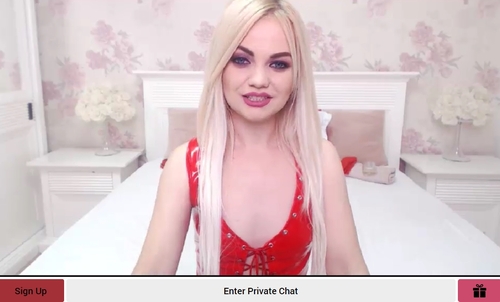 HD streaming is widely used by the performers at Shemale. They know that in order to get your attention and tempt you to invite them on a private cam date, they need to be broadcasting in crystal-clear clarity. However, this doesn't mean that all of them use HD. It's very much a case of hit and miss here as there's no filter for HD. What you can do though is hover over the photo for a few seconds until the live feed comes through. You can generally tell from this whether the t-babe is using HD or not.
Shemale does have a great search engine. By selecting the small icon on the top far right of the screen, the site brings up an advanced search page that lets you filter the results by price, kinks, fetishes, cock size/type (anything from medium to uncut to huge). as well as the usual body type, ethnicity and hair color parameters.
When it comes to prices this is where the Shemale's t-babes really get alluring. Some offer a private live video show for just under $1.00/min. Most though ask on average $2.50/min. All prices include cam2cam and microphone usage if you want to be seen and heard by them. The first time you buy a bundle of credits at the site, you'll get 10 free credits as a welcome to the party gift.
---
Chaturbate.com
Chaturbate has more live cam performers than any other site. There's usually around 4,000 rooms streaming day and night. When it comes to the transgender hosts, you can expect to see around 200 flashing their fabulousness in free shows where tips fuel the very kinky action. From pre-op playmates, to professional post-op princesses, the site has it all and takes it to the extreme.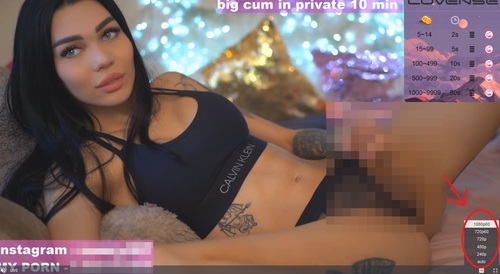 Chaturbate isn't a trans-centric site so the first thing you'll want to do is filter down your results to only the transgenders. All you have to do is select the Trans button on the top of the homepage's gallery of online performers. Next step is to see only those rooms using HD feeds. This is really easy. Each snapshot that is streaming in HD or HD+ has a small blue sticker indicating that it's HD friendly. If you see the plus (+) sign then you know it's set up to broadcast in 1080p. When you click on the photo you're taken into the live chat room but, like many sites, you may have to manually select the top resolution available. As shown in the image above, there's a tiny HD box on the bottom left of the chat window. Click on this and then choose the top resolution available.
Chaturbate's search engine works on a tagging system that the models' themselves implement. Unfortunately, many of the mainly amateur cam trans models will tag themselves with as many keywords as possible in the hopes of appearing in as many search results as possible. This results in a messy and not accurate system. You can use the popular search tags listed above the photos or click on the More Tags link if you don't see what you're looking for there. However, be prepared for a lot of non-relevant results. I'd simply recommend scouring the photos until you see a pic of a hot t-girl and take it from there.
When it comes to payment, it's sort of a mute issue at Chaturbate. Most of the hosts at Chaturbate (trans, gay, straight, couples, etc.) are extreme exhibitionists who get their kit off and get kinky for their own kicks. Most of the action takes place in the free rooms with viewers tipping the performers as a form of encouragement. In fact, they're such exhibitionists that many won't even go into a closed private show mode. Those that will go 1on1 with you charge around $2.40/min. However, not only is cam2cam not included, but it's not easy to open your webcam at Chaturbate. So, if you're looking for a c2c adventure, Chaturbate probably isn't the best place to be.
---
LiveJasmin.com
LiveJasmin is a premium live cam site hosting gorgeous models of every gender. The transexual selection of performers may be limited, but you're pretty much guaranteed to find the type of girl you're looking for, and when you do, be prepared to be blown away. LiveJasmin's transgirls have an outward demure demeanor. In their open lounges, they chat, they flirt, they'll even dance and sing, but what they won't do is show you what lays underneath their silk lingerie or latex/rubber outfits. In their pricey private shows, their rather perverted personalities come through and they'll show you just why they're worth the higher price tag.
In order to see only the sexy shemales at LiveJasmin you'll have to go to the menu bar on the homepage and under the Category grouping, select the bottom link for Transgirl. If you're looking at the male models, you do the same thing, but here they're called Transboys. Most of the rooms use HD, so you'll have no issues with streaming quality. However, always check that the video you're watching is HD by making sure the HD sticker on the left of the window is yellow. If it's not yellow, click on it to turn-up the rez.
If you're looking for a new face, but don't want to compromise on issues that many new cam performers have such as having the skill to perform in front of a webcam, lighting, streaming resolution, and shyness, LiveJasmin is the place to be. Some of the t-girls have a New sticker on their highly stylized snapshot indicating they've only recently started broadcasting from the site. One of the major benefits of spending time in a private show with a newbie is that a) their prices come in at the site's minimum rate of $1.10/min, and b) they're trying to build a fan-base and are extremely enthusiastic, often happily trying out most fetishes and kinks in order to please their viewers.
Prices here are somewhat higher than at other sites. For example, the average cost of an exclusive show comes in at $3.73/min, not including cam2cam or 2-way audio usage. Each of these features will set you back an additional $1-2/min. However, if you sign-up as a new member and link your account to a credit card, the site will comp you 9.99 FREE credits. The site also features a link to promotions it's offering. At the top of the homepage, there's a small white circle with a % in the middle. Click on this and all the ongoing special offers appear.
---
ImLive.com
While ImLive isn't a tranny-centric site, with usually only around 30-40 trans online at any one time, it's a platform that's got so much going-on that you're guaranteed to find something to tickle your... fancy. The site has some of the lowest per-minute cam2cam inclusive rates of any premium platform, with many of its features focused on providing a great live cam experience with semi-pro and pro models at the cheapest price possible. And, while it's a premium site, the models tend to push the no-nudity rules to the limits in their free chat rooms. So, if you're looking for some brief ball and cock play and don't want to pay, a few minutes of searching around at ImLive and you're coming to come across some very X-rated action.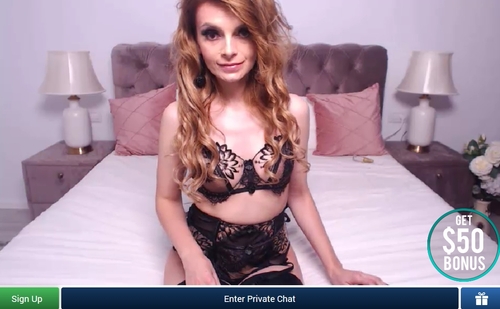 To see only the transgender performers you'll have to select Trans Alone (or Trans Couple) from the drop-down menu that appears when you click on the downward arrow in the Girl Alone box on the homepage. However, when it comes to finding an HD hottie, while several of the trans-babes stream in HD and even a few in HD+, there's no way to search specifically for HD enabled rooms. This is the only reason why I haven't put this site up in the top 3 of shemale HD cam sites. One way you can see the model's broadcasting resolution without having to go into her room is by using the site's multi-viewer search tool. This lets you watch six live feeds at the same time.
If you're looking for something very specific this is where ImLive earns its brownie points. The site has a Fulfill Your Fantasy feature where you can describe in detail your dream cam date including what you'd like the host to do and how you'd like her to look. The models then bid on the opportunity, often heavily discounting their advertised per-minute rates, in the hopes you'll choose them. So, if you're looking for a European tranny, with a huge cock, big tits and a love of cumming on cam, this is the place to put out the feelers.
Prices site-wide are low with the average cost of a private cam session with a transgender coming in at just $2.40/min (c2c inclusive). A few of the models also have Discount Clubs which you can join for a $16/month. Benefits include free access to all their Host Videos, as well as discounts on private chat shows with them.
---
Conclusion
One important thing to bear in mind when it comes to choosing a model is that cheap isn't always the best value for money. All the sites listed above feature a mix of HD and SD rooms. Some have SD in the minority, others have a more limited selection of HD rooms. However, the cheaper the t-girls per-minute rate is, the higher the chance is that she's using an SD feed. Even if the room is streaming in HD, you'll often have to manually select it. However, you'll need to have a high bandwidth that can cope with an HD feed without streaming issues. If not, you'll find yourself with a video that get stuck or becomes blurry. In this case, you'll need to lower the resolution to one more suitable.
When it comes to HD feeds, no site can beat MyTrannyCams. It has one of the largest selections of HD streaming tranny cams hosted by semi-pro and pro models. What I like most about this site is that it's far from sleazy. The girls are t-goddesses and act as such. The hang-outs are beautifully laid-out and lit. And, if you're into something a bit kinkier than the regular vanilla-type show, the fetish femmes aren't only experienced in their genre, but they'll have all the requisite toys, outfits and accessories at hand.