Top Transgender Cam Sites for SPH
Published: January 14, 2021
There are girls out there with a penis bigger than yours. Transgender webcam models that are ready and waiting to size you up and cock-shame you. If you're looking for some truly torturous humiliation from among the best cam girls online, then give any of these tranny cam sites a go.
---
MyTrannyCams.com
Small dick purveyors better come ready to pull it out for the talented tgirls hanging out on MyTrannyCams. Start by going straight to the Roleplay category to search through the models most ready to begin a relation that involves domination and humiliation.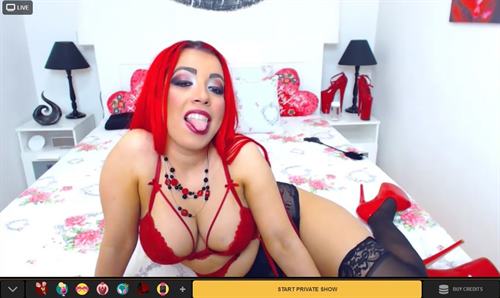 MyTrannyCams is a sweet pot of transgender gold. No other site presents as many actively online models as does this site. A typical visit will reveal close to 100 babes ready to go private. This is a premium site only. There is no sexually explicit action or nudity shown on camera, unless you've entered into a private performance.
There's a real sense of professionalism on the site, as the girls present themselves in studio-like settings and dress to play the part. Model profiles include professionally produced glamour photo sets and video teasers. Most models will have non-nude content that is free to view, while their hardcore content can be unlocked for a nominal fee.
The average rate for a private session comes in at $3.00/min. Search for the Sale rooms and you'll find some tranny babes willing to meet you in private for only $1.20/min. Inclusive in the rate paid is the option to activate your own webcam. Though, turning on your microphone will cost extra. On mobile, both cam2cam and 2-way audio cost extra. When you do initiate these features, the site guarantees that the models will see and hear you.
---
Shemale.com
The performers of Shemale are a solid mix of tgirl badassary and diva glamour. A lot of the girls here are playing the roll of the dominatrix, and are waiting in their rooms dressed in leather, latex, or lingerie, with submission and punishment devices nearby. There's a Humiliation category to find the ladies most inclined to be ready to make fun of you and your tiny ding-dong. And, you can sort them by their dick sizes. If you want to see a real big dick on a chick, go to the Huge Dick category.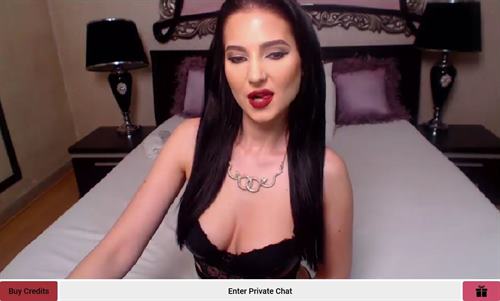 The models working on Shemale are high-concentrate. These aren't girls playing around with eye shadow and acting womanly. These are real deal transgender babes. A visit to the site any time of day will usually reveal 30 plus models actively online. As a premium site, the only nude action to experience happens when you pay for it.
Loyal members are rewarded with points that go toward climbing a multi-tiered membership program. The higher you climb, the better the benefits. And if you're signed up on the site, and before your purchase any site credits, you'll still have access to each models' explicit photo content in her profile.
Most performers are asking for something around $3.00/min for a private encounter. To sort them by their per minute rate, you can employ the Price filter found in the advanced settings. At Shemale, both the cam2cam and 2-way audio features are included in the price paid for a private show, whether you activate them or not.
---
CamSoda.com
CamSoda plays host to the full range of genders. To show only the transgender cam girls, you'll need to at least be signed into the site with a username and password. When signed in, a 'settings' tool will become available to allow you to sort out any unwanted genders and keep those you want to show, visible. Turn off all others, and select to show only the Transexual models online.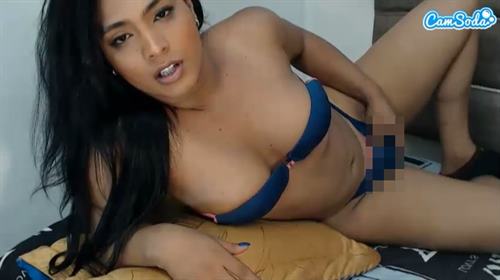 However many models are online when you are, CamSoda makes it easy to see what is happening in all their rooms, at one glance. The site's gallery display of all online models is a video peek into the live action inside all rooms, at once. As a freemium site, the girls are open to using their cam rooms how they would like to. They may be patiently waiting by for someone to take them into a private, or they'll use their free chat time to entertain the crowds for tips.
Not all girls have the option available, but for those that do, you'll see a way to Schedule a Private. If a girl you like is too busy performing in her open show, she may not leave for a private. When you choose to schedule a show, you select the day, time, and duration, and if she agrees, she'll meet you. If you'd like to upgrade your experience, there is a VIP status available. For $19.95/mo you'll get permission to send private messages, an ad-free interface, the ability to change the tipping volume, a stealth mode activation feature, and a one-time gift of 200 tokens (value, $20.00).
Private shows average $3.60/min, and the cheapest you'll come across are $0.60/min. Some models include the cam2cam with mic feature, and some don't. When available, both are included in the per minute rate paid. As well, on mobile, if c2c is available, it comes at no extra cost. Along with MyTrrannyCams, CamSoda is one of the few sites enabling cam2cam over a mobile device.
---
Chaturbate.com
Chaturbate is where just about anyone can come to show what they've got for the camera. Most other sites are discerning in who'll they'll let on their platform, and are even obliged to remove a model that underperforms. Not on Chaturbate. Its approach is to let anyone who wants to, to broadcast. A site for all genders, the Trans category is loaded with professional and amateur tgirls that'll be happy to make you fell bad about the peen in your pants.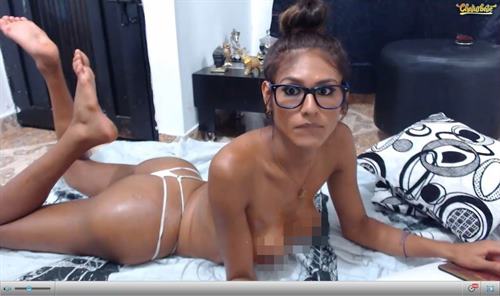 Chaturbate plays host to the most performers online, found on any one site, at any given time. The site is loaded with thousands of models, with nearly 200 transgenders always online. This is a freemium site where the performers use their rooms however they wish. While being taken into a private show is always an option, most of the girls will work their open chat room for tips from the crowd.
Getting noticed on Chaturbate will require some effort and site Tokens. Because this is such a heavily trafficked site, the girls' rooms can get very busy. If you want to stand out and have her pay attention to you, and hopefully get her into a private room with you, then you can't take the passive freeloader approach. To permanently stick out and not have to prove your bona fides all the time, consider getting the Premium Chaturbate account. For $19.95/mo you'll get custom chat font and color options to help separate you from other viewers. As well, you'll see an ad-free interface, and free private messaging to the models. And it comes with a one-time bonus of 200 Tokens (value, $20.99).
You can sort the online models by their per minute private chat rate. There are 6 price levels to select from. The cheapest among these selections will get you into a private session for as little as $0.60/min. On average, expect to see most girls asking for near $3.30/min for a one-on-one show. Cam2cam is not included in the private show rate. And, it's difficult to set up. You have to go through a signup and confirmation process that'll make you a broadcaster yourself. Then, use your account to give entrance permission to the tgirl of your choice. At this point, she may or may not ask for some kind of tribute payment before accepting your c2c request.
---
LiveJasmin.com
If you've never signed up over at LiveJasmin, now is the time. The site's current promotion for new members is offering half off the price of any of its Credits packages. Whether you take advantage of this deal or not, you'll still enjoy the free public chat with an extraordinary bunch of transgender babes. As a mega site with all genders available, you'll need to stay within the Transgirl category. To narrow your search, you can set the site's filters to show the Dominant girls. These are the one's most ready to make fun of your itty-bitty cock.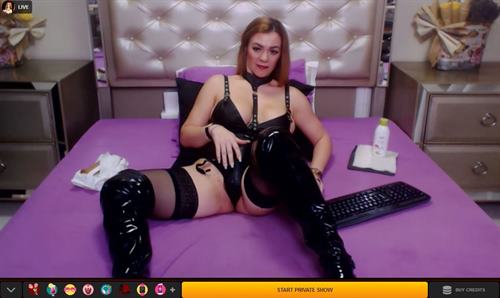 On LiveJasmin, there are well over 1,000 models actively online at any time visiting the site. Of these, nearly 100 or so will be transgender. The is a premium site only. While it's free to text chat in the open rooms, there is no nudity allowed. To see any action at all, you must pay.
To get a sample of what a private session entails, LiveJasmin will give you up to 10 free minutes of 1on1 sex chat when you complete a credit card verification. Or, if you register with just your email, the site will gift you 10 free 20-second peeks into ongoing shows. This is a great way to get a taste of what goes on during a show.
The average rate during the private shows is around $3.50/min. Search by Price, and you'll find some tgirls offering themselves for only $1.30/min. The cam2cam feature is included in the price paid for a private, whether you activate it or not. To combine your webcam with the microphone will cost an additional site Credit, or about $1.30/min. And when you do, LiveJasmin guarantees that she'll hear you.
---
ImLive.com
ImLive is one of those sites that supplements its live cams with all sorts of other entertaining options. There are exclusive celebrity pornstar shows, monthly video contests, and a video archive with free and premium content. When looking through al the online transgender models, you'll be able to filter for fetishes, such as: Discipline, Cock & Ball Torture (CBT), and Jerk-off Instructions (JOI).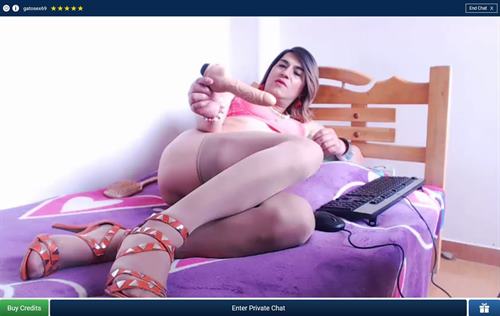 Imive is a massive site will models of all types. Within the tranny section, there are typically 30-40 actively online at any time throughout the day. As a premium site, you won't generally find any nudity or sex acts during a model's open chat time. If you do catch a chick's dick pop out, she's just giving a flash to get some action going.
This site has two of my most favorite features found on any cam site. First, there is a Fulfill Your Fantasy form where you submit your detailed desire to an internal board only the girls can see. Those interested, may reply. And, the site has something called a Multi-Viewer. When you select the Trans category of models and then throw them into the Multi-Viewer, it'll open up a live video peek into 6 rooms at once.
With some of the cheapest private show rates in the business, ImLive is a great option for those with an eye on their budget. The cheapest rooms here are going for only $1.00/min. The Price search will help you find them. On average, though, most tranny babes are asking for $2.50/min. Turning on your webcam and microphone during a private show are features included in the per minute rate paid, whether you activate them or not.
---
MyDirtyHobby.com
Want to step away from the regular? Try the tranny models camming on MyDirtyHobby. Predominantly populated with German webcam performers, the site delivers some of the most hardcore xxx content online. The performers use the site like a social media account by uploading pictures, videos, and diary entries to their timeline. To find the trans girls, you'll need to perform a keyword search. This will result in all the trans content that has been uploaded to the site. Then, follow the content creator to see when you can catch her on her live cam. Or, choose Shemales or Transsexuals from the Genders list to see who's online now.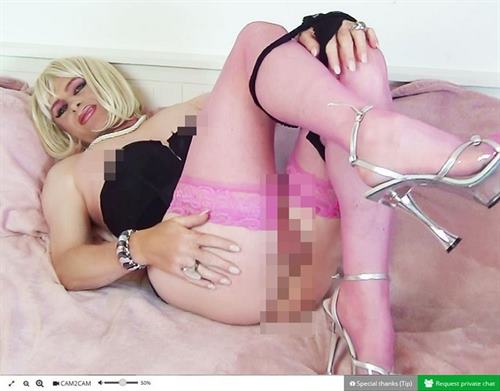 There are a lot of trans performers that are actively uploading their content for their fans, but you won't find more than a few actively online at any given time. That's why searching for uploaded content, and then following that model, or sending her a text message, is best for finding and starting a dialogue. Each text you send will cost a nominal fee. The is a premium site, with no free chat at all. If a girl is online, and you select to enter her chat, you'll be paying from the moment it starts.
MyDirtyHobby is untraditional in the way that most cam sites operate. While there are previews of all content, you'll need to pay to see any pictures, recorded videos, send messages, and enter a chat. Every action and piece of content is clearly labeled with its own price. Here, it's not about enticing you with free content and open sex chat for the masses. This is a very niched site with fans that appreciate it's level of kink and extreme action.
Priced in Euros, the average chat rate is around €3.00/min. The cheapest rooms go for about €1.25/min. Both turning on your own camera for a webcam-2-webcam and 2-way audio experience are included in the rate paid during a sex show.
---
Conclusion
No webcam girl knows more about the penis than a transgender webcam girl. The sites that I've chosen to showcase here are all promising in their own regard. Each has it's own unique chat room features, promotional deals, membership benefits, and premium offerings.
Whichever site you decide is best for you, you're going to have to be ready to participate all the way. For a true SPH encounter, you're going to have to show her you penis. It's hard to humiliate something she can't see.
For this reason, I wanted you to be clear just what to expect from each sites' cam2cam availability, and if there are any added costs associated with activating the feature.
Also, please consider that you're dealing with a fringe population here. If you were looking for cisgender models to humiliate, you would have an enormous selection. But, transgender babes are a rare breed. For this reason, you shouldn't remain committed to just one site. Go ahead a spread your cam sex budget out over as many sites as you want to. You'll be spending the same amount of money anyway, whether you webcam with two different girls on one site, or two different girls on two separate sites.
However the case, to get started, I've got to point you to MyTrannyCams. It has among the largest number of trannies working on one site, it provides top-notch security for safe use and discreet payments, it's easy to navigate and interact with, and the webcam technology and streaming quality are first-rate. As well, it's reasonably priced for what one would expect to pay to be laughed at and humiliated.