Top 5 Prepaid Card Tranny Cam Sites
Published: February 16, 2021
Watching trannies performing live can bring you to the steam point and you may easily get carried away and lose control over your expenditures finding yourself in a serious financial deficit. To avoid this scenario, you should be looking for a payment method which will enable you to keep within budget even when your dick is calling the shots and not your brain.
Using a prepaid card to fund your live porn activity is the ideal solution for you as you won't be able to spend more than you have already loaded onto the card no matter what. I strongly recommend checking out the 5 cam sites I review below. They all let you pay for hot trans cam2cam shows with debit cards.
MyTrannyCams.Com
As it name suggests, MyTrannyCams specializes in trans live porn. It hosts around 120 beautiful shemales waiting for you in their lavish chat rooms around the clock. They're all professional cam performers who give impeccable hi-def shows optimizing your viewing pleasure. Being a premium site, you will encounter nudity only in 1 on 1 chats.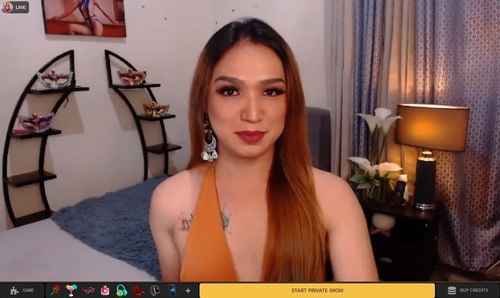 The site has a nifty filter with plenty of categories. You can cross-reference these categories to pinpoint the exact model you'd like to watch. For example, you may decide that you want to chat with an Asian model in her twenties with a big dick, small breasts and black hair at a price range of 0.98 to 3.99 credits. The Willingness categories lets you add special niches and kinks to your search, like Anal Sex, Butt Plug, Close Up, Masturbation and Love Balls.
A 1 on 1 chat will cost you $3.50/min on average. The cheapest models take $1.10/min. Including c2c and 2-way audio in your chat demands an additional fee of 1-2 dollars/min for each feature. This may sound a little expensive, but in return you will enjoy fluid streaming without any lags, and you'll be able to open your camera on mobile engaging in bidirectional video chats from the palm of your hand.
The prepaid cards you can use to fund your private shows are Visa, Visa Electron, Master Card, Maestro, JCB, Diners and Discover.
MyTrannyCams has a great promotion for new registrants. Right after you finish signing up, a Wheel of Fortune will pop up on your screen. Almost all results yields a credit bonus, the maximum being 100% extra credits. You'll have 1 hour to make a purchase to realize the bonus you've just won. If you tarry, the wheel will reappear later on for another spin.
---
ImLive.com
Unlike MyTrannyCams, ImLive hosts models from all gender groups, of which 70+ are chicks with dicks constantly online giving multiple live show types at prices you can definitely afford. The site puts at your disposal a lucrative loyalty program with abundant benefits and bonuses.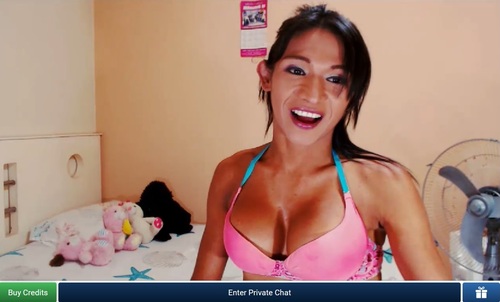 ImLive is known for its unique live shows, among which are the Multi-Viewer and Candy Shows. The former lets you simultaneously watch 6 live shows with models of your desired gender. The latter are full-nudity group shows for which you'll have to buy a ticket in advance to reserve yourself a seat and help the model meet a predetermined tip goal. Candy Shows are extremely cheap and are great for users who are on a tight budget.
For a 1-minute of private chatting with your favorite tranny, you will have to pay $2.40/min. Minimum rate is $1.00. These are very cheap shemale private cams, especially in light of the fact that they include cam2cam performances, which, as of summer 2020, you can initiate on your mobile device and not only on your computer. You can fund your chatting activity with prepaid cards comprised of Visa, MasterCard, Maestro, Discover, JCB, Diners and Switch.
If you have the stamina for more than one model at the same time, the GroupCams enables you to pick another performer either from your favorite list or from the first model's GroupCams friends and invite her to the private session side by side with the model you're already chatting with. The second model comes with a significant discount of $0.70/min.
Another great feature ImLive has is called Fulfill Your Fantasy. It lets you submit your fantasy in writing and wait for one of the site's models willing to realize it for you in a cam show to contact you.
ImLive's best feature is, undoubtedly, its loyalty program through which you can accumulate points every time you use a premium feature. These points give you discounts on chat rates, credit bonuses on new purchases and access to premium videos at much lower prices or for free.
---
BongaCams
On BongaCams you'll meet around 80 trans models available for lives shows around the clock. The majority of them like to perform naked in their open chat rooms. Some go further than that and incorporate all sorts of sex toys into their performances. BongaCams has special promotions and an extensive reward program with awesome perks and token gifts.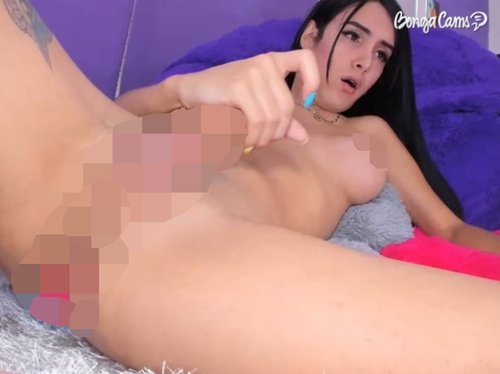 You can diversify your live chats on the site thanks to plenty of categories put at your disposal. There are also hundreds of theme tags adapted to each gender group. These tags contain almost any porn niches you can think of, including special ones like Deepthroat, Feet Fuck, Ass to Mouth, Cum Swapping and Cum on Tits.
Once you've chosen your niche and the trans model in that niche, going on a private show will cost you $3.50/min. This is a uniform price charged by all of the site's performers regardless of their gender. Take into account that private shows on BongaCams can be spied upon by other users. To prevent them from peeping into your show, you'll need to invite your model to a Full Private Chat and pay 50% extra. Inversely, you can opt for a Group Chat. You won't be alone with the model, but you will save 50% compared to private chat.
BongaCams has advanced c2c apparatus enabling to open your cam on your computer and your mobile devise not only during private chats, but also when you are in a model's public chat room. No one will be able to see you apart from the performer. In most cases, you won't be charged extra for c2c. However, that doesn't mean the models are not entitled to ask for an additional fee and some may do that.
Your chatting activity on the site can be paid with a variety of prepaid cards consisting of Matercard, Maestro, Discover, Visa, Visa Electron, Visa Bleue and JCB.
If you're a new user, you will highly appreciate BongaCams' promotions. As soon as you buy tokens for the first time, you become a Gold member for life and get a bonus of 10 tokens. If this purchase is made on your mobile phone, you'll get back 50% of the tokens you've spent on private shows (up to 100 tokens) as a gift. As a veteran user, you'll get 50% of the tokens a new member bought if you were the one who referred him to the site. The Cashback Offer give 25-200 tokens to the 5 biggest spenders every 24 hours. Some of the promotions are permanent. Other are constantly replaced by new one, so I strongly suggest keeping track of these changes so you won't miss new opportunities to earn tokens.
The site's reward program lets you improve your membership status based on your purchases. You start as a Gold member after you make your initial purchase and can climb up all the way to VIP. The higher your status becomes, the more benefits you reap, for example using colored comments in chat, chatting invisibly, navigating an ad-free interface, sending models private messages and even kinking out from chats users of a lower status.
---
Chaturbate.com
If you're looking for a really big selection of models and ample free nudity, Chaturbate is where you should go. At any given time, it operates around 200 chat rooms occupied by stunning and mostly naked trannies you can watch free of charge. Streaming quality on the site is excellent allowing to enjoy plenty of high quality HD and HD+ live shows.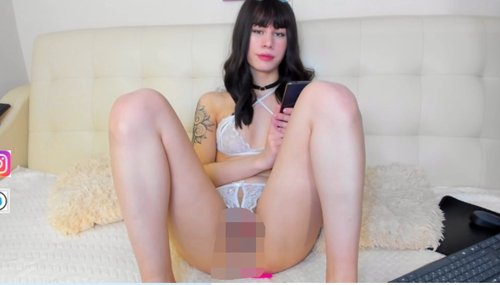 Chaturbate is a tip-based site on which the large majority of the action takes place in the public chat rooms. This is due to the relative difficulty in setting up private sessions. To engage in a 1 on 1 chat with the model of your choice, you'll first have to establish yourself as a broadcaster and then invite her to your room. And after you do all of that, there is no guarantee she will accept your invitations. If the tips in her public room are good enough, she may decide she wants to remain there.
Therefore, like most other users, you'll probably spend all your time in the site's public areas enjoying the free nudity and using your tips to draw the models' attention and make them do special things for you. The site's hundreds of tranny porn theme tags enable you to access live shows revolving around specific niches that you especially like.
In cases you insist on initiating a private chat with your favorite trans performer undeterred by the effort it demands, you'll have to pay $2.40/min on average. Minimum rate is $0.50/min. Cam2cam is not included in these rates, and any model is free to charge extra.
To fund your tips or your private chats, Chaturbate will let you use 3 prepaid cards which comprise Visa, MasterCard and Discover.
Chaturbate has a nice VIP program. For $19.95/month, you can become a Supporter and navigate an ad-free interface, use animate room images and custom chat fonts in various colors, tip anonymously and send the models private messages. You will also receive a one-time bonus of 200 tokens (worth $20.99).
---
Sexier.com
Sexier puts at your disposal 60+ stunning shemales you can flirt and chat with online most hours of the day. The site has abundant fetish categories for users who like to watch trannies do kinky stuff for them, and special webcams including Porn Star Shows. Chat rates are relatively low. An awesome reward program will make them even lower thanks to fat bonuses it gives veteran users.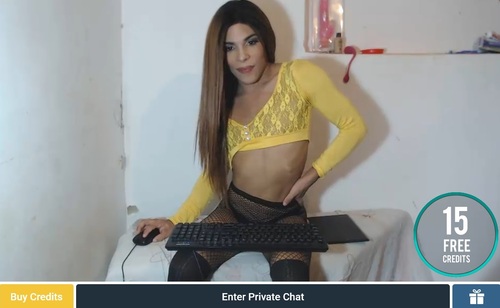 Sexier's advanced search tool contains more than 20 fetish categories including some bizarre ones like Elctrosex, Machines, Balloons and Medical. If you're into hardcore live action, you'll surely enjoy them. The site also has awesome live show options like Candy Shows, Outdoor shows and Porn Star Shows with celebs coming from all genders.
Cam shows are highly affordable enabling you to engage in longer live sessions without going broke. For a 1 minute of private chatting with your favorite tranny, you'll be required to pay an average sum of $2.25/min. The least expensive models charge $1.00/min. Cam2cam is included.
The prepaid cards you can use to fund your activity on the site are Visa, Diners, MasterCard, Maestro, JCB, Discover and Switch.
If you plan to spend a large portion of your leisure porn time on Sexier, you'll highly benefit from its reward program. It has a simple rationale: the more credits you buy, the higher your membership status gets and the more perks you enjoy including bigger credit bonuses on each new purchase and access to premium videos. You start as a Bronze member and can potentially reach the summit of VIP membership.
---
Conclusion
Fully understanding the imperative of better monitoring live porn expenses while avoiding overspending, leading cam sites give their users the option of buying credits/token packs with prepaid cards.
On the five sites reviewed above, you can take part in exciting cam chat with trannies, which you like so much, and at the same time use your prepaid card to minimize the possibility of being carried away with the money you allocate for these chats.
If I had to choose 1 site that rises above the rest, it'd be MyTrannyCams. First, it's 100% dedicated to tranny cam shows unlike the other sites for which transgenders are a sidekick. Second, it offers you beautiful and professional performers you'll hardly find anywhere else. Combined with its fantastic HD trans cams, it's the best place to enjoy tranny live chats.