Top 5 Self-Sucking Tranny Cam Sites
Published: January 02, 2021
We all have our particular set of skills. Some can sing, some can dance, some can do complicated mathematical equations, and some can self-suck. This is no easy task, mind you. Only a reported 1% of the male population can perform this amazing physical feat. But with my help, and these five excellent sites, you too can find a tranny that can make the impossible come to life.
MyTrannyCams.com
MyTrannyCams is the best trans site currently online, bar none. It can get pricey, but there are plenty of ways to find a price for every budget. The site oozes class, sophistication, and a level of performance from the professional models that's hard to find elsewhere. There's plenty of variety and choice of models, rooms stream in 720p HD quality, and you just can't beat those gorgeous profile pics showing the best of the lovely t-gals.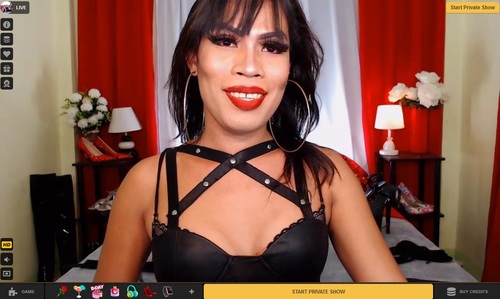 The excellent advanced search on the top right of the homepage will guide you to your unicorn cam girl, as you can select several categories, such as HD Quality, Live Orgasm, Ebony, and Spanish. You can also use the search bar right next to the filter and enter key words such as selfsuck, but even if no rooms come up, that's what the open rooms are for - Get to know your ladies and find out who has the goods. With over 100 online, you're sure to find your bliss.
The average rate for a private session is $3.30/min, while the lowest stands at $1.30/min. That sounds like a reasonable price, but there's more. To include your microphone, there's an additional $1.30/min. The good news is that MyTrannyCams is one of the few sites that enables cam2cam when accessing the site from a mobile device. However, there will be an additional cost of $1.30/min on mobile. To find the cheapest rooms, select the Sale category, or use the filter to choose rooms closest to your price point.
There are some great features on the site you'll enjoy, such as the Story section, which will show you models that have uploaded their Instagram-like pics and vids from their homes, or places they love. Another fun option is to choose a VIP Show, a multi-user show that costs only tips, which drives the model to perform that much more enthusiastically for her members.
---
Shemale.com
Shemale is another excellent site, that offers much lower costs for tranny model 1-on-1 sessions. The models are a mixture of pros and amateurs, which can be good for members who like to experiment as much as their model does. If it's hardcore hotties you're after and you're prepared to compromise on quantity and maybe streaming quality, then these babes won't disappoint.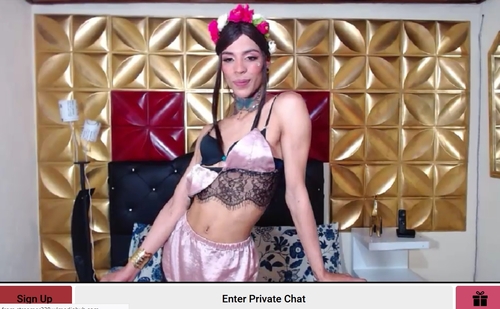 There aren't many trannies on the site at all times of the day, with around 30, but as most are relatively slender in frame, with large appendages, chances are quite a few of them will be able to perform the oh-so stunning act of self-sucking. Just chat up the ones you like, and see if this is an experience they offer. If you do, keep in mind that you can use a cool feature in her room, the hands free mode, which sets the tipping automatically to pleasure your host, as you enjoy your hands free viewing.
Shemale has some of the lowest prices in the trans live cam world, with the average price coming in at $2.50/min, and the cheapest girls will go one-on-one with you for $1.00/min. All sex chats are inclusive of cam2cam and 2-way audio, whether you choose to turn them on or not.
You can read the articles in the Shemale magazine or some of the blogs from regular transsexual performers. The articles include a vast collection of posts from professional writers and members of the trans community, and also people from the porn industry. There's also information about health issues, entertainment, and more. It's offline too, so you can access the articles even without internet connection. The blog feature is directly to the users from the sites, with updates and information on upcoming events.
---
LiveJasmin.com
LiveJasmin, despite not being a trans site, offers a fantastic Transgirl category with over 100 models online for you to choose from. When hovering your mouse over the beautiful profile pics, you'll be able to see what's happening live in her room, in 720p HD quality. The site is exclusive and premium, with no sex or nudity in the free rooms, but offers plenty of time, as a registered member, to get to know the stunning t-girls.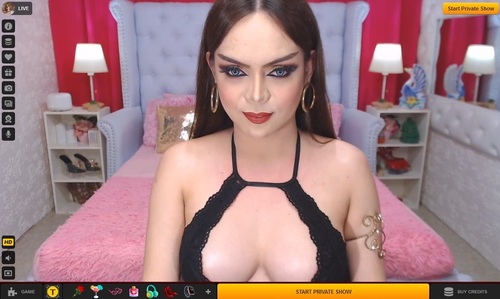 Just like on most sites, there is no self-sucking category, especially on a site this strict about free-room antics. So to find that bendy lady, choose the ones you connect with, and start up a conversation. If you prefer, you can also use the filter on the top to select several categories that may bring you closer to your goal. Half the fun, as far as I'm concerned, is going from room to room and checking out what the girls have to offer, and finding that one special tranny who can bend it like Beckham.
Private sessions go for $3.50/min, on average, and the cheapest are $1.30/min. To find trans girls offering the lower rates, select the Sale category, or filter according to price. If you're streaming over your smart phone, going cam2cam will cost an additional $1.30/min, as well as turning on your microphone for 2-way audio, on desktop or phone, will cost the same additional fee.
The site is also one of just a handful of video chat platforms that allows you to enjoy c2c on mobile. Wherever you are, it can be just you and your favorite cam girl. The models know if you're on a PC or phone and position themselves accordingly while giving you a private show. With your phone held upright, you can pan left or right in the room to choose an ideal angle to view in. With your phone held sideways, you get a landscape view of the room, as you would on the computer.
---
CamSoda.com
CamSoda may not be a trans sight, but it sure is a dazzling freemium one. You'll be blown away by the preview page, showing all open rooms live, as any number of sex acts and nudity take place. When clicking on the Shemale tab up top you'll get the same effect, but just stay calm, and carry on to find that one stunner that will slink her way into your heart, and onto her dick.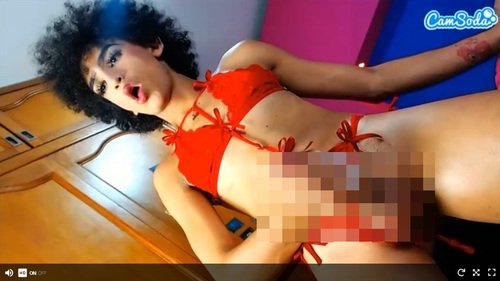 CamSoda doesn't offer many shemale performers, between 15-20 online on average, but as evident by the rest of the site, these are no regular trannies. They are freaky, naughty, love to dress up and get down, and there's a very good chance to find among them at least one that has the range of motion needed. You can also use the search bar to search for #selfsuck, but it may not bring up results. Just pick the one you're sweet on, and get the conversation going.
Private shows average $3.60/min, and the cheapest you'll come across are $0.60/min. Some models include the cam2cam with the mic feature, and some don't. When available, both are included in the per minute rate paid. As well, on mobile, if c2c is available, it comes at no extra cost. CamSoda is one of the few sites enabling cam2cam over a mobile device. In their rooms, the models also offer fun games such as rolling dice, and other casino-like adventures. You could win some keen prizes.
A feature on the site that is quiet rare for a cam site is the Exclusive Videos tab right at the top of your page, which includes videos in HD, which were created by CamSoda, and many with real porn stars, seasoned and experienced performers, in many different categories, and they are completely free to watch.
---
ImLive.com
It's clear to see why ImLive has been a leading figure in the live cam porn world. The caliber of the hosts is a great attraction, but the streaming quality, variety of chat options and features make it a fun site to hang out in, not just for the stunning trans goddesses. Though, it's hard to ignore what a great variety of ladies occupy the site, and for those of you seeking low cost private tranny chats - This is the site to come to.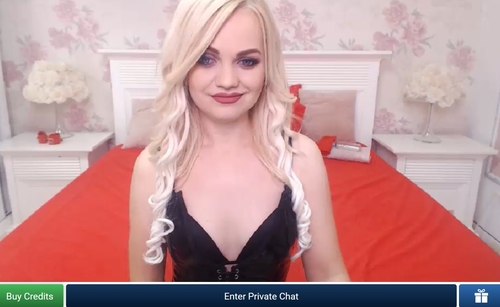 ImLive hosts tens of thousands of cam girls and has around one thousand girls online at any time. As a veteran site with a wealth of industry awards, you'll see a premium site with a collection of steamy benefits at a modest price. Celebrity porn stars come as part of the package at ImLive, as do celebrity events and other fun activities you can discover on your Members Area. On average, there will be around 50 trannies in the Trans Alone category, and you may find your self-sucker under different categories such as Fetish, Slender and Cum Play.
A surefire way to find that special lady, however, is the site's Fulfill Your Fantasy. Submit a detailed account of your private fantasy and submit it. Then the tranny models read through it and respond to your message. Most models will go to great lengths to perform your kinky fantasy.
Prices are low on ImLive, around $2.50/min on average and the lowest being $1.00/min. To find the cheapest rooms you can filter them by Price, and you can also join a Candy Show, which is for multiple users but costs only tips, and can be a lot of fun.
ImLive just introduced its brand new mobile platform which is a real boon to existing members and new ones. The interface is clean and streamlined, offers multiple features, and even includes cam to cam, a feature previously unavailable on the mobile site.
---
Conclusion
The above five sites offer not only stunning trans models, but your best chance at finding that white whale - A self-sucking shemale. Out of these five, I recommend MyTrannyCams not only as the best site, but the one which will most likely deliver on your search. It's a premium site with great HD quality, the models are pros and certainly versed in all things kinky, and the extra features, including the mobile platform, make for one hell of a live cam experience.